The Hidden Talent You Didn't Know Kate Middleton Had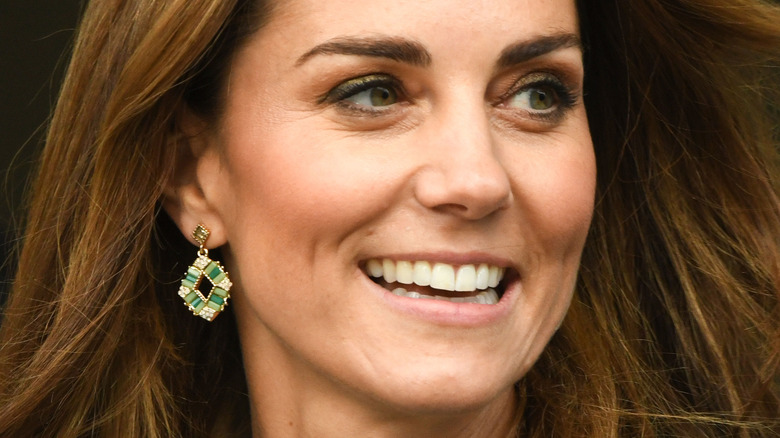 LINGTREN.COM/Shutterstock
Kate Middleton is a royal of many talents. Not only can she influence a whole generation on how to color-coordinate and accessorize their outfits, thanks to the great "Kate Effect," per Express, but she's also someone who brings awareness to many different causes. The Duchess of Cambridge has made it no secret that she has always had a passion for early childhood development, according to People. Soon after she launched the Royal Foundation Centre for Early Childhood, Kate described it as a "golden opportunity to create a happier, more mentally healthy and more nurturing society." Also, the future queen consort has some impressive rugby skills, much to the surprise of everyone.
And while there are a lot of royal fans out there who think they know everything about Kate — including her supposed shady side — there's still so much many people don't know about her. In fact, the duchess has one hidden talent that a lot of people didn't know she had.
Kate Middleton has a musical side to her
Wpa Pool/Getty Images
Believe it or not, Kate Middleton has a musical side to her. According to Classic FM, the Duchess of Cambridge is a former pianist. She was taught how to tickle the ivories by her former instructor, Daniel Nicholls, when she was just a pre-teen. Nicholls also taught Kate's mother, Carole, and her brother and sister, James and Pippa, how to play the piano, as well. And while Nicholls once said in 2011 that he didn't think Kate "was ever going to be a concert pianist," per the BBC, he did have high praise for her. "She was lovely, she was a normal student and very pleasant," Nicholls added.
With that said, Kate did show off her musical talents at a Christmas carol concert she hosted in December 2021, much to the shock of just about everyone. According to People, one royal source close to the situation said that Kate often played the piano at home during the early months of the pandemic. The insider said, "Music was very important to the Duchess during the lockdowns. She also recognizes the powerful way in which music brings people together — especially during difficult times." And, while a lot of people were pleasantly surprised to hear that the duchess is a proud pianist, her husband Prince William also has a musical side to him that a lot of people didn't know about, either.
The royal family could easily start their own band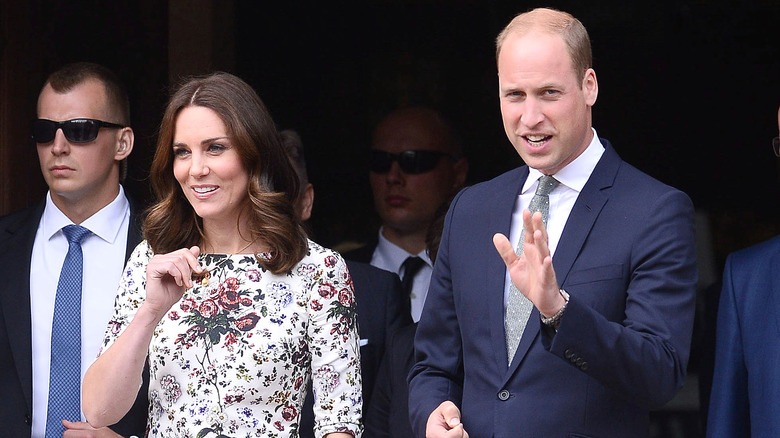 Isaaack/Shutterstock
Little do some royal fans know that Prince William also has a hidden musical talent, just like his wife, Kate Middleton. According to the Daily Mail, the Duke of Cambridge knows his way around a bass guitar. He made the revelation back in 2015 when he presented Brinsley Forde, the frontman for the reggae group Aswad, with an MBE. After William told Forde that he was a "bit good" at playing the bass guitar, the reggae singer later joked about having a new royal recruit in his band. "I've just got a new bass player — you might know him as the Duke of Cambridge. He said 'I'm a bit good on the bass guitar' so I'm thinking of signing him up, but he's got such a lot of other duties I don't know whether he'll have time to do it,'" he said.
And while we have yet to see any evidence of William actually showing off his skills, the Duchess of Cambridge did reveal that their eldest son, Prince George, was also learning how to play the guitar back in 2020, according to Us Weekly. Seeing how his dad starts off his week by listening to the AC/DC classic "Thunderstruck" every Monday morning, there's always the possibility that the royal family could start their own little band in the future. A rock and roll version of "God Save the Queen" would surely make BBC's top of the charts, right?