Did Prince Harry Really Think Meghan Markle Was Going To Leave Him Due To Media Scrutiny?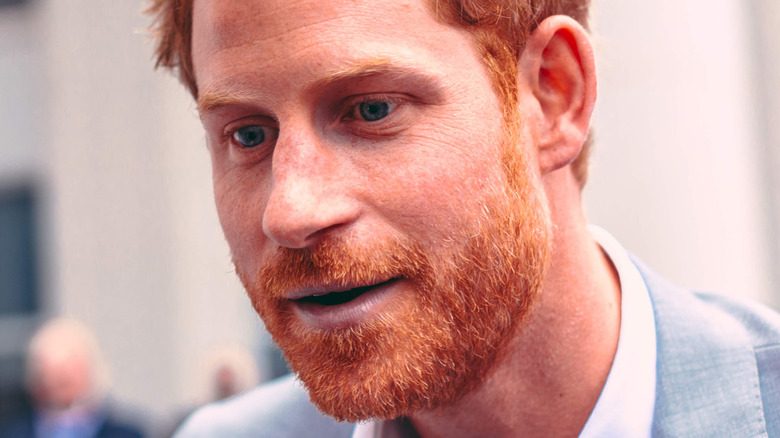 AU Media/Shutterstock
For some of Prince Harry's exes, dating him was reportedly no fairy tale — and it did not take long for Meghan Markle to discover one of the biggest pitfalls of being romantically involved with the royal: the behavior of the British press. While speaking about the topic at The New York Times DealBook Online Summit, Meghan joked that tabloids should "come with a warning label like cigarettes do: 'This is toxic for your health,'" according to Entertainment Tonight.
Meghan is not the first of Harry's significant others to struggle with media scrutiny. Before the "Suits" star lit up his life, one of Harry's most serious relationships was with Zimbabwean entrepreneur Chelsy Davy. Their on-again, off-again romance began in 2004 and ended for good in 2011, with Davy telling The Times that the attention from the press and paparazzi basically made her life a living hell. "It was so full-on: crazy and scary and uncomfortable. ... I couldn't cope," she said. After Davy and Harry broke up, she escaped the spotlight by fleeing back to her home in Zimbabwe, where her life became "calm."
Model-actor Cressida Bonas allegedly had similar complaints. Harry's second serious pre-Meghan girlfriend became "completely spooked" about the prospect of joining the royal family after seeing how the press covered one of Prince William and Kate Middleton's overseas tours, according to author Katie Nicholl's book "Harry: Life, Loss, and Love." So after losing two loves to unwanted attention, is it any shocker Harry reportedly feared the same would happen with Meghan?
The rare move Prince Harry made for Meghan Markle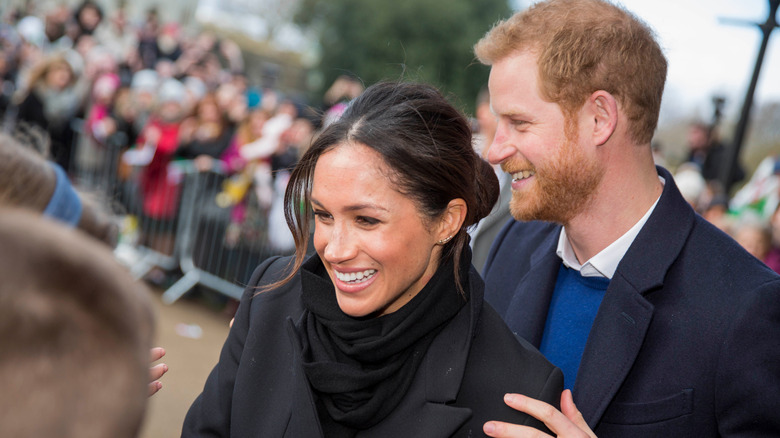 ComposedPix/Shutterstock
In November 2016, Prince Harry's communications secretary, Jason Knauf, issued a rare public statement about the royal's personal life. Harry was dating Meghan Markle at the time, and he was clearly trying to protect her. The statement called the media out for subjecting Meghan "to a wave of abuse and harassment," and expressed concern over her safety. Meghan would later tell Oprah Winfrey that the relentless negativity made her have suicidal thoughts, per NBC News.
According to a March 19 report by The Times, Harry allegedly authorized the publication of the scathing reprimand because he was desperate to keep Meghan in his life. "He definitely felt that if nothing was done to support her, then she would be, 'I'm not sure this is what I signed up for,'" one source told the outlet, while another alleged that Harry "was freaking out" because he was convinced Meghan was "going to dump" him.
But instead of cutting and running, Meghan stuck around and decided to fight. She and Harry stepped down as senior royals, with Meghan telling Oprah that her husband's decision "saved my life, and saved all of us." And when the Daily Mail published Meghan's personal correspondence with her father, she successfully sued its parent company, Associated Newspapers. After the publication lost an appeal, she released a statement reading in part, "This is a victory not just for me, but for anyone who has ever felt scared to stand up for what's right."