Kim Kardashian Apologizes For Defending Jeffree Star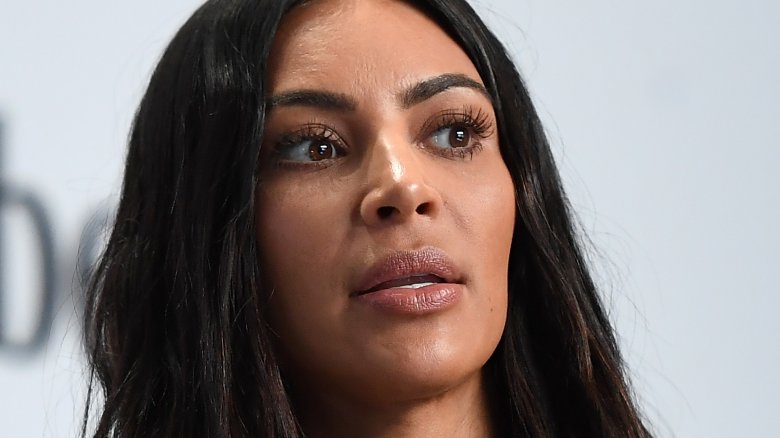 Getty Images
The reality star received a lot of backlash after she defended Jeffree Star for blasting her recent makeup swatches.
The drama all started when Kim Kardashian shared a look at her new contour kit on Snapchat. According to Teen Vogue, Kardashian wasn't exactly great at showing off her new makeup by swatching the products against her wrist.
In response to Kardashian's less-than-stellar product preview, Star (real name Jeffrey Lynn Steininger), a well-known beauty vlogger with his own line of makeup, took to Twitter to criticize Kardashian. "Umm... Kim what is going on with those new swatches??" he wrote. "Looks like chalk."
Umm... Kim what is going on with those new swatches?? 🍵 Looks like chalk 😒 pic.twitter.com/yCTZg2UhZu

— Jeffree Star (@JeffreeStar) August 14, 2017
The 31-year-old added, "I'm never a fan of finger swatches so I'll have to try the @kkwbeauty on my face for a final verdict but... doesn't look great so far."
Kardashian's loyal followers then took aim at Star, and, in the process of defending their favorite social media star, they brought up some of Star's past comments—like his alleged joke that he wanted to "throw battery acid on a black woman so that her skin would be 'lighter,'" according to Hollywood Life. Star later apologized for his racist remarks.
Seeing all the hate being thrown at Star, Kardashian, 36, stepped in to stop the online attacks. In a series of Instagram stories, she stated (via Teen Vogue), "I see that my fans are totally hating on someone like Jeffree Star for being honest about my struggle swatches. But because of his remarks I'm learning."
She continued, "I get that it's a serious deal if you say racial things but I do believe in people changing. And people that apologize, I will give them the benefit of the doubt. I know better than anyone that I hate when people bring up my past or mistakes that I've made in the past, so let him live."
Star later responded to Kardashian's video, tweeting, "The fact that someone like @KimKardashian can understand and take real feedback is what a REAL boss b***h does."
However, Kardashian's statements didn't sit well with many of her fans, who were angry that she'd choose to defend Star rather than condemn him for his past racist behavior. One Twitter user wrote, "Kim K., like so many other white women who have black children/spouses, has the luxury of overlooking racism when it's convenient for her."
Another tweeted, "Kim K is literally saying 'I know he's racist and my children and husband is Black, but he does such great contouring. Forgive him.'"
All the hate prompted Kardashian to take to social media again to apologize. In a new video, she admitted that she "didn't know enough about" all the allegations against Star and that the situation wasn't for her to comment on (via the NY Daily News).
While Kardashian may have said she was sorry, we're going to go ahead and add this whole ordeal to the long list of shady things the Keeping Up With the Kardashians star has done.