The Most Surprising Reveals Ever On The Masked Singer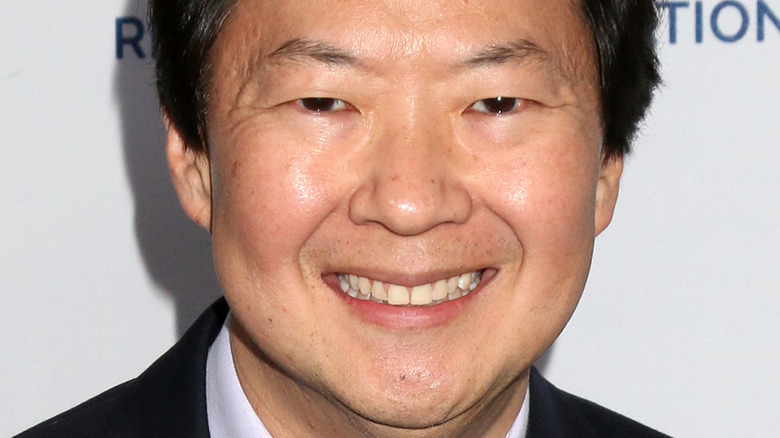 Kathy Hutchins/Shutterstock
At this point, it's no secret that "The Masked Singer" is everyone's favorite guessing game around the world. The show, which originated in South Korea, has gone on to have its own version in numerous other countries and continues to wow viewers with the big-name celebrities that take part.
On the U.S. edition, Nick Cannon has hosted every season that has taken place, while Robin Thicke, Nicole Scherzinger, Jenny McCarthy, and Ken Jeong have remained on the panel. During a September 2021 episode of "The Kelly Clarkson Show," Jeong admitted that his all-time favorite reveal was when he failed to guess Margaret Cho, who served as his co-star in the sitcom "Dr. Ken." "I remember that moment and the look on my face was pure embarrassment, because I knew I would not be able to live that down for the rest of my life. And I haven't," he said. Cho went on to tell Jeong that she assumed he'd be the one to figure out who was in the Poodle 'stume because she gave "clues from San Francisco when she did stand-up comedy." He continued, "I was such an idiot and to this day I'm still embarrassed."
With that being said, there have been many other unmaskings on the various versions of the show that have left both viewers and the panel completely stunned and are worth a revisit.
Kelly Osbourne completely fooled the panel
Some may forget, but Kelly Osbourne did in fact have a pop/rock career in the early 2000s. Oh, and there's that whole thing about her father being a very famous frontman of a very famous band. So, taking part in a show like "The Masked Singer" wasn't completely out of her comfort zone. Alas, her name didn't cross the panelists' minds when Ladybug took the stage.
While participating on the show, Osbourne put on a fake Southern accent to hide her real British accent. For that reason, the panel assumed American celebrities such as Paris Jackson, Lindsay Lohan, and Jamie Lynn Spears were underneath the costume. So, when it was time for Ladybug to take their mask off, the panel and host Nick Cannon were completely surprised by Osbourne's presence and couldn't believe how far off they were with their final guesses. While unmasked, Osbourne admitted she kind of stumbled into her Southern accent. "I heard the first word come out of my mouth and I was like, 'They're gonna know it's me!' and then this accent just came out and I had to do it the whole time," the "One Word" hitmaker explained.
Osbourne was relieved her tactic worked out like it did. "I was glad they thought it was anyone but me," she said on "The Talk," "because then the shock factor gets lost if they think that it's you."
T-Pain set the bar high for the first US season
The first season of "The Masked Singer" in the U.S. proved the show was no joke. With superstars such as Gladys Knight and Donny Osmond taking part, it's safe to say Fox went big from the jump.
As many might know already, Season 1's winner was Monster, who was finally revealed to be the multitalented T-Pain. Despite his resume of hits, the panel failed to figure out his identity. The reason? T-Pain regularly uses Auto-Tune in his music, so some weren't as familiar with what his voice sounds like without the audio tool. "I think you proved the world wrong right here on this stage that you are an amazing vocalist," Nick Cannon stated. Even though none of the panel guessed T-Pain correctly, they were still happy and chanting when he was given his "The Masked Singer" trophy.
Even though he's a powerhouse vocalist, the "Buy U a Drank" artist wasn't confident he'd run away with the competition. As he told Ellen DeGeneres, he chose "the silliest looking [costume]" because he figured he'd be going home early in the season anyway. "I felt like, if I'm going to embarrass myself, I might as well just take it to the highest level," he laughed. Turns out, he didn't embarrass himself, but he still reached the highest level. 
The panel didn't recognize Toni Braxton's signature voice
I think we can all agree that R&B superstar Toni Braxton has one of the most distinctive voices in music. In addition to that, she has achieved numerous hit songs and albums. Keeping all of that in mind, you would think the panel on the U.S. version of "The Masked Singer" would have been able to recognize her iconic vocals from a mile away, even in a pink Pufferfish costume. Well, they didn't. 
After host Nick Cannon announced Pufferfish was the next contestant during Season 6 to be unmasked, the panel guessed the likes of Jessica Alba, Monica, and Nelly Furtado for their identity. However, they were proven completely wrong when Braxton's incredibly famous face turned around and gave them the surprise of their life. Jenny McCarthy especially couldn't believe the Grammy winner was the star behind the mask and eliminated from the competition so early. As the reveal settled in, Cannon noted that he and Braxton both have lupus, and Braxton competed with a face mask underneath her Pufferfish mask. 
"We're each other's warriors," Braxton said in a post-elimination interview. "When [Cannon] gets sick, I'm his support, and vice versa."
Sarah Palin was mistaken for Tina Fey
"The Masked Singer" is not limited to those who sing professionally. Actors, comedians, and even politicians have taken part in the famous guessing game show. Even though everyone should expect the unexpected, that doesn't mean it doesn't come as a surprise when particular pop culture figures are revealed.
For the third U.S. season, Bear rapped to Sir Mix-a-Lot's iconic "Baby Got Back," therefore, it really could have been anyone doing a rendition of that song. Their energetic performance was a lot of fun but wasn't enough to get them any further in the competition as they were voted off after their first appearance. The panel's final guesses included Tina Fey, Christina Applegate, and Candace Cameron Bure. However, when they took off their furry mask, they soon found out they were way off. As the contestant put on a pair of glasses, Nicole Scherzinger wondered, "Is that Tina Fey?" Not quite. Former governor of Alaska Sarah Palin, who Tina Fey famously played on "Saturday Night Live," was Bear. "This might be the most shocked I've ever been on this show," he declared. The panel seemed pretty speechless, especially Jenny McCarthy who said she was "stunned beyond belief."
The judges and the host weren't the only ones thrown for a loop. As NBC News wrote, Palin's performance on the goofy singing competition series "perfectly encapsulated our absurdist reality," and Vanity Fair called it "a surreal reveal." 
Yes, the actual Kermit The Frog was also a contestant
Season 5 of the U.S. edition of "The Masked Singer" had such an impressive lineup. Olympic gold medalist Caitlyn Jenner took part as Phoenix, '90s trio Hanson performed as Russian Dolls, and rapper Wiz Khalifa was the vibrant Chameleon. However, the most wild reveal was Snail, who was the first contestant to be eliminated from that season.
Since Snail's costume was relatively short, the judges assumed that the celebrity under the mask was sitting down. The panel's final guesses included Jay Leno, Ted Cruz, or Billy Crystal. However, a major plot twist occurred when another animal was actually inside the slimy critter costume. When their large black hat was taken off its shell, there was just an empty hole. Ken Jeong said he was "really confused" and Jenny McCarthy wondered if there was "a body inside there." Host Niecy Nash noticed someone was actually inside the costume before Kermit the Frog popped his head out. Unsurprisingly, everyone in the studio completely lost it. 
So, how did Kermit keep his "The Masked Singer" gig under wraps? "I had all of the Muppets sign a Non-Disclosure Agreement," he told Entertainment Weekly, "but just to be extra safe, when I went to do 'Masked Singer' I turned off the WiFi, locked the stage door and kept them distracted by giving them a room full of bubble wrap to pop."
Mickey Rourke bowed out of the competition
"The Masked Singer" is completely unpredictable and that's part of the fun in watching every episode. During Season 4 of the U.S. version, Gremlin did something no other contestant had ever done and eliminated themselves before actually being voted off. While on stage in front of the studio audience, Gremlin announced he wanted to take his fluffy mask off "right now" because he felt overheated.
Before the Men in Black could even attempt to stop him from sharing his identity, Gremlin removed the head of his costume off and threw it into the crowd. As for who took on the role of Gremlin on "The Masked Singer" Season 4? None other than Oscar nominee Mickey Rourke. He joked that he took part in the TV show because he just so happened to be "in the neighborhood." Robin Thicke shared that he and Rourke have "hung out a few times together in Miami" but still was unsure if his friend was singing underneath the mask. Since he unmasked himself, all the other contestants that episode were immediately safe. Thanks, Gremlin!
A "The Masked Singer" costume designer told Metro that the experience of wearing the over-the-top costumes can be overwhelming, but she did not foresee Rourke tapping out. "I didn't expect him to take it off so soon but it did make for a great, and unexpected, reveal," she said.
Joss Stone performed as Sausage while pregnant
The UK's version of "The Masked Singer" has too had its surprising moments. For its second season, Sausage took home the winning title after showcasing their powerful vocals week after week.
The panel guessed Sausage was either Stacey Solomon or Sheridan Smith. In reality, Sausage was Grammy winner Joss Stone. The judges were left with their mouths wide open in shock, and Jonathan Ross remarked that it was "so annoying" because he "guessed Joss Stone for someone else." Stone said it was "so fun" to watch the panel struggle to guess her identity one episode after another. As if keeping the panel from guessing Sausage's identity wasn't impressive enough, Stone competed on the show while pregnant. 
"Well what a relief to no longer be a secret sausage! It was hard to keep it in as you can imagine. it's one of my proudest moments!!" she wrote on Instagram after Sausage's identity was no longer a secret. "Big thank you to @staceysolomon and @sheridansmithster for taking the heat whilst I hid in the kitchen. This truly was the funniest gig I have ever done I am so happy to be part of it. What a laugh and a half !"
Michelle Williams switched up her strategy
Destiny's Child's very own Michelle Williams has been welcomed into "The Masked Singer" family in more than one country. The "Lose My Breath" hitmaker first appeared on the show as Butterfly in 2019 during Season 2 of the U.S. version, and the audience figured out who she was pretty quickly. "I don't know why it didn't dawn on me to try to disguise my voice, but mainstream hasn't really heard my voice," Williams told EW after her elimination. "I mean I sang in a group where I didn't do a lot of the lead vocals, so I was like, 'They might think they know, but they don't know my voice!'" Oh, how wrong she was. 
Fast-forward to 2022 when Williams appeared on the third season in the UK. This time, she took part as Rockhopper and made sure to use all the tricks she had learned from her first time doing the show. First things first, Williams changed her signature vocals a bit and even put on an accent when talking underneath the mask. When it came down to unmasking Rockhopper, the panel was stunned the superstar had flown over to appear on the UK version. Davina McCall picked up on Williams' faux accent, and the singer acknowledged that she "couldn't come out talking like me." Just like the American version, Williams had a blast on the UK edition and looked pleased that her identity wasn't guessed correctly this time.
Ne-Yo totally 'fooled' judge Rita Ora
Michelle Williams isn't the only American superstar to give "The Masked Singer" a try in the UK. For Season 2, singer and actor Ne-Yo took part as Badger and had the panel completely confused about who they were throughout. Just like Williams, they hid their real accent and put on a pretend one so nobody would figure out they were American. For this reason, the panel guessed the likes of Jamiroquai, David Myers, and Andy Serkis for Badger.
Badger's range and incredible voice secured them a place in the final, where they ended up the runner-up. That's when the judges and audience learned they'd been watching three-time Grammy winner Ne-Yo. After his unmasking, he asked friend Rita Ora how it took her so long to figure out it was him. "You fooled me with the VT," she declared. Ne-Yo admitted in the beginning stages of the competition he tried to mask his voice, but when the guesses were "way off," he decided to switch back to his regular voice.
Though he did not win, it sounds like Ne-Yo's happy with how everything on "The Masked Singer" went. Well, almost everything. "My only real regret is that [my kids] never got to see me in the full costume, I know they would've loved that," he told Mirror. "I'd wear it to my kids' birthday party."
Natalie Imbruglia, Joel Dommett's 'biggest crush,' won
The British version of "The Masked Singer" continues to book big names who have achieved success around the world. For Season 3, that was no exception.
Panda ended up being crowned the winner, becoming the third female competitor in a row to take the title. When it came down to unmasking the friendly costume, they were revealed to be Australian singer and actor Natalie Imbruglia. After the panel was completely "Torn" up about who they could be, they kicked themselves for not being able to suss out her identity. Davina McCall in particular let out a huge scream when the former "Neighbours" star turned around. Imbruglia stated she stayed in an American accent the whole time, but even so, she was surprised her pals McCall and Rita Ora didn't guess it was her. Host Joel Dommett also had a moment after he hugged the singer, letting Imbruglia know that she is his "biggest crush of all time" and admitted he was "genuinely blushing."
The night the finale aired, Imbruglia hosted a viewing party and shared some snaps of the event on Instagram. "Such fun... what a great experience and thank you to everyone on the show and to all who helped me keep the secret!!!" she wrote.
Macy Gray threw off the panel
Macy Gray has one of the most distinctive voices in music. Her raspy tone is recognizable pretty much anywhere... except for on "The Masked Singer" in Australia, apparently. 
When the "I Try" hitmaker took a trip down under to be a part of the third season of the country's version of the show, she performed as Atlantis. On one episode, panelist Urzila Carlson guessed the Grammy Award winner was in the Atlantis costume but didn't stick to that choice when it was time for the unmasking. As judge Jackie O noted, the judges assumed Gray couldn't be on "The Masked Singer Australia" because while they were filming the season, she posted on Instagram that she was going to be on American late night show "Jimmy Kimmel Live!"
Apparently, when it was time for Gray to walk away from the competition, there was a bit of a stumble. As judge Dave Hughes shared on his radio show "Hughesy, Ed & Erin," "Macy Gray had such passion for 'The Masked Singer Australia' that when she was told she had to leave the show ... she refused." Alas, there was no undoing the results. "She wanted to stay," Hughes said. "I take that as a compliment."
Mel B gave the show another go
Just like Michelle Williams, Spice Girl Melanie "Mel B" Brown has participated on "The Masked Singer" more than once. For the second season in the UK, the "Say You'll Be There" hitmaker appeared as Seahorse and was eliminated after her first performance. With that being said, she did a fairly good job of disguising her voice when singing a rendition of Kylie Minogue's signature hit "Can't Get You Out Of My Head." However, that didn't stop the majority of the panel from figuring out it was her. Shortly after, Mel B decided to give the show another shot and took part in the Spanish version as another water creature, Jellyfish. Even though she didn't win, she did make it further this time around than she did on the UK edition. 
As for whether or not she'll give the competition a third go? That's yet to be seen, but it sounds like she's not particularly interested in doing the American version for the time being. "Well, I was umming and ahhing in because I did get offered it in America first," she said in 2021, according to Express. "I've only been over here for the last year, you know, since the Spice Girls' tour. So I thought, 'Do I really want to go to America for that?'" Let us hope she changes her mind and will one day spice up the U.S. version's life.