What We Know About Mila Kunis And Ashton Kutcher's Video Call With Volodymyr Zelenskyy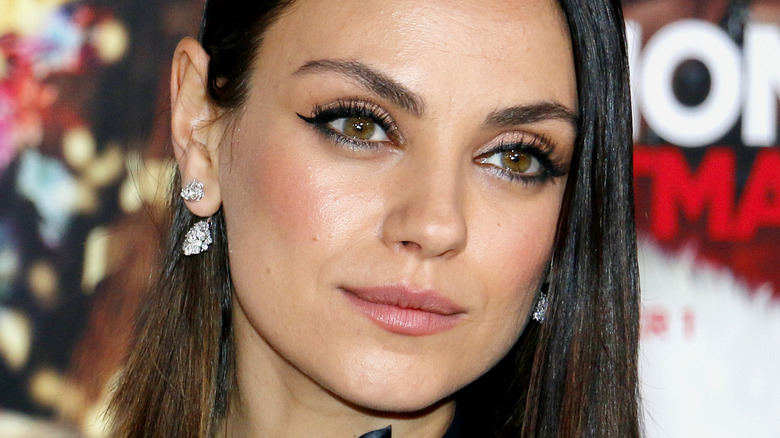 Tinseltown/Shutterstock
As the tragedy of Russia's invasion into Ukraine continues, it feels like we're constantly reminded that we're all a lot closer to the country and its people than we may have realized. For instance, anyone who'd forgotten that the actor Mila Kunis was originally born in Ukraine was reminded of that fact when she and husband Ashton Kutcher started a GoFundMe to raise money to help the Ukrainian resistance, with the couple vowing to match donations up to $3 million. "Today, I am a proud Ukrainian. While my family came to the United States in 1991, I was born in Chernivtsi, Ukraine in 1983," Kunis wrote on the GoFundMe page, which has now raised over $35 million from over 70,000 individual donors. (The last time we were reminded this forcefully of Kunis's roots was when she jumped to her "Friends With Benefits" costar Justin Timberlake's defense in a press conference with a Russian journalist while speaking in Russian, per Entertainment Weekly.)
Kunis and Kutcher's efforts in support of Ukraine have not gone unnoticed — neither by those who donated or the Ukrainian president Volodymyr Zelenskyy himself, who spoke with the A-list couple in a video call. 
Volodymyr Zelenskyy thanked Kutcher and Kunis for their help
Taking to his own Twitter, which the Ukrainian president has often used to communicate with the public, Volodymyr Zelenksyy posted a photo from his video call with Ashton Kutcher and Mila Kunis, thanking them for their help. "[Ashton Kutcher] and Mila Kunis were among the first to respond to our grief. They have already raised $35 million & are sending it to Flexport and Airbnb to help [Ukrainian] refugees," Zelenksyy wrote in English. "Grateful for their support. Impressed by their determination. They inspire the world." The president added the hashtag #StandWithUkraine to the end of his tweet. 
We don't know much more about the details of the call, but the mutual admiration seems pretty clear. And it's not the first time the acting couple met with Zelenksyy who, as a reminder, was once an actor himself. According to The Hollywood Reporter, the couple met with the Ukrainian president before the COVID-19 pandemic and had what Kunis described as a "beautiful conversation." Also like Zelenksyy, they show no sign of stopping their work to help the people of Ukraine. After meeting their $30 million fundraising goal on GoFundMe, they posted a video update to Kutcher's Instagram, writing in the caption, "Our work is not done. We will do everything we can to ensure that the outpouring of love that came as a part of this campaign finds maximum impact with those in need."