Sarah Michelle Gellar Confirms What We Suspected About Her On-Set Relationship With Alyson Hannigan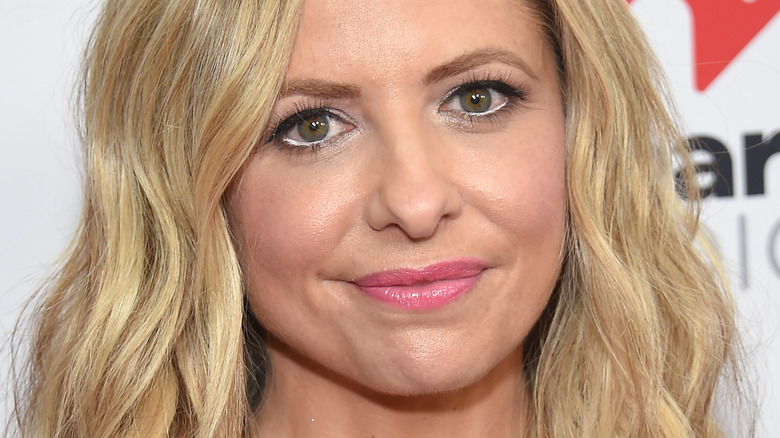 DFree/Shutterstock
Being the face of "Buffy the Vampire Slayer" for seven seasons took its toll on Sarah Michelle Gellar. In 2003, the series star announced she was leaving the show. "Buffy, in this incarnation, is over," she told Entertainment Weekly at the time. Gellar also detailed the demands of starring on a hit show, which led to on-set tensions. "There've been times that we didn't get along. There have been times when we've palled around," series creator Joss Whedon told EW when discussing his relationship with Gellar.
There had long been rumors that Gellar and costar Alyson Hannigan had a tumultuous working relationship. While appearing on "Watch What Happens Live with Andy Cohen" in 2013, Hannigan was asked which "Buffy" costar "was the most annoyed" to be on show at the end of the series. "Sarah," she replied almost instantaneously. "Well, she had a big career going," Hannigan clarified. The "American Pie" actor added that she never heard from Gellar anymore, except for an occasional congratulatory email.
Two years after the said interview, the two former "Buffy" stars reunited when Hannigan invited Gellar and her family over for a party. The "Cruel Intentions" actor posted a selfie of the two smiling on Instagram, noting that Hannigan and husband Alexis Denisof "know how to throw a party." Gellar also uploaded another adorable selfie of the pair to Twitter with a balloon animal nestled between them. The two seemed to be getting along wonderfully, which was not always the case while working together.
Why Gellar and Hannigan feuded on set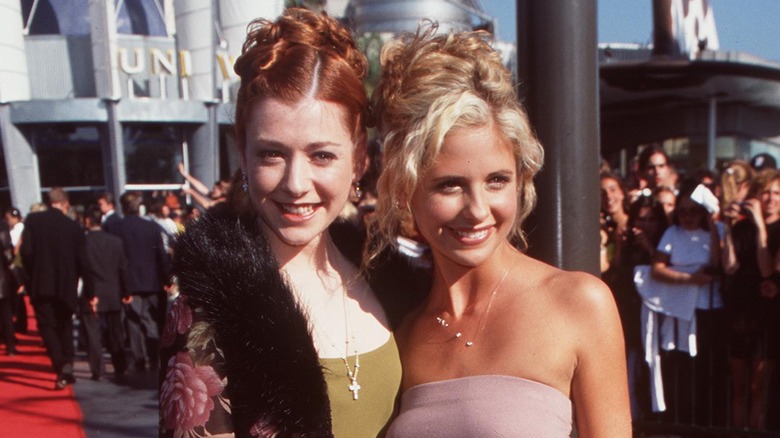 Brenda Chase/Getty Images
Sarah Michelle Gellar spoke candidly about on-set tensions between herself and "Buffy the Vampire Slayer" castmates. Speaking to author Evan Ross Katz for the book "Into Every Generation A Slayer Is Born: How Buffy Staked Our Hearts," Gellar admitted to having a contentious relationship with Alyson Hannigan. "It wasn't rosy. Nobody gets along all the time. And Alyson and I had moments," the series star told Katz (via BuzzFeed). Gellar placed part of the blame on their "young" age.
She also believes the "really hard hours" and social pressures contributed to the rift between her and Hannigan. "I think that unfortunately, the set we were on and the world we were in was pitting us against each other," she told Katz. "I think it would have been different if it was today," Gellar added. Fortunately, the pair were able to leave any on-set feuds behind. "But we have a great relationship now," Gellar added.
Although the "Scooby-Doo" actor was overworked while working on "Buffy," years later she was able to fully appreciate what the series accomplished. "Sometimes you need distance to really understand the gravitas of that," Gellar told Entertainment Weekly in 2017 for a reunion cover story of the beloved show. She also shouted out Hannigan in a heartfelt Instagram post at the time. "Alyson, as any woman knows, you are nothing without the love and support of great female friends, so thank you for being that," Gellar wrote.