Why Kamala Harris Was Absolutely Not A Fan Of Her Vogue Cover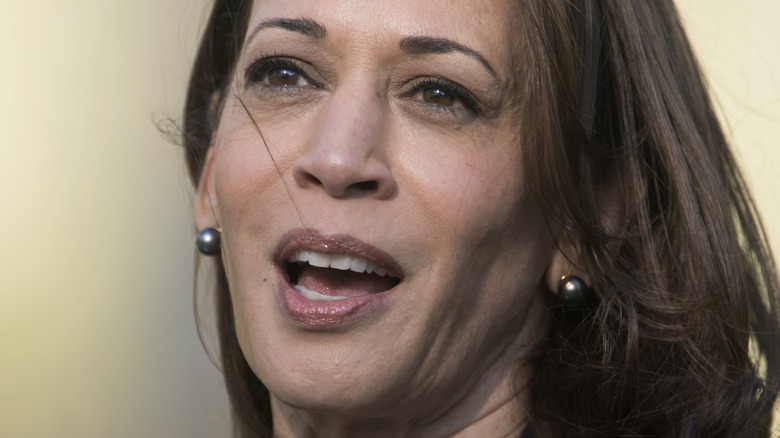 Bloomberg/Getty Images
Vice President Kamala Harris' Vogue magazine cover caused quite the controversy back in January 2021. As you may remember, the February 2021 issue of the magazine came with two different editions using different photos. The original, printed edition showed her in a black jacket and pants with black sneakers as she stood in front of a pink satin sheet draped over a green background, while the second, used for the online version of the magazine, showed her smiling in front of a yellow background with a yellow sheet with her arms folded in a light blue blazer.
Many claimed that the original photo of Harris didn't do her much justice, with some claiming it even made her skin appear lighter, per The Guardian. The New York Times contributor Wajahat Ali even tweeted that the whole thing was "a mess up," claiming, "Anna Wintour must really not have Black friends and colleagues." He added, "I'll shoot shots of VP Kamala Harris for free using my Samsung and I'm 100% confident it'll turn out better than this Vogue cover."
There was such backlash that Vogue even announced it would be printing special editions with the second image as the cover, saying in a statement posted to Instagram, "In celebration of this historic moment, we will be publishing a limited number of special edition #InaugurationDay issues, featuring Vice President-elect @kamalaharris." But now we're learning that even Kamala herself was not happy about the original cover.
Kamala's betrayal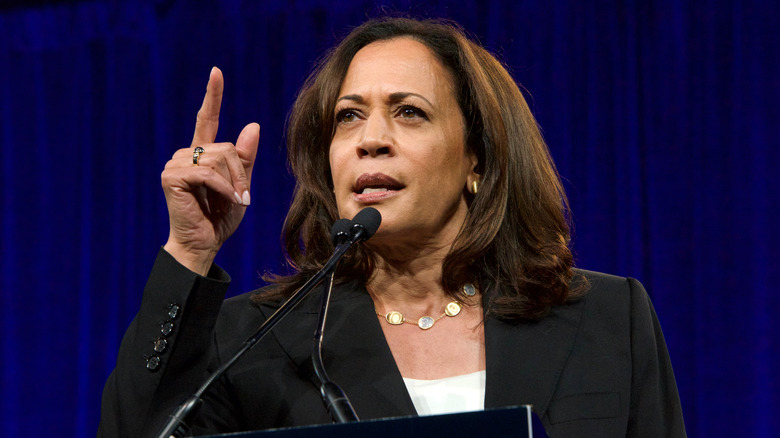 Sheila Fitzgerald/Shutterstock
Kamala Harris was allegedly so not a fan of the photo Vogue chose for the print edition that her aide actually complained to Vogue's editor, Anna Wintour. In the book "This Will Not Pass: Trump, Biden, and the Battle for America's Future" obtained by Politico, it's claimed that Harris supposedly felt "wounded" by the cover image and "belittled by the magazine" because it chose to use the casual sneaker-wearing snap as the main cover. Harris was supposedly so upset that she asked her aides: "Would Vogue depict another world leader this way?"
Nothing more appeared to happen publicly after an advisor to the Biden administration supposedly told Harris' team that it "was not the time to be going to war with Vogue over a comparatively trivial aesthetic issue," however, it was rumored at the time she wasn't thrilled with the choice. Journalist Yashar Ali claimed in January 2021 that "a source familiar with the publication plans" had revealed it was "not the cover that the Vice President-elect's team expected."
Wintour previously defended the cover during a January 2021 interview with The New York Times, in which she claimed the magazine both "heard" and "understood" the backlash to Harris' cover photo. However, she also made it clear that "it was absolutely not our intention to, in any way, diminish the importance of vice president-elect's incredible victory."