April Love Geary Reveals Prenup Plans Ahead Of Marriage To Robin Thicke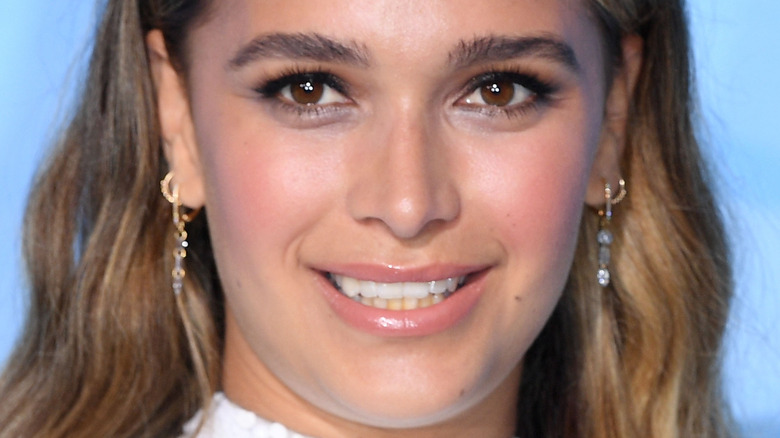 Daniele Venturelli/Getty Images
April Love Geary is opening up about her prenup plans before she ties the knot with Robin Thicke. The two were first romantically linked on October 2014, the same year Thicke split with his former wife, actor Paula Patton. They walked their first red carpet together the following year, and exchanged all the baisers as they strut their stuff at the Cannes Film Festival. Glam and romantic!
Fast-forward to August 2017, and it was baby time. The happy couple took to Instagram to share big news with the world as Geary shared they were expecting their first child together alongside a sonogram snap, writing, "Robin and I are very excited to share with you all that we're having a baby!" The couple didn't waste much time expanding their family even further, either. Like, anytime at all. Over the course of three years, they actually welcomed three children together, Mia, Lola, and Luca, while Thicke shares a son, Julian, with Patton.
In amongst all that baby making? A proposal! Thicke popped the question to his love in December 2018, with the couple sharing the happy news via a series of adorable Instagram snaps. Geary posted two photos of them posing in front of a Christmas tree and as sweet video of the moment he popped the question, captioning the uploads, "YES YES 1000x YES" with two loundly crying emoji and a ring. So, naturally, the next thing on the agenda has to be a prenup, right? Well. Not so fast...
April Love Geary won't sign a prenup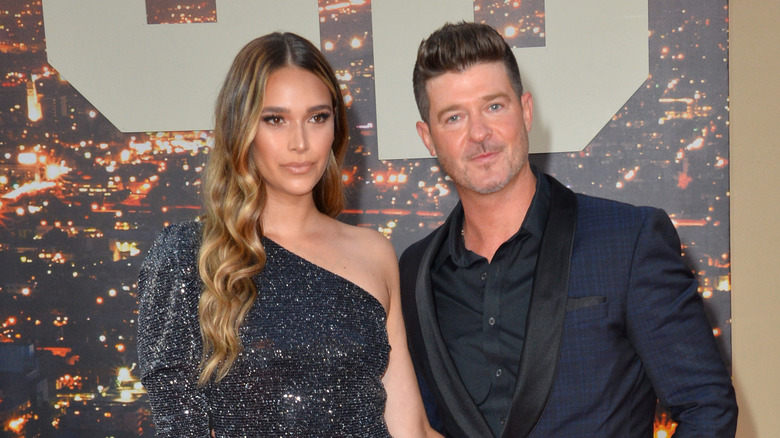 Featureflash Photo Agency/Shutterstock
April Love Geary and Robin Thicke seemingly have no need for lawyers as they prepare to tie the knot. Geary opened up about their plans (or lack thereof) to protect their assets in a very candid Instagram Stories post on March 23, admitting she has no plans to sign on the dotted line on the document that decides who will be entitled to what should they divorce.
One fan asked the model if "The Masked Singer" judge wanted to get a prenup, to which she shot back, via Daily Mail, "I don't know, but I'm not signing one." She then elaborated, "He's not marrying anyone else after me. How do you go from, like the baddest b***h on the planet? Where do you go from there? Trash." In case you were wondering, Thicke has a net worth estimated to be around $10 million.
Their marriage will be Geary's first, though Thicke was previously married to Paula Patton from 2005 until 2015. He told Billboard in 2011 they didn't sign a prenup, musing, "If I met someone new, I would be able to go into the relationship without that and I'm a romantic and wouldn't plan on marrying someone that I didn't plan on being with forever or want her to have half of everything I have. Including my heart and my soul. I think it's up to the individual. I don't think I ever would [sign one]." No contention here then?