The Real Reason Jay-Z Is Facing Huge Backlash For His Oscar Party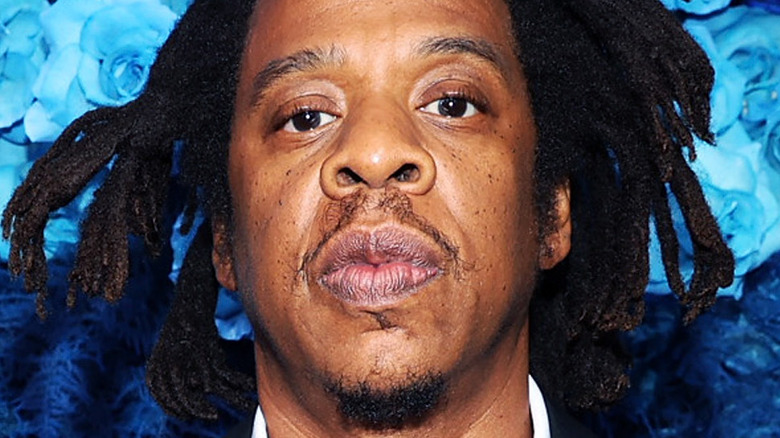 Shareif Ziyadat/Getty Images
The Oscars aren't just about the awards and fashion, they're also about the parties. Every year, one of the most star-studded is Jay-Z and Beyoncé's bash at Chateau Marmont. This Sunday, after a two-year hiatus, it's expected to make a big comeback, but also add to the list of folks who can't stand Jay-Z. That's because of the serious allegations surrounding the Hollywood institution. 
It all started in March 2020 when Chateau Marmont reportedly fired almost all of its employees, allegedly without severance pay, health insurance, or any indication of a re-hiring date. Following the mass layoff, staffers began sharing stories of major misconduct, and a Hollywood Reporter investigation unveiled claims of "racial discrimination, sexual misconduct" and all-around "neglectful management." For example, banquet server Thommi Gross told Page Six "the scariest thing" was working drug-fueled parties where "people were erratic, there was public urination, slurred speech," and "belligerent" behavior. Chateau Marmont was also hit with lawsuits from two Black employees, per The Hollywood Reporter, who alleged racial discrimination and a culture where management and HR didn't protect staff. In one of the lawsuits, event server Thomasina Gross said she felt "sexually violated and disgusted" as she was physically touched by guests at nearly every event, but alleged that superiors refused to intervene for fear of upsetting clients.
A slew of A-listers have since publicly boycotted the venue and major projects like "Being the Ricardos" moved production away from the Chateau, per Page Six ... But it seems Jay-Z is not willing to join them.
Jay-Z's Oscar party backlash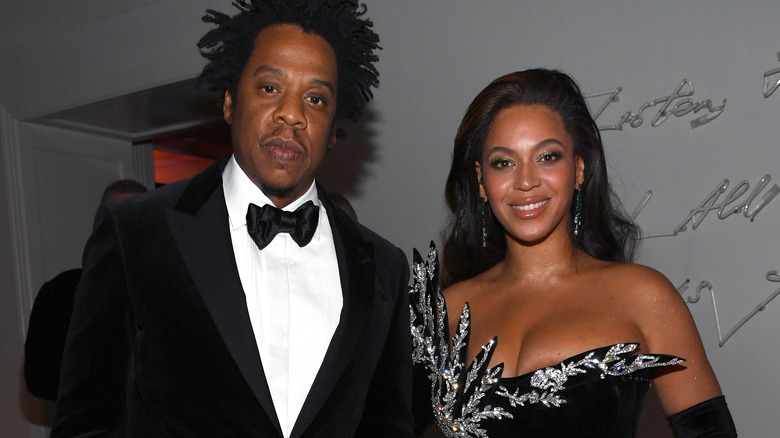 Kevin Mazur/Getty Images
Despite all of the negative press surrounding Chateau Marmont, Jay-Z chose to return to the site of his star-studded 2020 bash for this year's Oscars afterparty and it seems he is not willing to change his mind and join the boycott. As a result, Page Six reports that his A-list guests will be greeted by a picket line. According to the outlet, the UNITE HERE Local 11 union, which "represents over 32,000 workers employed in hotels, restaurants, airports, sports arenas, and convention centers throughout Southern California," is planning to make its presence known. Speaking with Page Six, the union's co-president, Kurt Petersen, said protesters plan to set up a picket line outside Chateau Marmont at 8pm, complete with signs and a "giant balloon arch" that's meant to grab everyone's attention. "Celebrities have a responsibility to lead by example," Petersen explained, saying, "Jay-Z has the opportunity right now to do just that by listening to the stories of Chateau Marmont workers and move his event to a location that treats its workers with dignity and respect." He also told The Hollywood Reporter that "Jay-Z has a responsibility to do better" and he simply isn't.
While the rapper hasn't responded to the backlash, a rep for Chateau Marmont did speak with Page Six. Firing back at the "bogus claims" and "meritless allegations," they accused Unite Here Local 11 of "manufacturing" all of the aforementioned stories "as part of their targeted efforts to unionize Chateau Marmont."