Jeopardy! Contestants Throw Accidental Shade At Diana Ross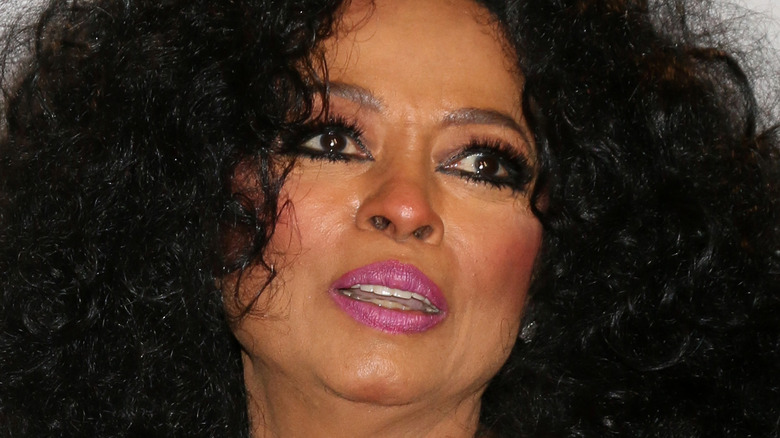 Kathy Hutchins/Shutterstock
What's worse than forgetting to phrase your answer as a question when you're a "Jeopardy!" contestant? Getting your answer so epically wrong that viewers cringe and your gaffe goes viral.
We think of "Jeopardy!" contestants as some of the most brilliant among us, and they work hard to win a spot behind one of those three podiums. Amy Schneider, whose 40-game winning streak was the second-longest in the show's history, told Newsweek that she spent over 10 years trying to get on the show, and she told GLAAD that she studied an online database of "every question and answer" that have appeared on those blue TV screens. She finally got stumped while trying to think of the name of a populous country that ends with the letter "h" (Bangladesh), per NBC News, but at least she didn't blurt out something totally wrong like Pittsburgh or Utah.
Unfortunately for many other contestants, their wild guesses live on in infamy on YouTube. Pop culture clues have a history of tripping them up: One contestant thought funnyman Chris Farley, not Johnny Cash, was known as the Man in Black, and another believed that Jay-Z and Beyoncé refer to themselves as "Bey-Z," not The Carters. But it was Diana Ross and another music legend who caused double the confusion on the March 21 episode of "Jeopardy!"
Two Jeopardy contestants apologized for guessing the same wrong answer
In June 2021, "Jeopardy!" had to issue an apology for using "an outdated and inaccurate term" ("Grinch syndrome") to refer to a serious medical condition, per CNN. But it was the show's contestants who were apologizing after a Final Jeopardy! round with this clue: "In 2021 at age 95, this singer achieved a Guinness World Record for the oldest person to release an album of new material."
Two contestants, Karen Johnson and Finn Corrigan, guessed that Diana Ross was the musician in question, and their answers didn't keep either of them hangin' on for another week. The Supremes made a very "Jeopardy!" move by asking a question in the title of their hit song "Where Did Our Love Go," but Johnson and Corrigan probably had Ross asking, "Where did the years go?" The singer is only 77 years old, as noted by the New York Post, so they misjudged her age by almost two decades.
The correct answer was Tony Bennett, who collaborated with Lady Gaga on the 2021 album "Love for Sale." The nonagenarian even recorded a video celebrating his world record. Johnson and Finn both acknowledged their gaffes on Twitter, with the former writing, "Deepest apologies to the iconic Diana Ross! I didn't really think you were the answer." Finn replied, "Me too! I knew she was not nearly that old but better to write something than nothing. Just glad we're in this together hahahaha."