Amy Schumer Reveals The Condition She Has Privately Struggled With For Years
DFree/Shutterstock
Amy Schumer is arguably one of the funniest women in Hollywood. The stand-up comic has become notorious for her self-deprecating jokes and even roasted herself (and her unborn child) in her Netflix special, "Growing."
The New York native, who is slated to cohost the 2022 Academy Awards, has never shied away from her past and has even opened up about her rocky childhood. The "I Feel Pretty" star revealed in her book, "The Girl with the Lower Back Tattoo," that her adolescent years were often filled with uncertainties. She was born into a wealthy family, but was forced into poverty after her father lost his business (via The Guardian).
Schumer has since packaged her experiences into a dramedy loosely based on her life called, "Love & Beth." The funny lady, who often pokes fun at her own life, has just revealed a big secret that she says caused her years of shame.
Amy Schumer shares her story in new show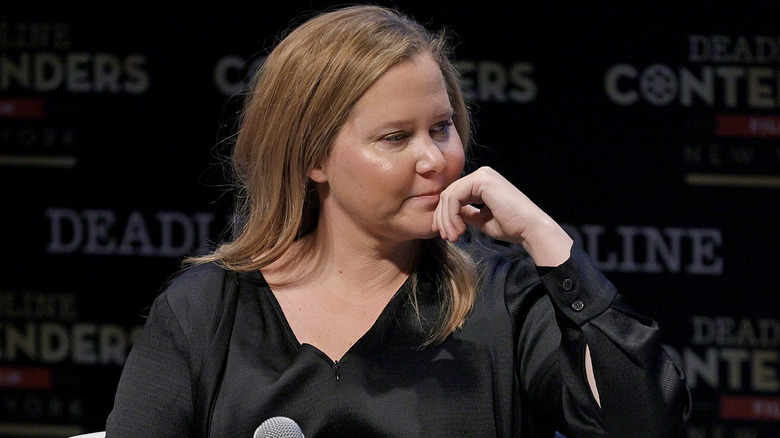 Michael Loccisano/Getty Images
Amy Schumer has seemingly always included real-life experiences in her work. Her HBO Max docuseries "Expecting Amy," chronicled her struggle with hyperemesis gravidarum — a condition that causes severe nausea and vomiting during pregnancy. Schumer's latest project, Hulu's "Life & Beth" is no different. The series, created by Schumer, follows wine rep Beth Jones, as she examines her childhood experiences in a quest to determine where her life is headed. However, the comedic series does include more serious topics, and Schumer has just revealed that one plot from the show is based off a condition she lives with.
The show features a scene in which a younger Beth, pulls out the majority of the hair on her head, forcing her to wear a wig. Schumer — in an interview with The Hollywood Reporter — explained that the condition, trichotillomania, is one that she also suffers from. "I think everybody has a big secret and that's mine," Schumer told the publication. "And I'm proud that my big secret only hurts me but it's been what I've carried so much shame about for so long."
Schumer further explains that the condition is one that she will have to manage for the rest of her life. She decided to disclose her condition in the semi-autobiographical series in hopes that it would inspire others. She explained, "I thought putting it in there would be good for me to alleviate some of my shame and maybe, hopefully, help others alleviate some of theirs, too."