Michael Weatherly's Hidden Talent You Might Have Missed On NCIS
Brad Barket/Getty Images
Michael Weatherly departed the CBS crime procedural "NCIS" in 2016, and some viewers still have not recovered from having to say goodbye to his character, Special Agent Tony DiNozzo. When Weatherly tweeted a video of himself watching an "NCIS" rerun in his hotel room in March 2022, he received a flood of responses from admirers begging for him to rejoin the show. "Miss you as Tony. Please tell me that you are coming back to NCIS soon?" wrote one fan.
In 2016, Weatherly's co-star and friend Sean Murray told Entertainment Tonight, "If Michael were to do the odd episode here or there, or drop in to the 'NCIS' world for a special occasion, that's something that could very well happen," adding that Weatherly himself had expressed enthusiasm about returning to the show in the future. But after his departure, Weatherly immediately began working on the CBS series "Bull," which kept him busy crafting a new character. "I solve problems the same way as an actor but it really requires a lot of different muscles," he told The Hollywood Reporter of his role as a charismatic psychiatrist.
Executive producer Paul Attanasio noted that the gig allowed Weatherly to show off his "fantastic comic timing," and the actor even got to perform a musical number. But, per Entertainment Tonight, Weatherly was merely lip-syncing in those surreal scenes, so he didn't get to show off his impressive pipes — a hidden talent that he did get to utilize during his "NCIS" days.
Michael Weatherly recorded a song inspired by Cote de Pablo's NCIS ex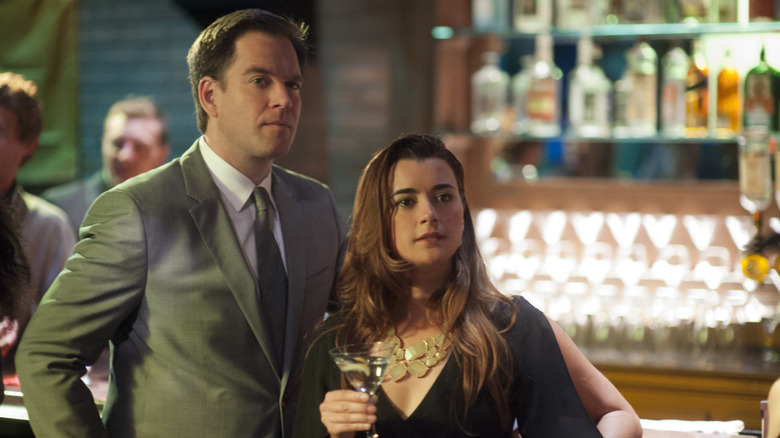 Richard Foreman/CBS
If Michael Weatherly had gotten his wish, "NCIS" would have done a musical episode. In 2010, Splash News (via Digital Spy) quoted the actor as saying, "We have talked about it, but there are certain people that think it would be a disaster and it's Fonzie jumping the shark tank." While his dream never came to fruition, Weatherly did get to record two songs for the "NCIS" soundtracks, which have also featured pieces by his former co-star Pauley Perrette.
Weatherly's contributions were titled "Bitter and Blue" and "Under the Sun." According to Music Times, he described the latter as having "a strange group of meanings." In the track commentary, he said that he had his son in mind when he first started working on the song. However, it took on a new significance for him when his co-star Cote de Pablo, who has shown off her own talent for singing on "NCIS," announced she would be departing from the show in 2013. "I thought it would be neat to make a song that maybe looked a little bit into change and how we all have to deal with change in our lives," Weatherly told omg! Insider.
Weatherly recorded a music video for the song starring himself. He described the premise as "DiNozzo in an alternate dimension ... wandering around in a tuxedo looking for something." That "something" was presumably his lost love, Ziva David (de Pablo).
Michael Weatherly once survived by singing on the subway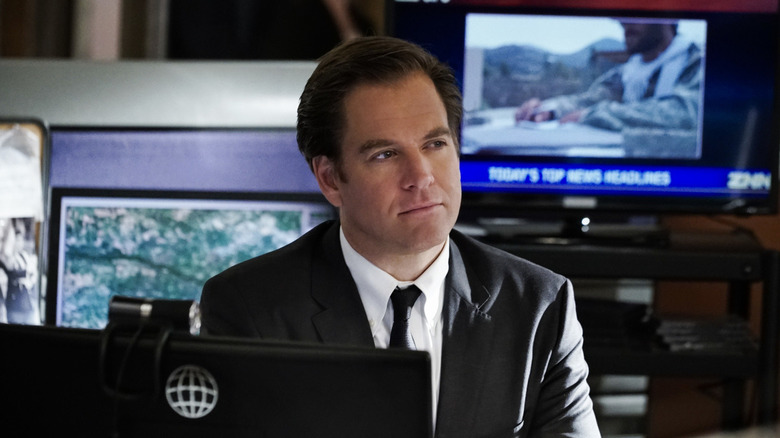 Jace Downs/CBS
Before he got his big break busting bad guys on television, Michael Weatherly paid his bills by busking. He first tried the traditional route of working as a waiter while pursuing his acting dreams in NYC, but after getting fired twice, he told the Los Angeles Times, "My only recourse was to go play guitar in the subway." He learned that performing one song was a surefire way to pay for his supper, telling Entertainment Weekly that the Paul Simon classic "Me and Julio Down by the Schoolyard" could earn him "about $30 in about 15 minutes."
Weatherly told the Pepsi Music Blog he eventually moved from the subway to the stage by forming a band and landing gigs, but he pushed his music aspirations aside when his acting career started taking off in the early '90s. "I saw nothing ahead in the world of music for myself but deep pain," he said of his choice to pursue a different path to stardom. However, as he recalled to Entertainment Weekly, he did have fun performing karaoke with talk show host Ricki Lake when they were members of the same improv troupe in 1991.
In a January 2022 tweet, Weatherly announced that he was leaving "Bull," so if he wants to make music fun again by making that "NCIS" musical episode happen, now he has time to do it. And what Tiva fan wouldn't want to see a duet between Weatherly and Cote de Pablo?