What's The Real Meaning Of Sigue By Ed Sheeran And J. Balvin? Here's What We Think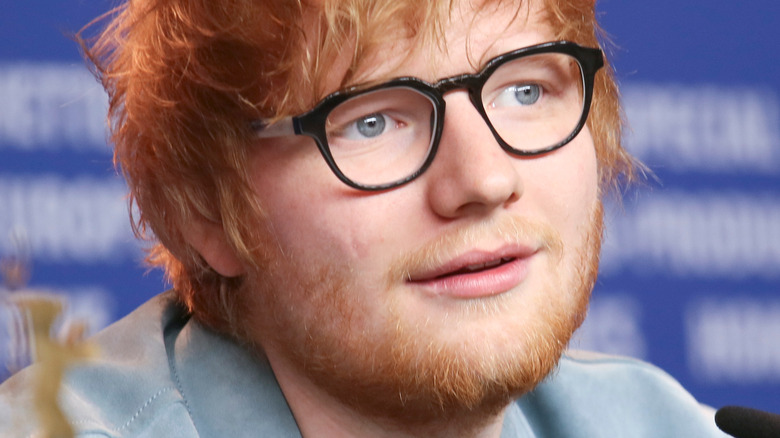 Denis Makarenko/Shutterstock
Four-time Grammy-winning artist Ed Sheeran has worked his way up to become a global star in the music industry. Sheeran, who made his debut with the 2011 single "The A Team," has five No. 1 albums and 13 No. 1 singles in the United Kingdom, according to Official Charts. After skyrocketing to fame, Sheeran has his hit songwriting skills down to a science. "I write about 25 songs a week and one of them will be all right and that will go on the 'maybe' list," he described to The Sun of the creative process for his 2021 comeback album. Now, after writing nearly 250 songs for his "=" record, Sheeran is spicing up his skills by singing in another language.
Being that Sheeran's native language is English, he's proving to fans he's capable of anything by releasing an unlikely collaboration with Latin pop star, J Balvin. Some initially thought the pair's collaboration was mismatched, but Sheeran isn't a stranger to teaming up with international stars. On March 4, he featured on the Spanish-infused single "Bam Bam" with pop sensation Camila Cabello. He and Cabello also formed a trio in 2019 with Cardi B for the Latin-inspired track, "South Of The Border," which has accumulated more than 217 million views on YouTube. The title of Sheeran and Balvin's newly released single, "Sigue," means "follow" in Spanish, according to Google Translate. Let's dive into what the rest of the Spanish lyrics in the upbeat track really mean.
Ed Sheeran and J Balvin show off their wild side on Sigue
Ed Sheeran and J Balvin show off their partying sides in their new Spanish language single, "Sigue." J Balvin hints at a late night plans with a lover on the first verse, singing in Spanish (per English Translations), "Mami if you follow me, we'll go to the hotel / You were the first, for you there is no top ten." In the pre-chorus, Sheeran sings in Spanish, "I've been craving you for a while," according to the Independent. The lyrics convey that flirty Sheeran has also been thinking about someone special. In the following line, he sings, "Be careful of me if I catch you," meaning he couldn't resist the opportunity to approach the lover of his dreams.
In the upbeat chorus, both Balvin and Sheeran sing the lines, "Keep going / 'Cause I like everything you exhibit / I can play the themes / Let them see how I run through your body," per English Translations. We think this is the two's way of saying they're willing to take chances for the ones they desire.
The party continues for Sheeran and Balvin in the "Sigue" music video, released to Balvin's YouTube channel on March 24. The visual starts out with an overhead shot of the Eiffel Tower, seeing the two stars live it up at a luxurious hotel in Paris. Interestingly, their camaraderie wasn't all for show, as Sheeran and Balvin are actually good friends.
J Balvin and Ed Sheeran are an unlikely duo
Ed Sheeran and J Balvin's new single "Sigue" is already making waves for incorporating traditional reggaeton beats, a seemingly different style of song compared to Sheeran's traditional acoustic style, reports the Independent. But "Sigue" would have never been created if Balvin didn't recognize Sheeran's unmistakable face while working out at a New York gym sometime in 2021, according to a joint statement released by the singers on Instagram. When the "Shivers" singer knew it was the the Latin pop star, he "went up" to Balvin and "said hi." This sparked the beginning of their friendship and on the initial day they met, Sheeran said the two stars "chatted so long" they "ended up having lunch and then afternoon tea." Sheeran described the two becoming instant "mates who chatted non stop."
The pop artists decided to combine their talents and work together on more than one song in the studio, reports Rolling Stone. On March 24, the same day that "Sigue" was released, Sheeran and Balvin also came out with a second song titled "Forever My Love," which is sung in both English and Spanish. In his IG statement, Sheeran admits he had to learn Spanish for their collaborations, which he called a "proper challenge," but had great fun in the process — which definitely shows on the two stars' collaborations.