The Scary Reason Triple H Had To Retire From The WWE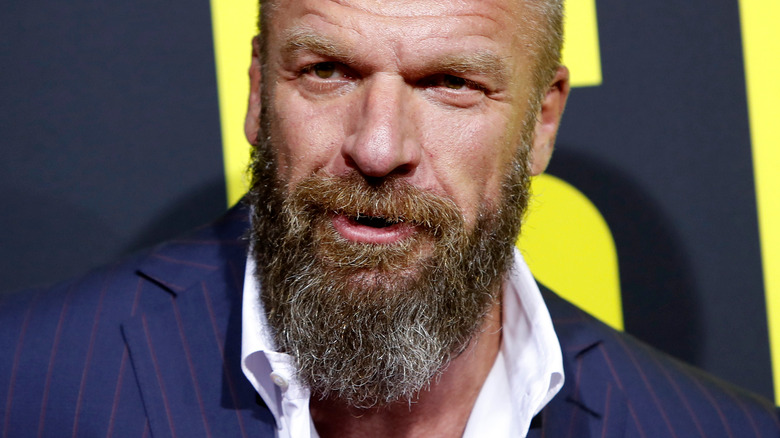 Kathy Hutchins/Shutterstock
Paul "Triple H" Levesque announced his retirement from in-ring wrestling competition, stunning WWE fans around the world. A 14-time world champion, five-time Intercontinental Champion, and two-time tag team champion, per ESPN, Triple H boasted an illustrious career that spanned over three decades. It's little wonder that so many wrestlers, past and current, have weighed in about The Game's unexpected exit. 
Drew McIntyre spoke to GiveMeSport and called it Triple H's retirement a "sad day." He said, "I can't overstate just how much Triple H has done for me." He also credited the Cerebral Assassin with bringing him "back to WWE." As the Scottish wrestler's mentor, they also "became friends eventually."
Former two-time WWE Champion The Miz, who is set to team with Logan Paul at this year's WrestleMania, also sung his praises for The Game. "Triple H it was an honor to have shared the ring with you. Thank you for the wealth of knowledge you have given to me over the years. Enjoy the extra time you will now have with your girls," Miz tweeted. Despite retiring, Triple H remains an integral part of the WWE as the Executive Vice President of Global Talent Strategy and Development, per Fightful, and will continue to grow the NXT brand. He has now revealed why he will never wrestle again.
Triple H nearly died from heart failure
In a March appearance on "Stephen A's World," Triple H revealed he nearly joined the list of WWE stars who have died in in late 2021. After receiving some alarming EKG results at the time, Triple H said, "I got a quick text message saying don't take time, pack a bag real quick, and head to the emergency room."
He noted his heart was functioning at an ejection fraction rate of 22%, while the normal percentage is about 60%. On the morning after admission, it had dropped to 11%. "I was in heart failure," Triple H said, adding, "I was ... at the one-yard-line of where you don't want to be." He told Stephen A. Smith he now has a defibrillator in his chest and firmly stated, "I will never wrestle again."
Triple H spoke about his daughters and wife, Stephanie McMahon. "We have three young girls: 15, 13, 11. Suddenly, I come home and I'm a little bit sick. And their dad whose strong, always, suddenly is in the hospital." He continued, "I don't know if they understood the consequences of it, but there's moments in there where you're ..." The Game cleared his throat and became emotional as he reflected on the possibility of never seeing his family again. Triple H's decision to retire leaves no doubt as to where his priorities lie. Perhaps, he'll get to spend more time with daughter Aurora, who dreams of becoming a pro wrestler.