The Real Reason Elton John Always Wears Glasses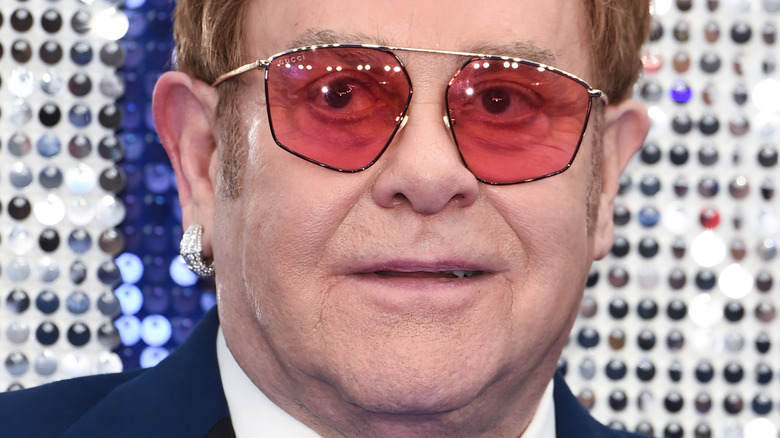 Featureflash Photo Agency/Shutterstock
Elton John may have made one mistake that no performer is keen on making. However, it could be argued that he's never taken a fashion-related misstep. That's pretty impressive considering he takes some serious fashion risks. Frankly, being bold when it comes to his appearance is something that this star has been doing for his entire career. While opening up to Vogue in January 2022 about style choices he's made in the past, he talked about an outfit that he wore back in the late '60s that was topped off with a hat that featured an animal-inspired pattern and included era-appropriate bell-bottoms. While it was certainly a notable ensemble, the singer admitted, "I was so young there, and that's probably all that I could afford."
Although John also admitted two years earlier during an interview with V Magazine that he's "not a very nostalgic person, and tend[s] to avoid looking back on [his] life," he did reflect on his earlier style choices, saying, "I can't believe how sartorially crazy I was, particularly in the '70s! I was like a big kid in a sweet shop. I couldn't get enough, and kept trying newer and crazier looks."
But John's iconic looks do not solely consist of vibrant clothes — he also opts for amazing accessories, including colorful and embellished glasses. While it might seem like they're just another way to snazzy up his style, it turns out that there's a very good reason why he always wears glasses.
Elton John's glasses were inspired by another star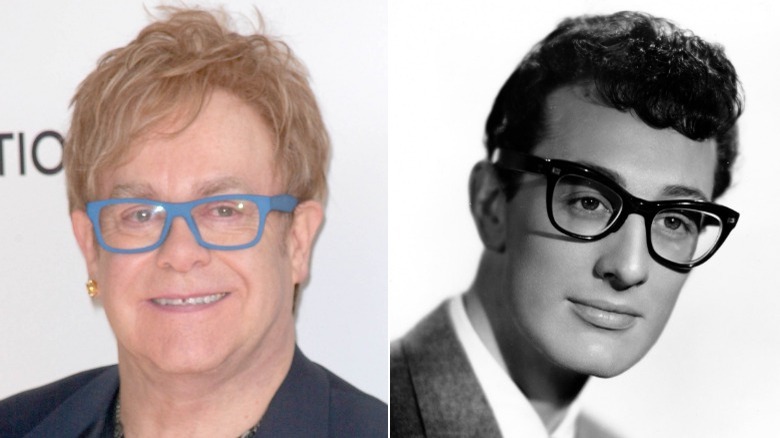 Shutterstock, Michael Ochs Archives/Getty Images
Elton John's glasses may be a signature part of his style, but they were actually inspired by another singer. John explained in the book "The Buddy Holly Story" (via The Vintage News) that he "began wearing glasses when [he] was 13 to copy Buddy Holly." Although John didn't actually need the glasses to help improve his eyesight, he went on to say, "After 18 months, I found I couldn't see without them. If any young fans are thinking of copying me, I'd advise them to forget it!"
John may believe that wearing unneeded glasses harmed his eyesight, but that may not have been the case. The University of Utah Health explains that glasses don't alter your actual eyes when you wear them (although they do alter how you see). Beyond that, popping on glasses that you don't really require isn't the cause of potentially worsening eyesight.
As for the likelihood that John's eyesight merely got worse on its own, it turns out that 35% of teenagers between 13 and 16 need glasses to help them see better, according to Healthline. Although that number has risen from previous years, the cause is thought to be the effect of spending too much time behind screens, per the Daily Mail, and not wearing necessary — yet super-snazzy — glasses. Granted, whether or not John needed to wear glasses in the past, he certainly slays them nowadays, which is why he has his own line of eyeglasses.
Elton John's eyewear line does more than improve vision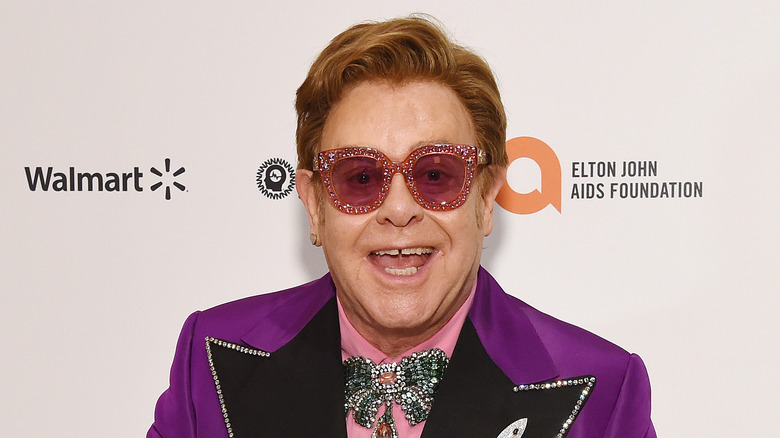 Michael Kovac/Getty Images
If you have ever wanted to wear the kind of glasses in which Elton John looks oh-so-fashionable, you now have that chance. In November 2021, the successful singer and style icon released Elton John Eyewear, which you can find at both Walmart and Sam's Club. While talking about the glasses in a statement (via Variety) and describing the collection as one that "celebrates confidence, self-expression, and authenticity," John explained that "[t]he line is designed to have something for everyone, so no matter who you are, you can always look yourself. It's not just about glasses, it's about changing the way people see themselves."
Featuring designs like the "Unisex, Hippie, Round, Silver, Sunglass," which feature rosy red lenses, and the "Unisex, Ducktail, Cat Eye, Black, Sunglass," which are just as wonderfully wild as you would expect, the collection is notable for more than just being chic. Walmart announced plans to donate $1 million of the money they were set to make from the collection to the Elton John AID's Foundation, which aims "to be a powerful force in the end to the AIDS epidemic."
John addressed the charitable effort behind his collection and collaboration with Walmart on Instagram in December 2021, writing, "I am so proud of this work we're doing together and that my new Elton John Eyewear line will benefit @EJAF, regardless of sales. So, shop the collection, find your frames and make a difference all at the same time."