The Tragic Story Of Michael Keaton's Ex-Wife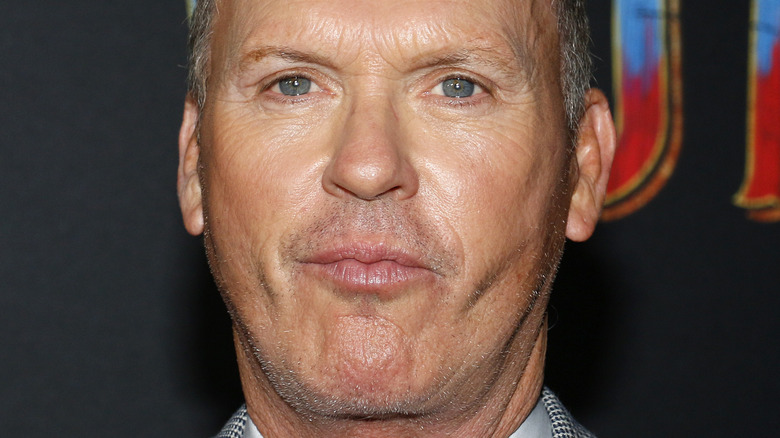 Tinseltown/Shutterstock
Michael Keaton has been one of Hollywood's top leading men for decades. Before moving to Los Angeles, Keaton took a jab at a career in stand-up comedy in Pittsburgh. The Pennsylvania native would go on to star in classic blockbusters, including "Batman," "Beetlejuice," and "Spider-Man: Homecoming."
Keaton has always shied away from the public eye and tends to keep his personal life private. The "Spotlight" star was recently spotted with a woman believed to be his girlfriend, but few details have been released about the couple's relationship. The woman, who's identity remains a mystery, was photographed with the actor while on a casual stroll in Santa Monica.
However, fans of Keaton may have forgotten that he was previously married to another Hollywood star. The actor, who's career began with a series of guest roles in the '70s, married fellow actor Caroline McWilliams in 1982, according to the Daily Mail. Unfortunately, McWilliams tragically died due to a serious health condition.
Caroline McWilliams died from cancer
Michael Keaton is rarely a victim of tabloid fodder and has always remained mum about his private dealings. But Keaton was once married to soap star Caroline McWilliams. While few details are known about Keaton and McWilliams' relationship, the two married in 1982 and share one son, Sean Douglas. The pair would later split, as Keaton filed for divorce in 1990 after nearly eight years of marriage.
Sadly, McWilliams died in 2010 after a private battle with multiple myeloma, per Emmys. McWilliams, who made her television debut on "Guiding Light," never remarried after her split from Keaton. Following McWilliams's death, Keaton spoke to Elle and effusively discussed his relationship with his ex-wife, noting that his sister and brother had also both lost ex-spouses before. "She was a remarkable mom," Keaton told the magazine. "Sean is the great guy he is because of her — we've always been tight, but now the bond's even tighter. We're the family now."
Caroline McWilliams was an established actor in her own right
Caroline McWilliams was a seasoned actor who studied drama at the prestigious Carnegie Mellon University, according to her obituary. McWilliams would go on to appear in several television and film productions from 1967 to 2003. McWilliams was primarily known for her role as Marcy Hill on "Benson," which aired from 1979 to 1981. McWilliams also starred as Sally in the series "Soap," as a reoccurring cast member from 1978 to 1979.
In addition to her career as an actor, McWilliams directed several productions of her own. According to Tulsa Word, McWilliams's directed three stage plays: "Divorcons (Let's Get Divorced)," "You Haven't Changed a Bit and Other Lies," and "The Smoke and Ice Follies." McWilliam's sister, Kelly-Jo Dvareckas, spoke of McWilliams's love for her craft, revealing that the actor "really hit her stride when she started to direct."
While McWilliams and Keaton never rekindled their relationship, it appears their son Sean Douglas may have picked up a few things from his creative parents. Douglas, who remained in Keaton's care following his mother's death, is now an accomplished songwriter and has written hits for artists like Jason Derulo and Thomas Rhett.