What Was Chris Rock's Initial Reaction After Will Smith Hit Him?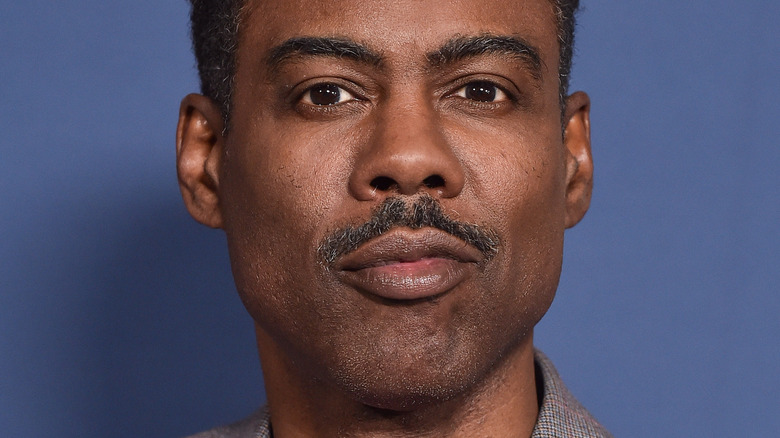 DFree/Shutterstock
When Chris Rock got onstage to present the Best Documentary category at the 2022 Oscars, a slap across the face from Will Smith was probably the last thing he anticipated. In a moment for the Oscars' history books, the drama began when Rock cracked a joke about Jada Pinkett Smith's shaved head resembling that of G.I. Jane (Jada revealed in 2021 she suffers from alopecia). While Will was initially seen laughing, tunes changed when Jada herself appeared annoyed. Cut to: Will strutting up to Rock and delivering an audible blow to the comedian's face. Even after the "King Richard" star was re-seated, he and Rock continued exchanging words (per People), with Will hurling expletives at Rock such as, "Keep my wife's name out your f**king mouth!" 
The moment was confusing, shocking, and quite frankly, unsettling. Presenters like Sean "Diddy" Combs attempted to smooth the evening's mood out. Diddy joked onstage, "Will and Chris, we're gonna solve that like family at the Gold Party." Meanwhile, some other celebrities didn't find the incident as funny. After Will, who won "Best Actor," gave an emotional acceptance speech, Maria Shriver tweeted, "We should never get to a place where we sit and watch a movie star hit someone on global television then, moments later, get a standing ovation while talking about love." 
Since the incident though, we haven't yet heard how Rock has been faring. What was the funnyman's initial reaction to the slap heard 'round the world?
Chris Rock was left speechless by Will Smith's slap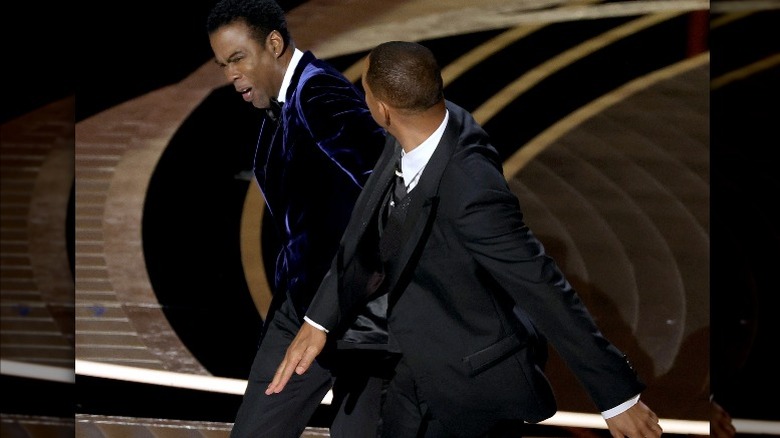 Neilson Barnard/Getty Images
After Will Smith's onstage slapping of Chris Rock at the 2022 Oscars, the comedian — given the situation — regained his composure rather quickly. But as an audience member present at the March 27 ceremony told People, Rock, along with everyone else, was initially speechless. "Chris Rock looked stunned," the source said, noting, "Everyone in the mezzanine was standing up to see what was going on — everyone shocked. You could hear a pin drop. Everyone was looking at each other like, 'Is this really happening?'" 
Rock was noticeably thrown off after the violent encounter, losing track of his presentation for Best Documentary. "That was, uh, the ... greatest night in the history of television," the comedian stammered understandably. "So we are here ... to give a documentary out." Rock managed to proceed afterward with a comedic routine about the category before presenting the night's award to "Summer of Love." 
Emotions remained high for everyone in attendance and watching at home the rest of the night, but according to rapper-mogul Diddy, Rock and Will have squashed their beef already. "That's not a problem. That's over. I can confirm that," Diddy told Page Six at Vanity Fair's Oscars party before adding, "It's all love. They're brothers." Given that the Academy of Motion Picture Arts and Sciences declared the next day they have launched a formal review into Will's actions (per The Hollywood Reporter), things might not be "over" just yet.