Tamra Judge Adds Major Fuel To Brandi Glanville's Rumor About Denise Richards
Tinseltown/Shutterstock
Brandi Glanville and Denise Richards are two people that you are unlikely to see talk to one another, let alone be in the same room together. That's because Brandi's claims that they hooked up was a major storyline for "The Real Housewives of Beverly Hills" back in 2020, which resulted in major feuds among the cast. Denise has vehemently denied those claims, but all of the poking and prodding from her "RHOBH" co-stars over it was perhaps one of many reasons why Denise left the show. One source even told the Daily Mail, "Denise claimed to Brandi that she was in an open marriage, but she wasn't and this has hurt Denise's husband Aaron very much." Denise was reportedly so tired of all the affair rumors that she stopped filming mid-season, but she did come back for the season 10 reunion to defend herself, albeit unsuccessfully. According to Us Weekly, Denise walked out from the reunion, and that was the last time the Bravo cameras would see her.
While "RHOBH" seemed to move on from Brandi and Denise's rumored hookup and all of the surrounding drama, it looks like there's another Real Housewife who is adding to those claims — Tamra Judge. Not only that, but "The Real Housewives of Orange County" alum apparently has her own story to tell about Denise, too.
Tamra Judge makes a bold claim about Denise Richards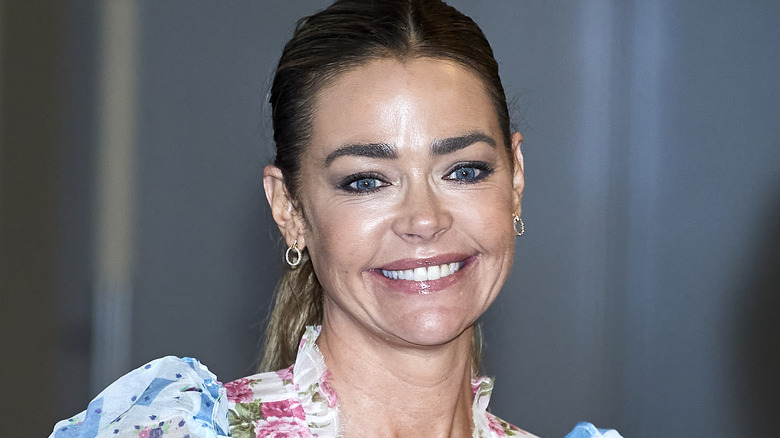 Carlos Alvarez/Getty Images
Tamra Judge is adding fuel to the fire about Denise Richards' rumored affair with Brandi Glanville by suggesting Denise tried to hook up with the former "The Real Housewives of Orange County" star herself at BravoCon back in 2019, according to Page Six. Judge reportedly dropped the bombshell while filming "The Real Housewives Ultimate Girls Trip" Season 2, as sources say her revelation will be a major storyline for the show. Tamra is set to star alongside Brandi and other all-star housewives in the upcoming season of the spin-off, which executive producer Andy Cohen described as his "dream cast crossover," per Bravo. Cohen teased on "The Daily Dish" podcast in February that "RHUGT" Season 2 "may be too twisted for words." Perhaps Cohen was hinting at Tamra's big revelation.
At the time of this writing, Denise herself has not made any comments about Tamra's bombshell. But as many fans can recall, she did have her lawyers fire off cease and desist letters to her Bravo co-stars in attempt to squash talk about the Brandi Glanville hook up rumors, per Us Weekly. That said, it's no wonder that Denise quit "The Real Housewives of Beverly Hills" and decided to stick with her stardom in scripted dramas like "The Bold and the Beautiful" instead. It seems like the "Real Housewives" world has much more drama than any soap opera could muster up.