Donald Trump Makes A Strange Statement About His Golf Skills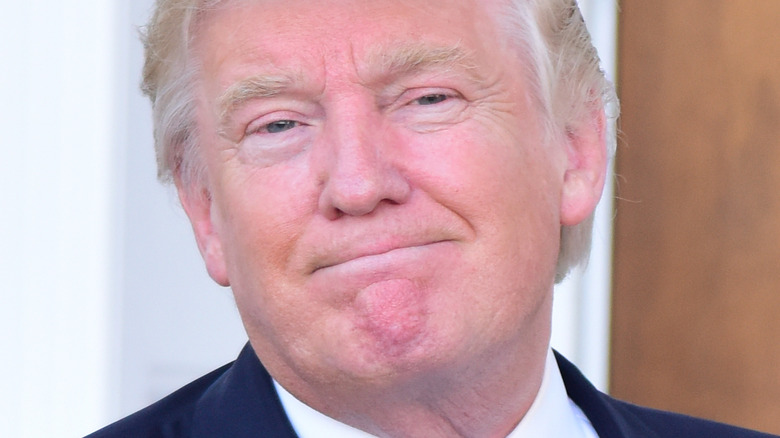 A. Katz/Shutterstock
Former President Donald Trump is not slowing down by any stretch of the imagination. Not only is he suing Hillary Clinton for allegedly colluding to smear his election campaign in 2016, per Reuters, but CNN reports that Trump is also constantly finding reasons to praise Russian President Vladimir Putin. Let's not forget that in late March, a district court judge ruled that Trump "more likely than not" committed a crime when he "corruptly attempted to obstruct the Joint Session of Congress," per Sky News. Now, U.S. Attorney General Merrick Garland must decide if they will bring charges against the former president.
Despite all the humdrum, Trump has remained consistent in one area — golf. Forbes reports that up until November 2020, Trump's golfing trips amounted to $142 million of American taxpayers' money. They cited TrumpGolfCount.com at the time and claimed that he had enjoyed the game at least 142 times. Recently, the ex-POTUS appeared on the "Full Send Podcast" (which to Trump's consternation has since been removed by YouTube) and confirmed his prowess on the range. Via Essentially Sports, he said, "I've been a very successful golfer over the years." He claimed, "I've won many, many club championships — which is hard to do." Trump also explained that he doesn't "play as much as you really should play if you want to become top-top." But now, it seems as if Trump may have significantly leveled up on his golfing skills.
Trump's hole-in-one may explain his granddaughter's championship-winning golf skills
Donald Trump, the ex-president of the United States, released a statement following his golfing achievement. The statement came after four-time major winner Ernie Els posted a photo of pro-golfers Gene Sauers, Ken Duke, Mike Goodes, and Trump at the Trump International Golf Club in Palm Beach. He wrote, "Great shot on Saturday 45! Fun to watch the ball roll in for a hole-in-one." Trump's spokesman Taylor Budowich also tweeted a video of "45 picking up his hole-in-one."
Trump then issued a statement (via the New York Post) saying, "Many people are asking, so I'll give it to you now, it is 100% true." He recalled, "I hit a 5-iron, which sailed magnificently into a rather strong wind, with approximately 5 feet of cut, whereupon it bounced twice and then went clank, into the hole." Apparently, Trump initially did not realize that he had aced the shot, but "[t]hese great tour players noticed it before I did." Trump wouldn't reveal who won the game because he is "a very modest individual." He added, "[Y]ou will then say I was bragging and I don't like people who brag!" 
The former prez has seemingly passed on the golfing genes. Kai Trump, Donald Trump Jr.'s daughter, took to Instagram on March 24. She posted a pic of herself posing with her grandfather and her mother and wrote, "Over the weekend I won the Women's Club Championship" at the Trump International Golf Club. Congratulations, Kai!