Why Is Donald Trump Suing Hillary Clinton?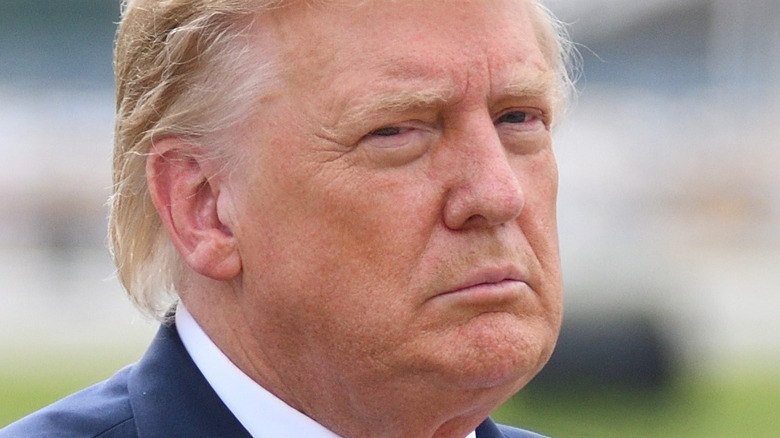 Evan El-Amin/Shutterstock
Donald Trump is still in the headlines months after he unsuccessfully tried to overturn the results of the 2020 election. In fact, he's proven that he can't be silenced, even though he doesn't have an active Twitter account. 
And while Trump might still be having a hard time putting the past behind him, his 2016 opponent Hilary Clinton has made it no secret that there's no love between them, either. During an appearance on "The View" back in October 2021, Clinton suggested that the Capitol riots were very close to turning into a "full Constitutional crisis." She explained (via The Wrap), "I think we're at a very dangerous, continuing high-level attack on the legitimacy of our government and the election of our president. And obviously, our former president is not only behind it, he incited it, he encouraged it, and he continues to do so."
Of course, Trump still has an ax to grind with Clinton — and not because of the 2020 election. The former president is still litigating the 2016 one that he actually won over the former secretary of state. It all has to do with — well, you might have guessed it — allegations that Trump colluded with Russian officials. 
Donald Trump is not done with Hilary Clinton just yet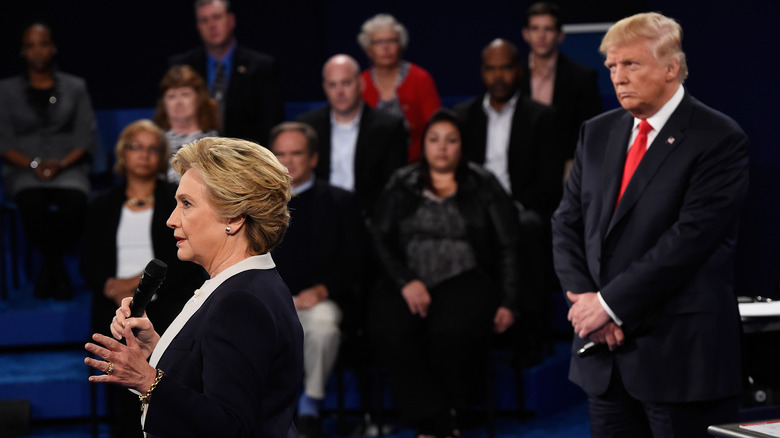 Pool/Getty Images
Donald Trump has filed a whopping $25 million federal lawsuit, according to the New York Post. In it, he claims that Hilary Clinton and the Democratic National Committee, along with 26 other people, tried to undermine his 2016 campaign by suggesting that he was colluding with Russian officials at the time. 
Now, as far as whether or not Trump has any chance of winning this lawsuit all depends on who you ask. Laurence Tribe, a professor of Constitutional Law at Harvard, called it "absurd," and said on Twitter that Trump "only himself to blame for being compromised by Putin and thus looking like he is compromised by Russia." CNN legal analyst Ellie Honig added, "It's difficult to put into words just how deeply flawed and utterly hopeless this lawsuit is." 
While Trump is trying to distance himself from all things Russia, there's a good chance that Clinton might take yet another jab towards her former opponent. On February 12, Clinton made a quirky sales pitch for some merch on social media by using Trump's obsession with her emails and a report suggesting the former president flushed some of his White House memos down a toilet. "Just in time for Galentine's Day, and the news that Trump was flushing documents down White House toilets," she wrote alongside a link to a baseball cap reading "But her emails."  No matter what happens, it seems like we can count on plenty more toilet jokes.