Did Zendaya Really Do Her Own Makeup For The Oscars?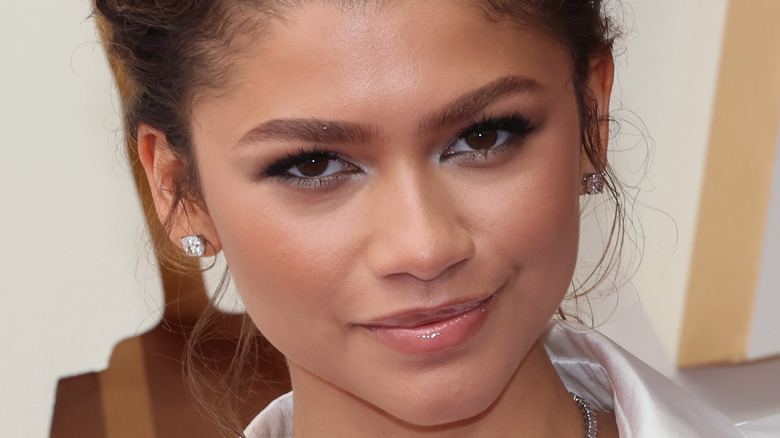 David Livingston/Getty Images
We don't know about you, but if we were invited to the Oscars, we'd have enlisted the help of a glam squad so large it would make a Real Housewife blush. But, as should be more than obvious, we are not Zendaya. The "Dune," "Euphoria," and "Spider-Man" actor showed up to the 2022 Academy Awards looking gorgeous, of course, in a cropped silk button-down and sweeping, sparkly skirt. She paired the daring look with upswept hair and a smokey eye which, rumor has it, she applied herself.
We've seen Zendaya barefaced enough in paparazzi photos and in "Euphoria" to know that it takes real work to make her face look anything less than stunning. But still, if even fresh-faced 17-year-olds get their makeup professionally applied to go to the prom, you'd think that even Zendaya would get a professional makeup artist to do her face for the literal Oscars. This simply can't be true, can it?
Zendaya admitted she did her 'own beat'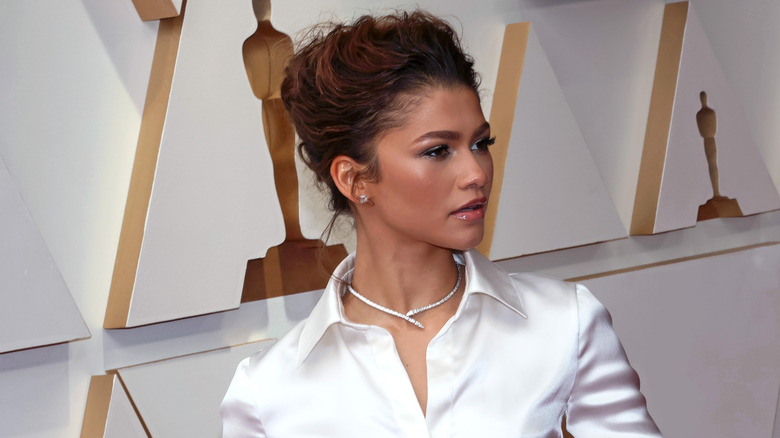 David Livingston/Getty Images
Well, according to Zendaya herself at least, it is. The actor posted a photo of her Oscars makeup to her Instagram Stories (via People), writing, "Every now and then I do my own beat." She also tagged Lancome, the makeup brand she is an ambassador for. Apparently she used the affordable line of makeup to create the soft look by herself, though she did hire a professional for her hair.
But, as the star said, it's not necessarily out of the ordinary for her to do her own look. She did her own hair and makeup on the set of Netflix's "Malcolm & Marie," according to Elle. 
So, how did the star acquire this level of makeup mastery? The normal way — YouTube videos. "Honestly, I just kind of learned, and it was a process," she told Byrdie in a 2021 interview. "I watched a lot of YouTube videos when I was little and taught myself." We're not worthy.