Mindy Kaling Can't Stop Showing Off Her New Look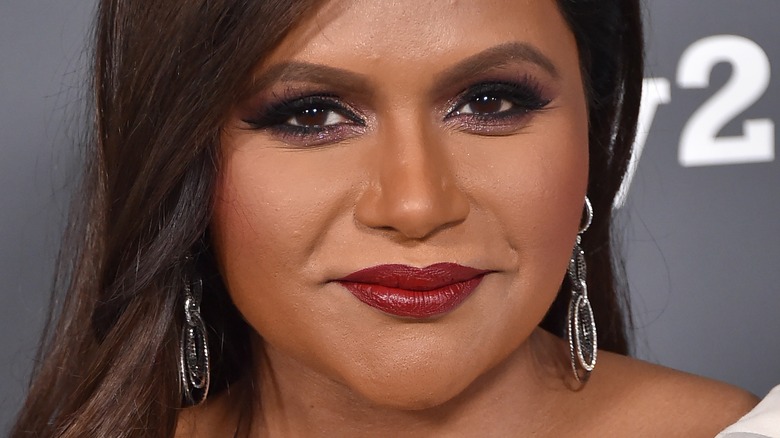 DFree/Shutterstock
Mindy Kaling was looking snatched at the Vanity Fair Oscar bash in late March. The actor turned heads in a two-toned off-the-shoulder dress that hugged her svelte frame in all the right places. The silver top half fit snugly, while the yellow skirt draped across her curves, revealing a daring thigh-high slit that showed off her legs. A yellow cape was attached to her shoulder strap, falling to the floor. Kaling wore her hair in a side part and accessorized with dainty jewelry. Of course, her bestie, B.J. Novak, looked equally dapper in a black suit and white shirt. In fact, he looked self-assured as he and Kaling posed in an Instagram post she shared on March 29. She referenced her character Kelly Kapoor from "The Office" in her caption, saying, "I have a lot of questions. Number one, how dare you?" 
But, Kaling wasn't so brave when she commented on Gabrielle Union's Instagram photos. In the snaps, Union and her husband Dwayne Wade were looking glam while cozying it up. In her comment, Kaling confessed that she had seen the couple at the Vanity Fair Oscar party the previous evening, but her nerves got the better of her. She wrote, "I saw you both at the party last night and was like, too intimidated to say hi bc you both looked so good." Someone definitely needs to drag Kaling from the shadows and into the spotlight where she belongs, especially in the little number she posted on March 29.
Mindy Kaling's 'live well' philosophy is paying off
Mindy Kaling is one hot mama! The actor gave birth to her second child, Spencer, in September 2020, and in January 2021, she told InStyle that she had embraced a new philosophy. She said, "My resolution is just to live well and enjoy my current situation." She had incorporated mindful "little rituals" into her everyday living, like taking a walk with her kids or squeezing in "unusual ways" to work out, like somersaulting with her daughter.  Later that year, she told Shape that "as long as I'm getting enough nutrients and feeling like my heart and my lungs are really getting exercise, I don't really beat myself up."
Well, something about her holistic approach seems to have paid off, because she's looking radiant in the slew of photos that Kaling's been sharing on her Instagram. In her latest pic, she showed off one of the looks she rocked over the Academy Awards weekend (pictured above). Kaling wrote, "I promise this is my last thirst trap pic from this weekend!" She posed in her roomy closet, wearing a netted fishnet corset top with spaghetti straps. She paired the top with a knee-length pencil skirt that had a sexy come-hither piece of black netting that fell to her ankles. Kaling looked gorgeous! As she told InStyle, "I think that I just didn't realize that so much of you looking appealing and beautiful is feeling truly just comfortable in your environment and in your own skin."