Mindy Kaling's Latest Look Has Everyone Saying The Same Thing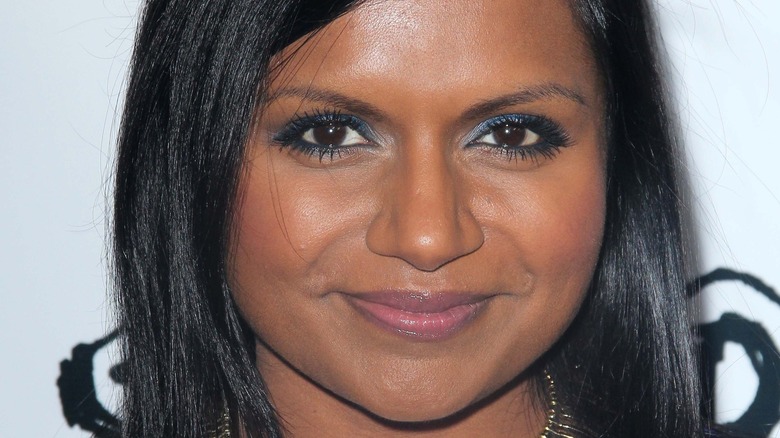 s_bukley/Shutterstock
"The Office" star Mindy Kaling has always set tongues wagging, and usually it's for her work on popular shows like "The Mindy Project" and "Never Have I Ever." But over the past few years, Kaling has been raising a few eyebrows with her revelations about her personal life. In October 2020, she shocked fans when she revealed she had a secret pregnancy during quarantine, and had secretly given birth the month before. She ever so casually dropped the news during a video-chat appearance on "The Late Show with Stephen Colbert," and she even revealed her baby's name was Spencer.
When asked by Colbert how Kaling managed to keep her pregnancy a secret for an entire nine months, she credited the pandemic, seeing as how we were all under stay-at-home orders. She then revealed that she was indeed snapped by the paparazzi, except outlets were too scared to comment on her obvious baby bump. "They were too nervous to claim that I was pregnant," she said, noting she was eight months pregnant at the time. "It was almost more insulting. They were like, 'Oh yeah, Mindy Kaling just looks like this!'"
Now her body shape is on display again in a new picture posted to her social media, and this time, the "Sex Life of College Girls" producer is garnering a wave of comments — none of them too nervous to claim she looks AWESOME.
Mindy looks sleek AF in new black cocktail dress
In the early hours of Friday, March 25, Mindy Kaling posted two photographs to her social media channels (pictured above), featuring herself posing in her walk-in closet while wearing a stunning black cocktail dress. The plunging décolletage. The sleek hair. The flawless skin. We are OBSESSED.
And we're not alone. "The Office" star looks so good, she has received a flood of compliments from fans and fellow celebs alike, praising her classic style and flawless pose. In the comments section on IG, Uzo Aduba gushed, "Smoking' hot. Not hot, @mindykaling . SMOKIN'. HOT." Lilly Singh praised, "DANG." Olivia Munn wrote, "Holy smoke show," while Kat Dennings simply exclaimed, "Whoa." But you know who didn't comment? B.J. Novak. C'mon Ryan, just tell her you love her!
Kaling has previously opened up about her changing body shape and how she embraces her new ethos when it comes to listening to her body. "I would love to be the size I was when I was 32 or something, but I just refuse to beat myself up about it," she told Shape in 2021. "I'm like, as long as I'm getting enough nutrients and feeling like my heart and my lungs are really getting exercise, I don't really beat myself up about that."