Who Is Duke Basketball Coach Mike Krzyzewski And Who Is His Wife?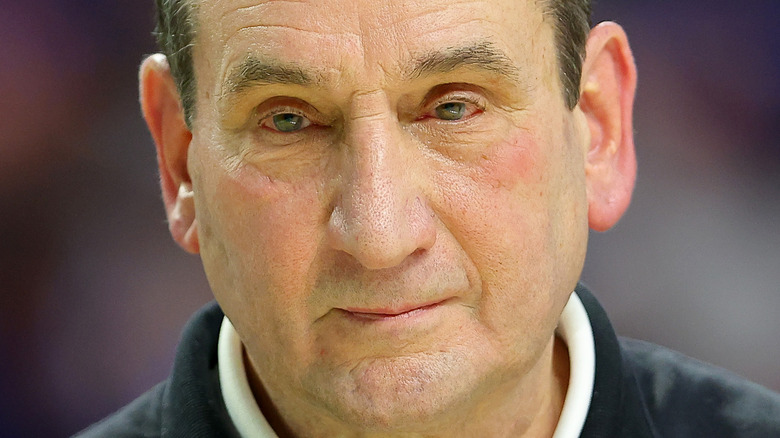 Kevin C. Cox/Getty Images
Mike Krzyzewski's name is synonymous with college basketball. During March Madness, the Duke Blue Devils' coach frequently leads his team far in the tournament, including in 2022 where the team had yet another Final Four berth. To say that Coach K is a legend at Duke would be an understatement. He's pretty much the mayor of Durham, North Carolina, and he has a massive following of fans who have cheered him on throughout his storied career.
Krzyzewski is arguably the best NCAA coach ever to live, and his résumé speaks volumes. According to ESPN, the legendary coach has been to 13, yes 13, Final Fours, and he's also won five national championships since he began coaching. Krzyzewski has remained loyal to the Duke faithful, coaching the Blue Devils for 41 seasons and compiling a record of 1,170 wins and just 361 losses. We may not be mathematicians, but Krzyzewski's winning percentage is nothing short of amazing. Ahead of the 2021-2022 season, he surprised fans when he announced that he would be retiring after the tournament. "Look, this is not about health. It's not about COVID or saying why that year was so bad," the coach said during a press conference in June 2021, per Sporting News. He also shared that his time coaching was great, but he feels like he still needs to do more with his life after basketball.
As Coach K approaches the end of his career as a coach, there's been one person in his life who has been a constant — his wife, Carol "Mickie" Krzyzewski.
Mike Krzyzewski and wife Mickie go way back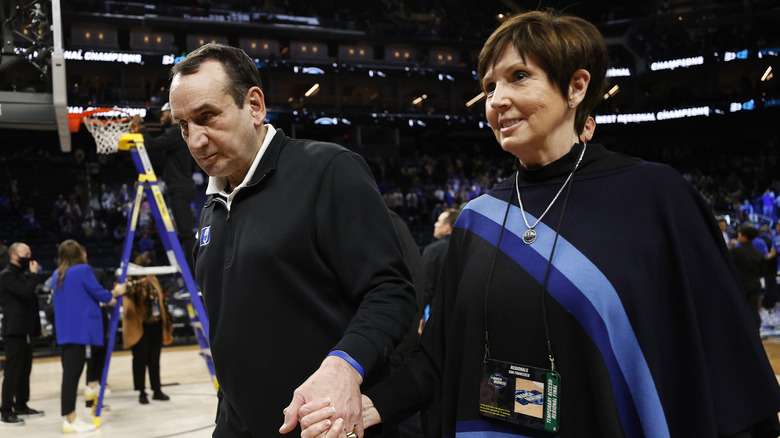 Steph Chambers/Getty Images
Mickie Krzyzewski is pretty much the first lady of college basketball. As fans of the Duke Blue Devils program know, Mickie has become as much of a fixture as her husband during games, and she always seems to be at Cameron Indoor Stadium to cheer on her husband from the stands. According to The U.S. Sun, the couple actually met at 30,000 feet while Mickie worked as a stewardess on the same plane that Mike was a passenger on. The two hit it off, and in 1969, they tied the knot. In 2004, the couple proved their marriage was still strong, and they renewed their vows at the famed Duke Chapel, per Greensboro. 
The couple shares three children — Debbie Savarino, Lindy Frasher, Jamie Spatola — and they also have several grandchildren, per Washington Post. Mike thinks highly of his wife and frequently praises her for her role in the Duke basketball program. "It's always been, for the two of us, our career," he told The Chronicle. "When [then-athletic director] Tom Butters, God bless him, hired me, he mentioned to Mickie, 'I just want you to know, I'm not hiring your husband, I'm hiring your family,'" he recalled. "And that was a really big-time thing to say to a 33, 34-year-old couple getting ready to take a real big jump into the ACC." Ugh, we love this husband and wife team.
It may be a big adjustment when Coach K retires, but we're sure that Mike will enjoy spending a lot more time with his wife ... this time off the court.
Inside Mike Krzyzewski's replacement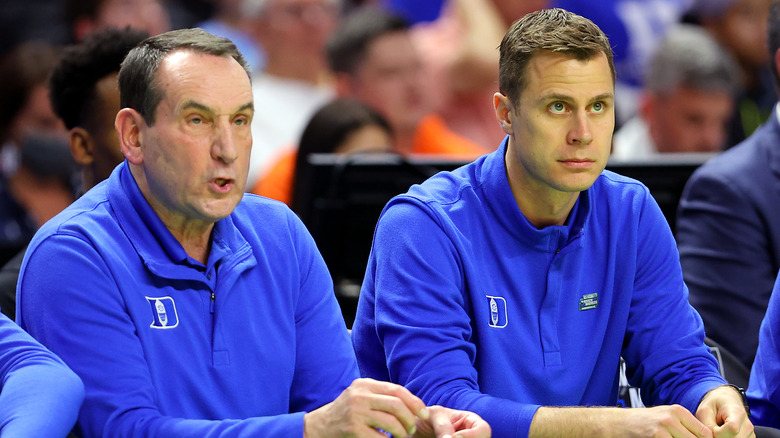 Kevin C. Cox/Getty Images
Mike Krzyzewski leaving Duke marks the end of one chapter and the beginning of another. Once the Hall of Famer takes his final bow on the court, assistant coach Jon Scheyer will have some big shoes to fill. Scheyer played for Coach K and the Blue Devils during his collegiate career and later earned a spot on the bench next to Krzyzewski. When Krzyzewski announced his retirement, many were wondering who would replace him, and that man will be Scheyer.
Krzyzewski seems to have all of the faith in the world that Scheyer is the right man to succeed in his legacy. "You can look at the 2010 national championship," he told Sports Illustrated. "I believed in him and Nolan [Smith] running our team. Any of the guys who work for me, they were my former captains." Krzyzewski also pointed out that 33-year-old Scheyer was the same age as him when he began his career at Duke. He also noted that he hopes Scheyer's career starts off better, since he was not too successful during his first three years with the program.
There's no doubt that the 2022-2023 will look a lot different for the Blue Devils and their coaching staff, and the games against North Carolina have entered a new era of talent since Roy Williams has also retired from the sport. But, we can only imagine that Krzyzewski and wife Mickie will still come to games and root on their Blue Devils.