The True Story On How Will And Jada Pinkett Smith Met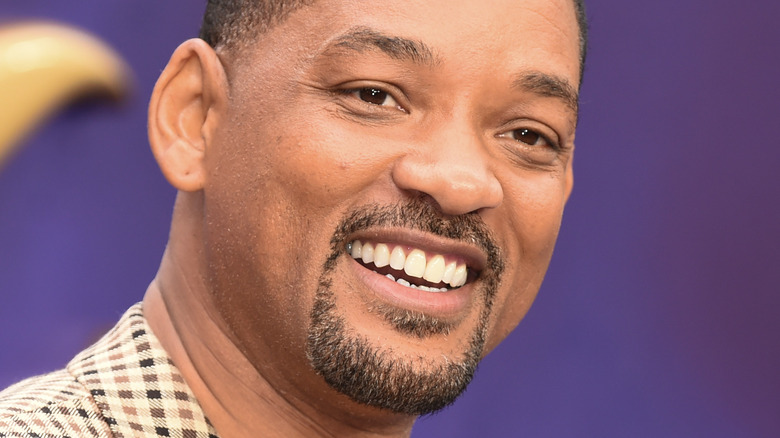 Featureflash Photo Agency/Shutterstock
We may receive a commission on purchases made from links.
Will Smith and Jada Pinkett Smith have earned the status of Hollywood royalty. And even though their relationship has spanned over two decades, their love for each other seems to only wax stronger year after year — an accomplishment in an industry predominantly known to be brutal to marriages. But this beautiful union is not without its own challenges. "You can't expect it to be easy, it's like our marriage was the most difficult, grueling, excruciating thing that we have ever taken on in our lives," Will told Entertainment Tonight in 2015. "And you know we're just not quitters."
The A-listers tied the knot in a private ceremony on New Year's Eve in 1997, per Insider, and have since welcomed two kids together: son Jaden Smith and daughter Willow, both of whom have followed their parents' footsteps into the entertainment business. Additionally, Will is a father to an older son, Trey, whom he welcomed during his first marriage to actor Sheree Zampino. However, despite the animosity that existed between Jada and Zampino in the past, the two women have come to love and respect each other. Together, they have seemingly created the ultimate blended family model — and boy, does it work for them! 
Maybe you think of them as #relationship goals — or maybe you don't, but one undeniable thing is Will and Jada have worked hard to get to where they are now. However, one big question remains — where did it all begin? 
Will Smith immediately knew he'd hit it off with Jada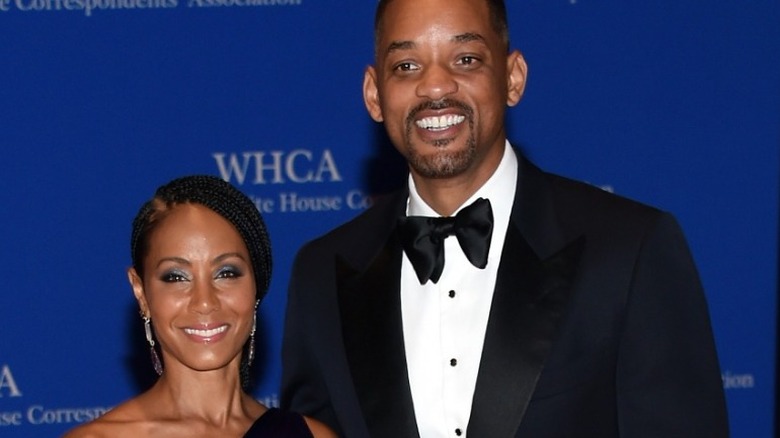 Larry Busacca/Getty
During an October 2018 appearance on Jada Pinkett Smith's show, "Red Table Talk," Will Smith revealed he was first drawn to his future wife after watching her on "A Different World." He revealed, "I knew that there was something in our energy that would be magic." However, he didn't get the chance to confirm it until years later, when they met a mutual friend's party. Once they got talking, Will knew he was right. "We had that moment and we connected, but I was married," he admitted.
Jada and Will would later meet again, this time, in 1994 when she auditioned to play his girlfriend on the popular '90s show, "The Fresh Prince of Bel Air," according to Cosmopolitan. Though Will was still married to his first wife, Sheree Zampino, it was not enough to kill the attraction he felt toward Jada. During an October 2018 episode of Red Table Talk, Will admitted he broke down in a restaurant's bathroom after realizing Zampino was not the woman for him. 
Eventually, after Will and Zampino divorced, the "Bad Boys" star started dating Jada. But as Will revealed in his 2021 autobiography "Will," Jada was in Baltimore at the time where she had just bought a beautiful farmhouse. She however left all of that behind, moved to Los Angeles to be with Will and the rest they say is history. "Jada would never spend a single night in her Maryland farmhouse," Will wrote in the book.
Jada Pinkett Smith struggled with cold feet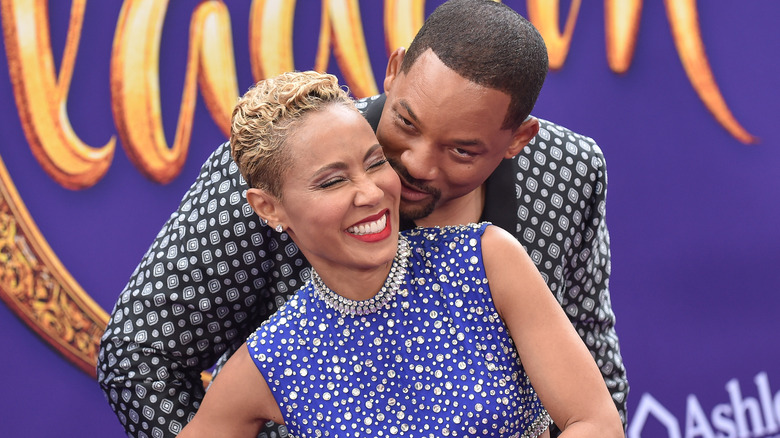 DFree/Shutterstock
As for Jada Pinkett Smith's side of the love story? Well, she might have caught Will Smith's attention when they met on the set of "The Fresh Prince of Bel Air" but the "Girls Trip" star was not so impressed. While leaving the audition set — after not getting the part of Will's girlfriend because execs thought she was too short — Jada gave her future husband the cold shoulder when he tried to strike up a conversation. "He's like, 'What's up?' and I was like, 'Yeah, how you doing?'" Jada told People in 1998, adding she was too upset about the rejection to continue speaking to him.
Of course, she would later realize Will to be her soulmate but there was still one major setback. "He was always saying, 'Let's get married.' But Jada was never ready." a friend of the couple told People. However, when in November 2007 Will asked her to marry him, she did not say no — despite her instincts. "I never wanted to get married. I adored Will, I f***ing adored him, but I just didn't want to be married," she revealed to People in 2019. 
Now, even after all these years together, Jada and Will do not approach marriage like an average couple. The actors have since admitted that they don't believe in monogamy, and even though many do not understand it — Will and Jada do. To them, that is all that matters.