Fans Think This Is Pete Davidson's Most Confusing Relationship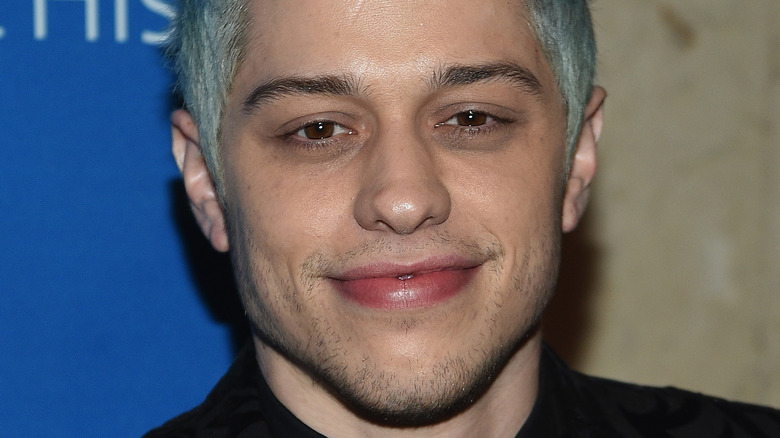 Dimitrios Kambouris/Getty Images
Kim Kardashian and Pete Davidson's relationship has been getting a lot of attention in the headlines, and not just because of their age difference or the fact that they come from two different worlds on two different coasts. It's also because of the way Kim feels about this romance. After dealing with Kanye "Ye" West's drama for so many years, Kim now loves the fact that she and Pete are simply "cute" together. While on the "Ellen DeGeneres Show," Kim admitted that she finds simple pleasure in things like trying to find the right photo to post of them on social media. 
Speaking about a certain "shift" she's felt since she began dating Davidson, Kim said she has a "f**k it" attitude now that she's in her 40s. She feels better than ever as a result, and as she gushed to DeGeneres, "I want to hold on to that forever." Wow, it sounds like Kim has really found a great groove!
Although it's safe to say Davidson is a big part of Kim's newfound happiness, it doesn't mean people are giving her a pass for the romance, with some even openly commenting about how confused they are about it. But is the reality star Davidson's most confusing relationship? Nicki Swift readers have weighed in, and the answer is clear.
Fans are scratching their heads over Pete's romance with Kim Kardashian
According to a new Nicki Swift survey, 50% of respondents believe that Pete Davidson's most confusing relationship is with reality star Kim Kardashian. However, Kim and Davidson don't seem confused by their romance at all, as one source told E! News that they are totally into each other. They further added that Kim feels "giddy" when she's with the comedian and that "they are really happy" together. That said, another 22% of readers are still wondering how Davidson managed to hook up with Hollywood star Kate Beckinsale while another 17% say they still don't get Davidson's time spent with Ariana Grande. In addition, 9% of Nicki Swift readers say that Davidson's short-lived romance with model Kaia Gerber didn't make much sense to them, either. 
Regardless of the confusion, there's something that clearly makes Davidson irresistible to celebrity women. When asked about the secret behind his "love language," he told PAPER in 2019, "I treat the person I'm with like a princess. I try and go as above and beyond as possible, because that's what you're supposed to do? If you're in a relationship with someone, you're just supposed to make that person feel as special as possible." It's no wonder Kim is feeling like royalty these days.