What We Know About Bella Hadid's Acting Debut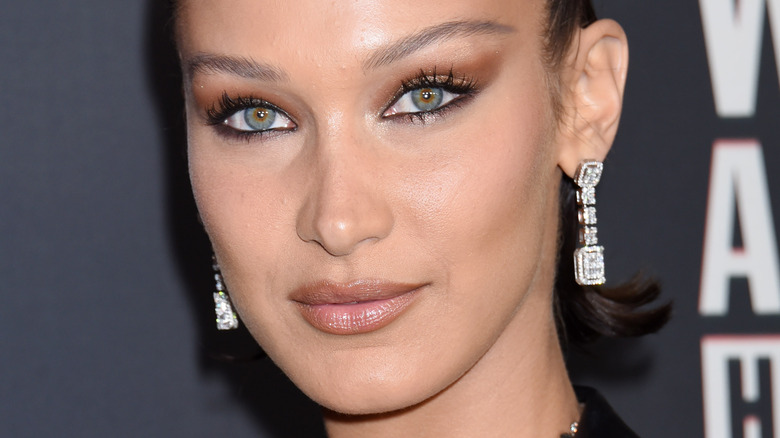 Ga Fullner/Shutterstock
Bella Hadid, along with her sister Gigi and Kendall Jenner, is best known for helping bring supermodels back to the A-list in terms of celebrities. But what you might not know is that Bella is also an actor. Or at least, she's going to be an actor, and you're going to get to see her in action for yourself pretty soon. (See what we did there?)
We'd hazard a guess that most people didn't even realize Bella had acting ambitions because, to be honest, life as a trendsetting model and powerful influencer seems pretty good. But if you've been paying attention, you'll know that this career move isn't coming totally out of left field. In fact, Bella told the Telegraph back in 2017 that she needed "to start taking acting classes and figure out a way to memorize things better." She also expressed Oscar ambitions.
Well, maybe she'll have to start with the Emmys.
Bella Hadid will have a recurring role on 'Ramy'
Theo Wargo/Getty & Ovidiu Hrubaru/Shutterstock
According to Variety, Bella Hadid has been cast in Season 3 of Hulu's "Ramy" as a guest star in a recurring role. This will be her first-ever scripted series, so the pressure is officially on. If she was hoping to make a splash during awards season for her acting, Hadid definitely found a good start. "Ramy," created by and also starring Ramy Youssef, has been nominated for an Emmy in the past and earned Youssef a Golden Globe, per IMDb. We don't know what Hadid's role will be exactly, but we know that the third season of the show will depict the titular Youssef as he turns away from religion to focus on his diamond business with his uncle. 
As for Hadid, she told WWD back in 2017 that when she started "dabbling in acting," she envisioned something in the comic book realm for herself. "I think I want to be like a superhero," she told the outlet. Well, "Ramy" definitely isn't part of the Marvel or DC universe, but it seems like a pretty solid place to start.