Hilarie Burton's Claims About The One Tree Hill Set Just Reached A Disturbing New Level
Jim Spellman/Getty Images
The following article contains mentions of sexual harassment and misconduct.
In 2017, a wave of allegations about the "One Tree Hill" set cast a dark cloud over one of the aughts' most beloved teen dramas. After ex-show writer Audrey Wauchope accused former showrunner Mark Schwahn of sexual harassment on Twitter, Hilarie Burton, Sophia Bush, Bethany Joy Lenz, and 15 other female cast and crew members showed solidarity in an open letter (per Variety).
Detailing a work environment in which they claimed to have felt "manipulated psychologically and emotionally," the "OTH" cast and crew supported Wauchope's allegations. "More than one of us is still in treatment for post-traumatic stress. Many of us were put in uncomfortable positions and had to swiftly learn to fight back," they wrote, elaborating that the on-set abuse spanned from "downright illegal" verbal tirades to situations "where we felt physically unsafe."
Sophia Bush would later detail in June 2021 how the toxic work environment of "OTH" extended beyond a sexual nature. "We had grown-ups who we trusted, who now we understand were being really controlling and manipulative, who didn't want us to be close because they thought we would band together and ask for more money," she told the "Chicks in the Office" podcast (via Us Weekly). The ugly details from the "OTH" set keep spilling out, however. Burton just revealed a dark secret about filming the show's love scenes.
Hilarie Burton received obsessive prison mail about her feet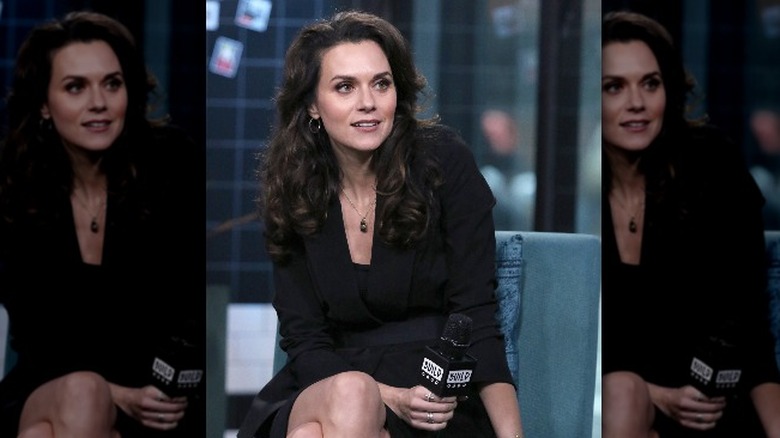 Jim Spellman/Getty Images
In a disturbing reveal, Hilarie Burton shared on her "Drama Queens" podcast on March 28 why she always attempted to hide her feet during love scenes on "One Tree Hill." Per the New York Post, Burton noted that after Season 2's "Somewhere a Clock Is Ticking" (in which her character Peyton has on-screen relations with her boyfriend Jake) aired, she received frightening prison "fan mail." As she recalled, "There was a couple dudes in particular that were like, 'I'm gonna cut your feet off and put them in my refrigerator.'" 
The episode's director Billy Dickson was adamant about showcasing "our feet and like our legs rubbing together," according to Burton, and she ultimately acquiesced. "It's so much harder to say 'no' to someone who you like and respect than it is to say it to a total stranger who's just coming in to direct for 10 days," she said. Furthermore, despite the crew reportedly reassuring Burton that her feet would be blurred in post-production, the episode showed them loud and clear.
The "OTH" drama isn's the first time Burton has experienced sexual discomfort at a workplace. A video resurfaced in 2017 of Ben Affleck groping Burton's left breast during a MTV "TRL" segment. CNN, which re-published the clip, also showed old commentary from Burton describing her immediate reaction. "I'd rather have a high-five," Burton quipped dryly. (Affleck tweeted an apology at the time for "inappropriately" touching Burton.)
If you or someone you know has been the victim of sexual assault, you can call the National Sexual Assault Hotline at 1-800-656-HOPE (4673) or visit RAINN.org for additional resources.