Hilarie Burton Revealed The Real Reason She Left One Tree Hill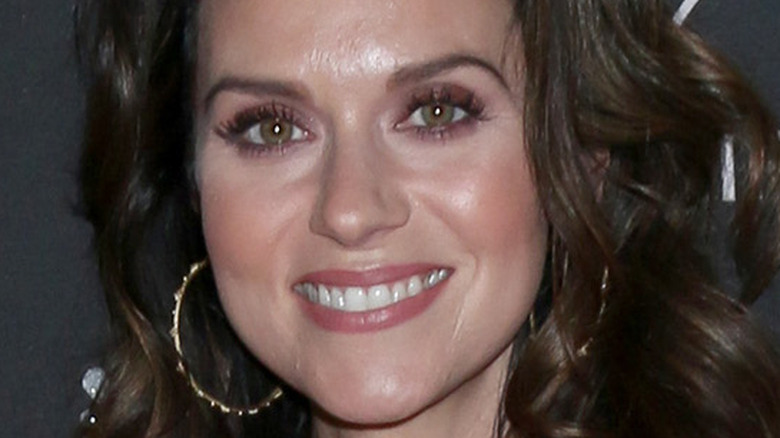 Kathy Hutchins/Shutterstock
Hilarie Burton portrayed Peyton Sawyer on "One Tree Hill" for six of its nine seasons, choosing to depart before Season 7 (per People). Rumors have swirled over the years regarding why she left "OTH," but a number of fans have seemingly had it wrong for some time.
When "One Tree Hill" debuted in 2003, Burton and her co-stars were all quite young. As she noted during an episode of the "Drama Queens" podcast, she was 21 when she filmed her first kiss with co-star James Lafferty, who was just 17 at the time. As her IMDb page detailed, she had already done quite a bit of hosting work with MTV's "Total Request Live," but this was her first big acting gig and it catapulted her into stardom.
As Burton told Entertainment Weekly, her very first television acting audition was for "One Tree Hill," and she felt "it was a fairytale." The show was an immediate hit, and Burton admitted, "I feel really lucky to have that level of success right out of the gate." After six seasons, however, Burton decided it was time to leave. There's been a lot of speculation regarding her decision to quit, but why did she really leave?
Hilarie Burton opened up about on-set abuse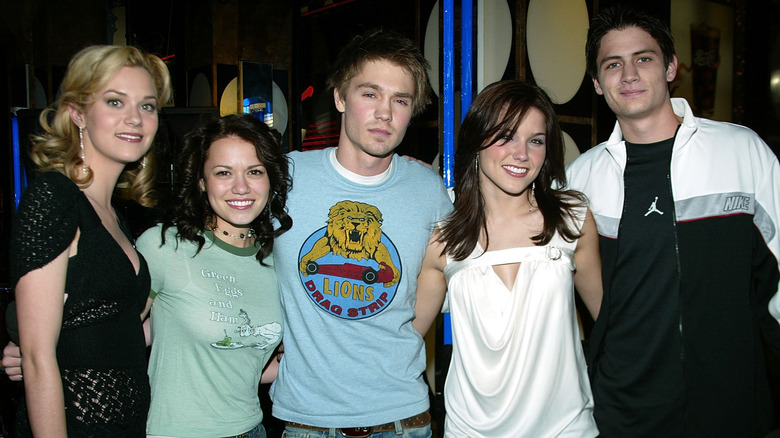 Frank Micelotta/Getty Images
Speculation suggested Hilarie Burton left "One Tree Hill" over salary issues or had issues with co-star Chad Michael Murray, but she told Entertainment Weekly those rumors were inaccurate. "There really wasn't a lot of turmoil," she explained. "It was a fabulous six-year run, which is how long my contract was for." Ultimately, she felt "the entire shape of my world changed because of that show, so I'll always be very affectionate toward it."
The exit storyline for Burton and Murray had Peyton and Lucas driving off into the sunset together after getting married and having a daughter (per Us Weekly). When one "OTH" fan tweeted about the supposed issues with Murray, Burton set the record straight. "Chad had nothing to do with my leaving," she tweeted. "We were both treated badly, and he defended me."
In 2017, Burton joined 17 female former cast and crew members of "One Tree Hill" to detail abuse they allegedly endured on set, per Variety. They released a letter noting former showrunner "Mark Schwahn's behavior" was an "open secret." Burton wrote in her 2020 book "The Rural Diaries," she didn't speak about Schwahn's mistreatment after leaving "OTH" because "I believed it was a lost cause" (via Us Weekly). "I had walked away from jobs I loved just to remove myself from toxic situations," she added. Burton also wrote about how Schwahn allegedly "groomed" her, kissed her without her consent, touched her inappropriately, and verbally abused her, noted People.
Hilarie Burton lives a quiet family-focused farm life now
While chatting with former "One Tree Hill" co-star Jana Kramer on her "Whine Down" podcast, Hilarie Burton noted she didn't regret leaving "OTH." She explained, "I knew that I needed to start something new. It was time." Burton admitted she had "a big chip on my shoulder and I just needed to put it down." Burton also felt miserable and "a bit lost," she wrote in "The Rural Diaries."
After "OTH," she planned to relocate to France and write a novel. However, a blind date threw her a curveball. Insider shared Burton had a blind date with Jeffrey Dean Morgan in 2009, which was set up by Jensen Ackles and his wife Danneel Ackles. Jensen worked with Morgan on "Supernatural," while Danneel knew Burton from "OTH." Burton and Morgan hit it off so well she canceled her Paris plans, and the couple welcomed son Gus in 2010. Their daughter George Virginia arrived in 2018, and the pair wed in 2019.
In 2010, Burton joined the cast of "White Collar" (per IMDb). She's worked steadily since then, even appearing on "The Walking Dead" alongside Morgan. The family left Los Angeles in 2018, noted Metro, in favor of an upstate New York property they named Mischief Farm. They raise miniature donkeys, ducks, alpacas, cows, and chickens there, and there's even an emu named Diane. Burton's come a long way since "OTH," and she appears to be quite content with her life these days.
If you or anyone you know has been a victim of sexual assault, help is available. Visit the Rape, Abuse & Incest National Network website or contact RAINN's National Helpline at 1-800-656-HOPE (4673).