Ramona Singer And Jill Zarin's Reunion Photo Has Everyone Saying The Same Thing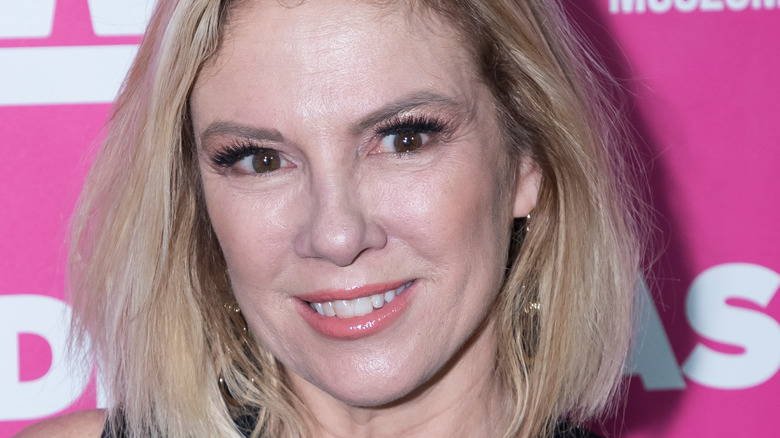 Sam Aronov/Shutterstock
The relationship between Ramona Singer and Jill Zarin on "The Real Housewives of New York" has often been tenuous over the years. Following a dust up between the pair in 2017, Ramona said being on the show caused undue tension between her and Jill, although the reality TV veteran added that she ultimately supported her sometimes-rival. "But I believe at the end of the day you've got to be there for someone," Ramona told Us Weekly at the time. "And I'm there for Jill. It's a new beginning to our friendship."
Of course, that was not the end of the duo's feuds. In 2021, Jill was delighted when she saw Ramona have tensions with castmates on "The Real Housewives Ultimate Girls' Trip." Jill felt that was proof she was not the source of the problem between her and Ramona. "For me, it was like validating because of all the things that Ramona did to me on the show that maybe people thought I had something to do with or it was me or whatever," she told Showbiz Cheatsheet. Despite the harsh words, and similar to the past, the Bravo-lebrities still considered each other friends. "I actually love Ramona right now because I kind of love just that she doesn't like get it," Jill added.
Months later, when the pair reunited and posted a photo together, fans thought it could only mean one thing.
Fans think Ramona Singer and Jill Zarin could be reunited for good
Ramona Singer and Jill Zarin looked to be best pals when they posed together for a photo uploaded to Instagram by Ramona on March 31. Both "The Real Housewives of New York" alums sported floral dresses as they attended the birthday party of a mutual friend. "Reunited with my fellow OG @mrsjillzarin last night," Ramona wrote in the caption. Seeing the on-again, off-again friends reunite had fans speculating that the pair would soon be sharing the screen together.
On March 23, Bravo announced a "RHONY" reboot with an entirely new cast, in addition to a spin-off tentatively titled "RHONY: Legacy" that would feature veteran housewives, per Variety. The Instagram post made fans eager to see both women join the new show. "I need to know if there were cameras? ... This is the RHONY Legacy I need to see," one follower excitedly replied. "You both better be on RHONY Legacy," a fan commented. "RHONY LEGACY PLEASE," another added.
Although Bravo had not confirmed that either reality was joining the spin-off, Jill already made her intentions clear. When the network announced the new series on their Instagram page, Jill commented with a phone emoji and tagged series producer Andy Cohen. Previously, Jill said the "RHONY" franchise needed three cast members to return. "Listen, I don't think they could do it without Ramona. They need Ramona. They need Luann [de Lesseps] and I think they need me," Jill told Showbiz Cheatsheet in 2021.