The Tragic Inspiration Behind Kendall Jenner's Name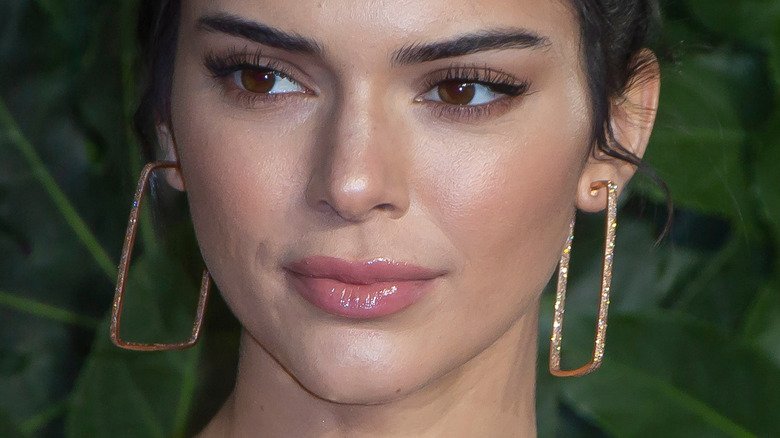 BAKOUNINE/Shutterstock
The Kardashian-Jenner clan is large and mighty, and its most famous members have names that start with K. Matriarch Kris Jenner knew she wanted their names to match with hers — or, rather, the first initial — choosing Kourtney, Kimberly, and Khloé for her daughters. She said as much in a December 2019 episode of "Keeping Up with the Kardashians" (via Elle U.K.). Kris steered from tradition with her fourth child, whom she named Robert Kardashian after their father, the famous attorney who gained notoriety for successfully defending O.J. Simpson.
After marrying Caitlyn Jenner, Kris welcomed two more daughters. Once again, she kept the streak going, naming the oldest Kendall and the youngest Kylie. But that wasn't always the plan. In fact, Kris was set on giving her Jenner daughters J names, she explained, wanting them to have matching initials, like her Kardashian daughters. "You were really into Js," Kim, who was 15 when Kendall was born, said in the same 2019 episode. "You were like: "Okay, since I did Ks, I'm gonna do Js ... Then last minute, you're like: "I'm gonna do Ks,'" Kim explained.
Kris' offspring probably learned the importance of choosing an impactful name, as they tend to select unique names for their babies, Us Weekly noted. But when it comes to middle names, Kris was a lot more lenient, often choosing significance over alliteration. That was definitely the case with Kendall, whose middle name has a tragic inspiration behind it.
Kris Jenner honored slain best friend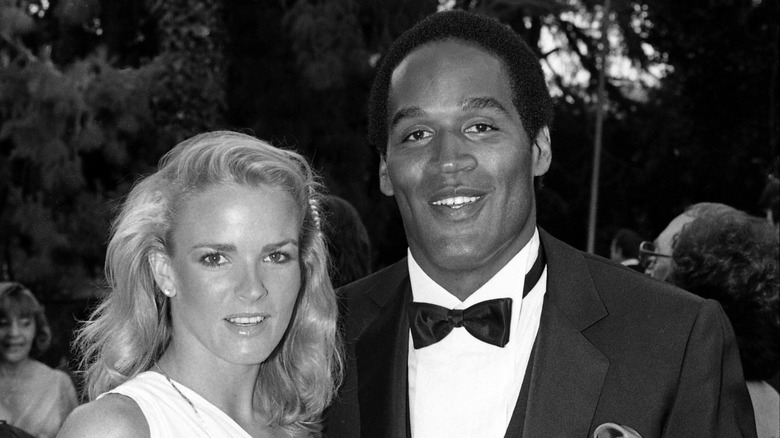 Michael Ochs Archives/Getty Images
Kris Jenner learned she was pregnant with Kendall Jenner a few months after her close friend, Nicole Brown Simpson, was murdered in June 1994. The famous momager chose to honor her memory through her daughter, as Kendall explained in a Snapchat clip shot by Kylie Jenner in April 2019 (via Elle). Introducing her older sister, Kylie asked Kendall to share her name and explain its significance. "My middle name is after Nicole Brown Simpson because that was my mom's best friend," Kendall said. 
When Nicole and her friend Ron Goldman were found dead at her Los Angeles home, she had been divorced from O.J. Simpson for two years, according to The New York Times. The following day, police charged O.J. with the crime after a low-speed pursuit that will forever live in infamy. Even though Kendall never met her namesake and hadn't been born during O.J.'s "trial of the century," she understands the weight of her name and carries it with pride. "And I'm honored to have this name," she added.
Kris' first husband, Robert Kardashian, was famously involved in the defense team that helped acquit O.J., but the two families had been close way before that. Kris continued to invest in her friendship with Nicole even after she and Kardashian divorced. In fact, Kris believed O.J. was guilty, despite her ex's involvement in his defense. She detailed as much in her 2011 memoir "Kris Jenner...and All Things Kardashian" (via Entertainment Tonight).
Inside Kris Jenner and Nicole Brown Simpson's friendship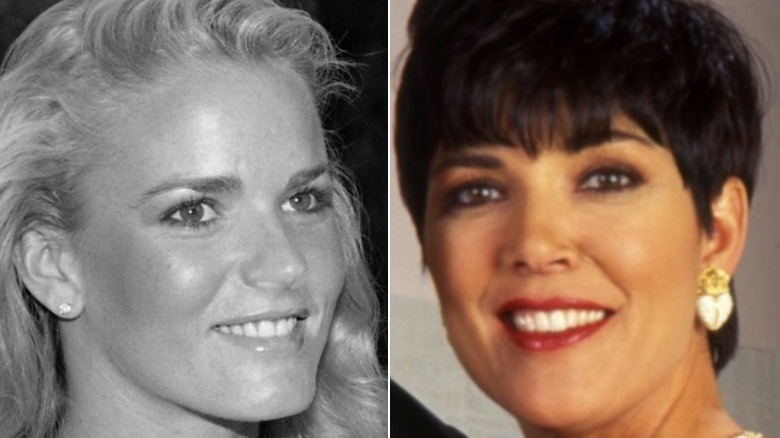 Michael Ochs Archives & Donaldson Collection/Getty Images
Kris Jenner and Robert Kardashian had once been close with O.J. Simpson and Nicole Brown Simpson. When Kardashian picked up Kris for their first date, he was accompanied by none other than O.J., Kris detailed in "Kris Jenner...and All Things Kardashian" (via Entertainment Tonight). Kardashian and O.J. had known each other since the 1960s, according to Slate, but their wives developed their own friendship. When Kris married Caitlin Jenner in 1991, the olympian also befriended the former NFL star, with the two often going on family vacations together, per RadarOnline.
As one of Nicole's closest friends, Kris was aware of the tensions between her and O.J. During one of the many hiatus in their marriage, Nicole had opened up to Kris about fearing for her life. "He's going to kill me, and he's going to get away with it," Nicole told Kris, she recalled in her memoir. The day before Nicole was murdered, she had asked Kris to meet her, but she was busy. It was "a decision that would haunt [her] forever," as Kris would never hear from her friend again.
Throughout the ordeal, Kris had always believed it wasn't her place to intervene. But now that she's older and wiser, Kris understands that she should have. "I will always feel guilty that I didn't pay more attention," Kris said in the documentary "The Secret Tapes of the O.J. Case: The Untold Story" (via Yahoo!).
If you or someone you know is dealing with domestic abuse, you can call the National Domestic Violence Hotline at 1−800−799−7233. You can also find more information, resources, and support at their website.