Sofia Vergara Totally Stuns With Fun Blue Hair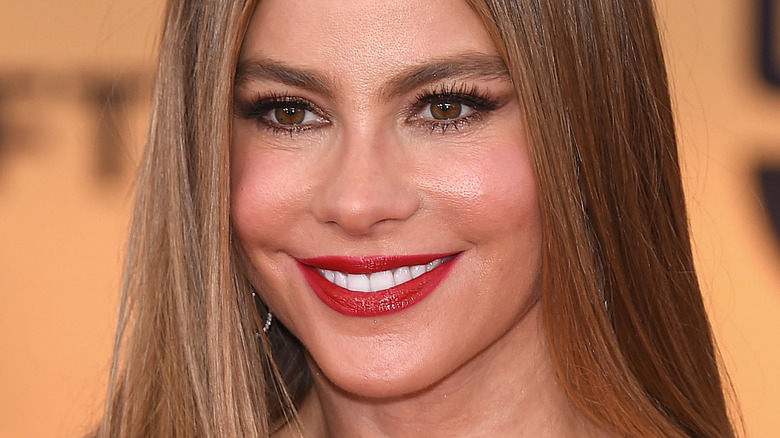 DFree/Shutterstock
We all know that Sofia Vergara looks stunning in everything (she's kind of famous for it), and now the mirror selfie she shared on Instagram with cotton candy-colored hair has us all running to the drug store for some blue dye. Can the rest of us pull off bright blue hair like Vergara can? Honestly, who knows? Regardless, she makes it look so effortless. 
Vergara paired the playful blue hairdo with an equally colorful bright pink bikini, nude nails, and a beautifully serene expression. In the caption, Vergara wrote "Inspirada" — which is Spanish for "inspired" — and tagged Colombian singer Karol G, who is known for her own aquamarine-colored locks. So is this a permanent (or semi-permanent) hair color change for the "America's Got Talent" star or could something else be afoot here? Not to get too conspiratorial, but there may be reason to believe Vergara's new look isn't going to stay for long. 
Is Sofia Vergara playing a prank?
For one thing, Sofia Vergara posted her blue-haired selfie on April 1, which means there's always a chance that she's just using a filter as an April Fool's Day prank on her fans and followers. Then there's also the fact that it would be the "Modern Family" actor's second major hair change within a week. On March 28, Vergara posted a selfie to her Instagram after dying her hair a much lighter shade, with the caption, "Blond again." 
The blonde look had fans speculating that she was working on a hidden project, per Yahoo!. Fans started commenting on the photo, asking Vergara if she was going to be playing Evelyn Hugo in the Netflix adaptation of the popular novel "The Seven Husbands of Evelyn Hugo," and that was why she dyed her hair. 
We have to say, it seems like pretty slim evidence, but who are we to judge?