What's The Real Meaning Of As It Was By Harry Styles? Here's What We Think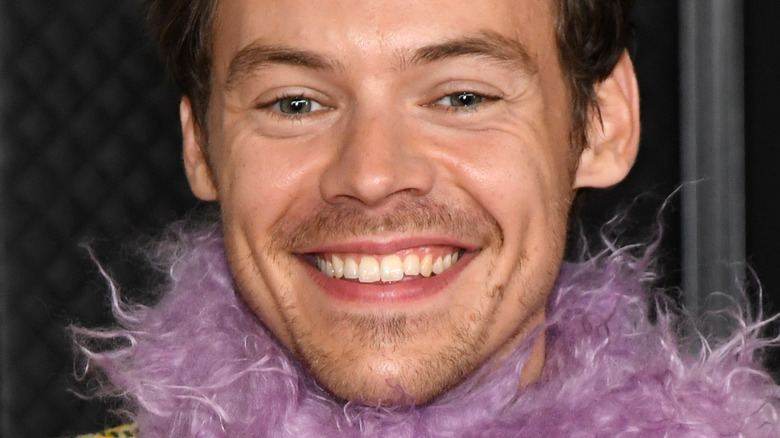 Kevin Mazur/Getty Images
Former One Direction member Harry Styles is taking his sound in a new direction by revisiting the past, and we're totally here for it. Ahead of dropping his album "Harry's House" on May 20, the Grammy-winning artist released the single "As It Was." While the synth-pop tune is heavily influenced by the '80s, Styles is moving forward musically by leaving the '70s rock vibes of so many of his past songs behind.
But in his accompanying music video, Styles still gives the disco era a stylistic nod by rocking a scarlet jumpsuit with flared legs and a sequined chevron pattern. According to Vogue, the piece was designed by Arturo Obegero. Styles' love interest wears a matching blue jumpsuit. The lovers find themselves embracing and separating on a spinning platform and being pinned to a colorful wall like two sparkly, star-crossed science class specimens. The video was directed by Tanu Muino, who hails from Ukraine. "Shooting [Styles] was bittersweet, as it was one of the happiest days of my life, but on the second day of the shoot, my country Ukraine was invaded, so you can imagine the insane emotions we had while shooting," she said in a statement, per Rolling Stone.
Styles' joyous dance moves at the end of the video, along with the music's buoyant sound and brisk pace, are in stark contrast to the song's pensive lyrics, which seem to include a reference to Styles' love life.
Some lyrics might be about Olivia Wilde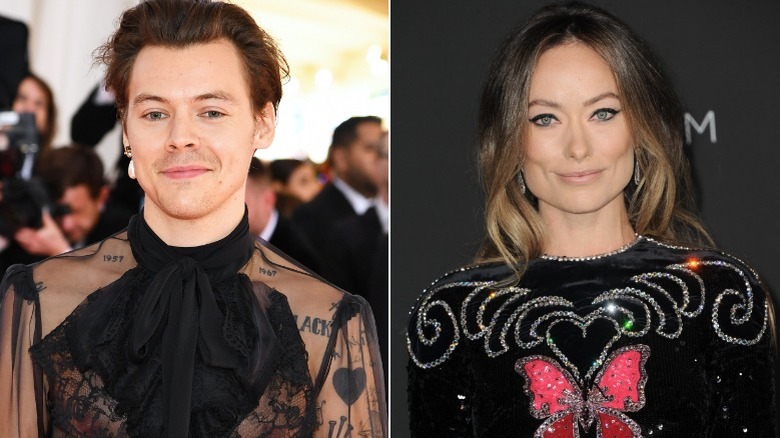 Tinseltown/Shutterstock & Dimitrios Kambouris/Getty Images
Internet sleuths seem to believe that Harry Styles is emulating his ex Taylor Swift by dropping details about his love life in "As It Was." While speaking to "Heart Breakfast," Styles did say, "I try and write from personal experience for ... almost everything." On Twitter, there was speculation that the lyric "Leave America, two kids follow her" is a reference to Styles' relationship with Olivia Wilde. In October 2021, the American actor told Vogue that she was spending a great deal of time in London, and she has two children with her ex, Jason Sudeikis. This lyric follows one about Styles finding it difficult to revisit some part of his past: "I don't wanna talk about the way that it was."
Styles also explores feelings of isolation — he might be adored by millions, but this doesn't preclude him from experiencing loneliness. "Answer the phone / 'Harry, you're no good alone / Why are you sitting at home on the floor?'" he sings. Then there's this ambiguous part of the chorus: "You know it's not the same as it was." Some listeners might assume that Styles is singing about a relationship unraveling. However, in an interview with Audacy's Bru, he seemed to suggest that it references the pandemic. "After everything that's happened over the last two and half, three years, I think the sentiment of 'it's not the same as it was' felt pretty perfect," he said.
Who is the little girl who speaks in As It Was?
There are some other lyrics in "As It Was" that could refer to Olivia Wilde. "In this world, it's just us" seems to be about two people isolated together. And the wedding bells in the song might be a reference to the wedding where Harry Styles and Wilde made their public debut as a couple by walking hand-in-hand. On Twitter, some fans also wondered whether the little girl who speaks at the beginning of the song is Olivia's daughter, Daisy. However, Styles didn't leave her identity a mystery for long; on April 1, he told Capital FM that it was his goddaughter, Ruby Winston.
Ruby says, "Go on Harry, we want to say good night to you." Styles explained that she'd been phoning him nightly and got irritated when he missed one of her calls. Instead, she had to leave him a voice message. "I dug it out at some point while we were in the studio and put it in front of the song for some reason, and I kind of just fell in love with it," Styles said.
Ruby is the daughter of producer Ben Winston. According to Variety's Danielle Turchiano, Styles spent over a year living in Ben's attic. "[Styles] said living in a quiet 'boring' family environment while undergoing a crazy time in his life helped him," Turchiano tweeted in August 2018. The short-lived sitcom "Happy Together" was based on the unusual living situation.