Khloe Kardashian Is Facing A New Round Of Body-Related Rumors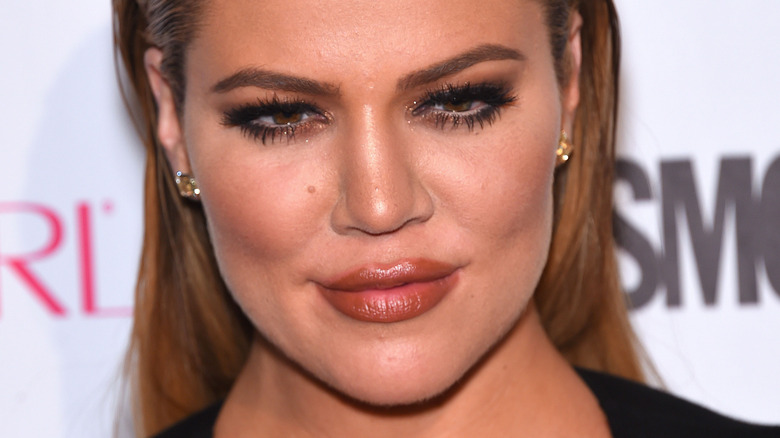 DFree/Shutterstock
Fans of Khloé Kardashian, her sisters, and their ever-changing looks have watched the "Keeping Up With the Kardashians" stars pose for photoshoots and attend red carpet events for 15 years. The siblings almost always look flawless, but they have faced criticism for promoting unrealistic body standards. "The Kardashians Are Toxic To The Body Positive Movement," reads a 2018 HuffPost headline. The article itself takes Khloé to task for admiring Kim Kardashian's slim waist and praising her by saying she looks "anorexic."
And behind their perfectly polished, carefully contoured façade, the Kardashians themselves aren't immune from struggling with body image issues. After an unedited pic of Khloé wearing a bikini was accidentally posted on social media in April 2021, she explained why she was trying to scrub it from the internet. "It's almost unbearable trying to live up to the impossible standards that the public have all set for me. For over a decade now in photos, every single flaw and imperfection has been micro-analyzed and made fun of to the smallest detail," she wrote. She also shared that it's painful for her to read accusations that her toned physique is the result of plastic surgery, not her hard work in the gym, but admitted that she does edit her photos.
During the "KUWTK: The Final Curtain" special, Khloé copped to getting a nose job, per Entertainment Tonight, but she has denied another plastic surgery rumor that just won't die.
Khloé Kardashian responds to implant allegations
While Khloé Kardashian might feel insecure sometimes, she doesn't shy away from telling the trolls to have a seat when they attack her on social media, and this time, her response to their taunts involved the seat of her workout leggings.
On March 31, a Kardashian fan page on Instagram reposted some video clips of Khloé working out at the gym. She wore a fuchsia sports bra and matching leggings and was doing inverted leg lifts. "Why doesn't she just accept the fact that everyone notices that she had a bum implant," read one response to the video. "Omg u can see her implants when stretching. A 2nd layer of her bum on top of her bum," another commenter wrote. But Khloé clapped back by informing the skeptics that all is not as it "seams." "Lol silly goose. It's the seam design of the leggings. that's so funny ha! You guys just want to believe anything bad," she fired back.
Khloé's explanation didn't fly with some Instagrammers — she was also accused of getting a BBL, or Brazilian butt lift, a popular procedure that involves transferring fat from a different part of the body to the buttocks, per Vox. Khloé is able to laugh off such allegations now because she's dealt with them for years. "I've always had an a**," she tweeted in 2014. "I know its more fun 2believe its not real, kind of a compliment since I kill myself in the gym."