Mel Gibson's Team Is Determined To Shield The Actor From The Will Smith Drama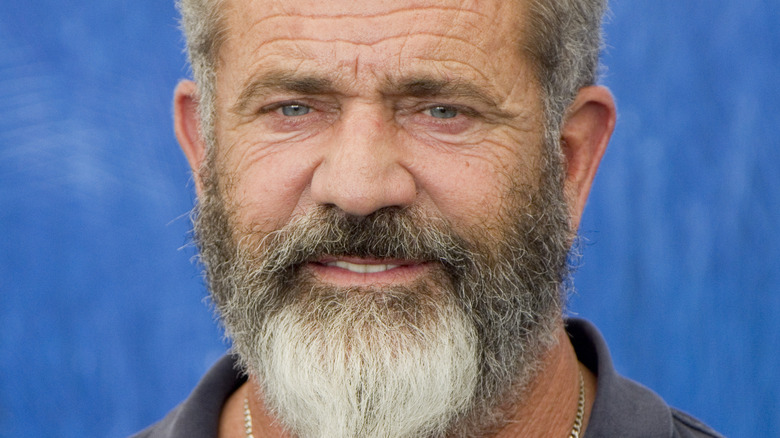 BAKOUNINE/Shutterstock
Mel Gibson is no stranger to scandals and controversy. As News Australia reported, Winona Ryder once claimed that Gibson asked, ​​"Oh, wait, am I gonna get AIDS?" when she introduced him to a gay friend. Radar Online listened to audio of Gibson allegedly screaming at his ex-partner, "You look like a f**king pig in heat," along with other cruel, expletive-ridden remarks. The target of his ire, Oksana Grigorieva, accused the actor of domestic violence, in addition to emotional and verbal abuse.
And, who could forget Gibson's infamous 2006 DUI arrest? "What do you think you're looking at, sugar t*ts?" He asked the female cop, per the police report (via Gawker), before allegedly embarking on an angry and heated tirade against Jews. Gibson's purported anti-Semitism fueled demands for an industry boycott of him — with Variety asking, "How does Mel Gibson still have a career?"
The Atlantic claimed, "Gibson is a well-known Jew-hater (anti-Semite is too mild)." They cite his alleged "oven dodger" comment amongst other bile, which, as Seth Rogen tweeted, means at least he "acknowledges the Holocaust actually happened." Unlike his dad, Hutton Gibson, a staunch Holocaust denier — prompting ABC to ask, "Like father, like son?" When you add in the multitude of other misogynistic, homophobic, sexist, and racist slurs that Gibson has been accused of, the Oscars #SlapGate incident looks like kids' patty-cake play in comparison. However, Mel Gibson's team is apparently determined to shield the actor from the Will Smith drama.
Mel Gibson is staying silent on Will Smith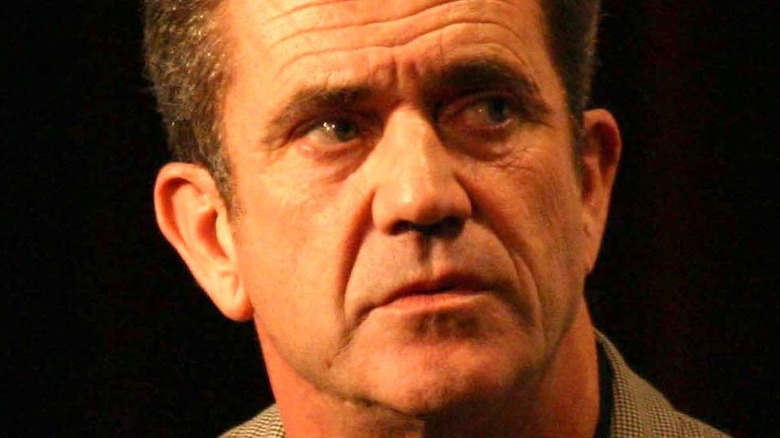 s_bukley/Shutterstock
Given Mel Gibson's alleged history of decidedly shady shenanigans and deplorable declarations, you'd think Will Smith slapping Chris Rock across the face during the Oscars wouldn't even register on the bad-behavior scale. However, Gibson's team sure seems determined to distance him from the drama. They don't want their client to even utter a word about it — which considering Gibson's supposed track record, is probably pretty sage advice.
Gibson was promoting his new movie "Father Stu" in an interview with Jesse Watters when the Fox News anchor broached the subject of #SlapGate. "You understand it probably better than a lot of people with your career," Watters said. "I was wondering if, you know, you had been the one that jumped up out of his seat and slapped Chris Rock, if you would have been treated the same way, Mel?" Gibson laughed, wagged his finger at the camera, and shook his head before his publicist immediately intervened and awkwardly cut the interview short. "Hello Jesse, thank you — that's our time," they decreed from the sidelines.
Meanwhile, other A-listers have had plenty to say on the subject. Jim Carey told "CBS Mornings" that he was "sickened" by the incident and that he would've slapped Smith back ... with a $200 million lawsuit. Wanda Sykes also said she found it "sickening" during an interview with Ellen DeGeneres. Whereas Snoop Dogg dodged the dramatics and told "Extra" that he still thinks the incident might have been staged.