Billie Eilish's Nod To Foo Fighters' Taylor Hawkins At The Grammys Had Fans Emotional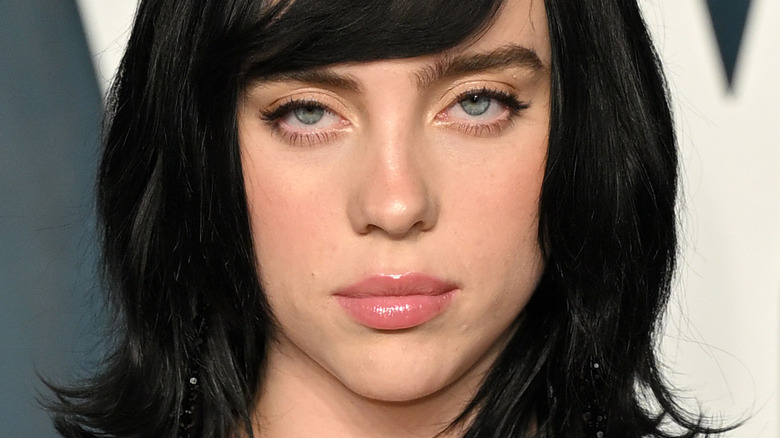 Karwai Tang/Getty Images
On April 3, the 64th annual Grammy Awards finally aired, after being postponed from January 31 due to concerns about COVID-19. For the first time, the show took place in Las Vegas, at the MGM Grand hotel, and the broadcast was fit for any Vegas stage. While the Grammys are definitely an award show, the emphasis seemed to be placed on the performances — which made sense, seeing as a plethora of famous names took to the Grammy stage this year, including BTS, Chris Stapleton, Nas, Brandy Carlyle, and H.E.R, to name just a few.
The performances were all incredible, but one stood above the rest, especially for fans of the Foo Fighters. As part of the ceremony and fresh off their win at the Academy Awards, Billie Eilish and Finneas performed their Grammy-nominated song, "Happier Than Ever." While their performance was fantastic (as expected — we love some water effects!) her incredible vocals weren't the only thing that got people talking.
Billie Eilish paid tribute to Taylor Hawkins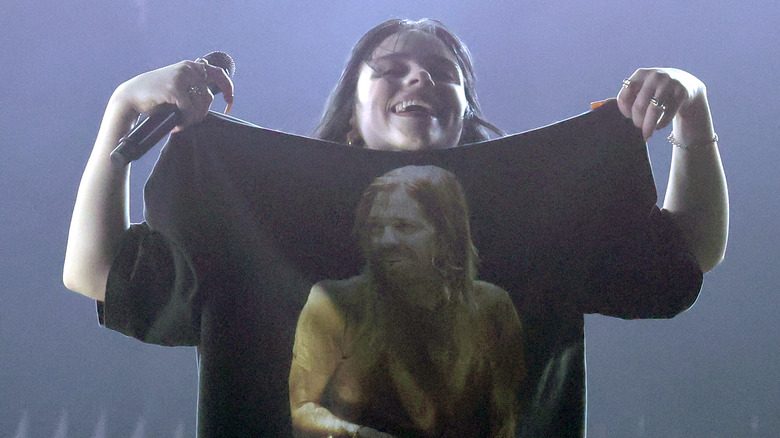 Emma Mcintyre/Getty Images
As music industry fans know, the world lost an incredible talent on March 25 when Taylor Hawkins died. And although the Foo Fighters won all three Grammy awards they were nominated for — a record-breaking accomplishment — the band chose to forgo their performance at the award show out of respect for Hawkins. However, just because the band wasn't there doesn't mean Hawkins wasn't present. To pay homage to the talented drummer, Billie Eilish wore a shirt with Hawkins' face on it during her performance at the Grammys. And fans loved it.
Many took to Twitter to express their love of Eilish's tribute to the late drummer. "Breaking my heart," one person wrote. "I already loved @billieeilish but this nod to Taylor Hawkins during her Grammy performance lovely," another tweeted. "Made me so emotional. Thank you for honoring him," a third fan penned. 
Although the Foo Fighters were understandably absent from the Grammy Awards this year, it was nice to see a piece of them represented by such an iconic artist.