The Internet Is Absolutely Fuming Over Louis CK's Latest Grammy Win
Lev Radin/Shutterstock
Generally, the Grammys are a time to celebrate the best recording artists in the industry. At the 2022 award show, newcomer Olivia Rodrigo won big. The "Drivers License" singer took home best new artist, best pop solo performance, and best pop album, per The Guardian. Meanwhile, Jon Batiste beat her out with a total of 5 awards. Then, some artists, like Taylor Swift, who was nominated for album of the year, and Ariana Grande, didn't attend.
On the heels of the 2022 Oscars, the Grammys were relatively tame. No one rushed the stage, got slapped, or gave a tearful apology during an acceptance speech, and there was no talk of returning any awards. If you were hoping for a controversy-free night, though, you're about to be sorely disappointed. While there was no slapping, one winner caused a stir; namely, Louis CK, who won for best comedy album. Believe us when we tell you that Twitter is not happy about it.
Twitter doesn't seem to want to see anymore of Louis CK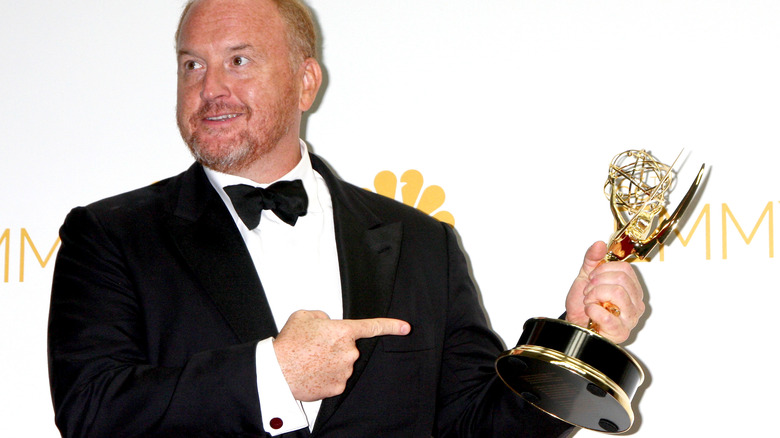 Kathy Hutchins/Shutterstock
Just a few short years after being publicly disgraced for sexual harassment allegations, comedian Louis CK appears to have made a comeback. CK took home the award for best comedy album for 2021's "Sincerely Louis CK." CK didn't attend the ceremony or accept the prize in person, per New York Post, but that didn't stop spectators from voicing their displeasure. "Louis CK just won a Grammy, in case you were still crying about cancel culture," one person wrote on Twitter.
Fans were especially furious about the win in the wake of Will Smith's Oscar debacle a week earlier. Many noted the discrepancy between the pair's actions and their respective consequences. Smith slapped Chris Rock, and though he was allowed to keep his best actor award, he ultimately resigned from the Academy. CK admitted to harassing numerous women and won a second Grammy — indicating that he's at least somewhat welcome in the industry once again. "THEY MADE WILL SMITH RESIGN FROM THE ACADEMY AND THEN LOUIS CK WON A GRAMMY?!" one angry viewer tweeted. "I'm gonna burn something down."
Since his public cancellation, CK's attempts to return to the world stage have not gone well. In 2019 he performed his first new set in New York, which drew massive public backlash for his jokes about the Holocaust and Parkland shootings, per CBS, so perhaps it's unsurprising that CK was not there to receive the award in person. At least this time, he was able to read the room.