Kanye West's Reported Decision About Coachella Will Have Fans In An Uproar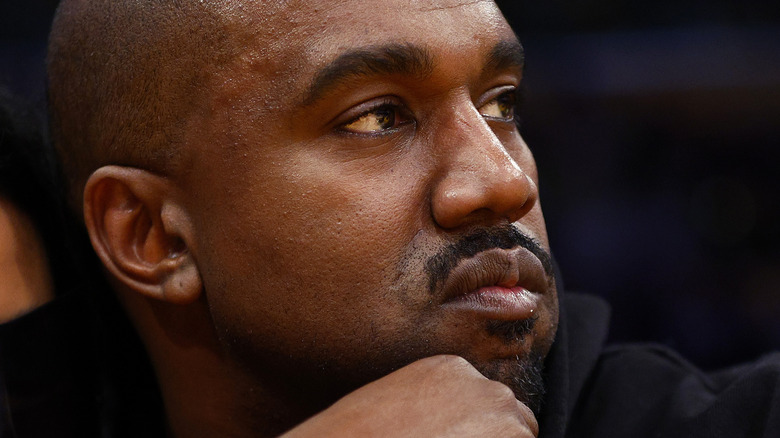 Ronald Martinez/Getty Images
All kinds of different groups get riled up at the mere mention of Coachella. Even those who don't attend have a dog in the fight when it comes to dissing the annual music and arts festival, as every year, Coachella inevitably results in social media polluted by filtered snaps of wannabe hippies, bougie influencers, and Frye Festival survivors getting down and living their best authentic Insta life.
Environmentalists bemoan the negative impact caused by Coachella. According to a 2019 report, via USD Student Media, 642 tons of solid waste is created over the festival's two weekends. Then there's the energy consumption and all the toxic gasses and fumes released into the Cali desert air. Obviously, some Indio residents must have mixed feelings about Coachella, as over 560,000 people suddenly descend on their turf, completely jamming up all surrounding roads and freeways and causing disruption and noise.
Per Daily Beast, festival founder Phil Anschutz has also landed in hot water over his anti-LGBTQ, uber-Christian billionaire status. Plus, according to Teen Vogue, there are all the young women who don't enjoy being sexually harassed and assaulted who also have issues with Coachella. And now, thanks to the mighty Kanye "Ye" West — even the festival attendees, who have to fork out over $600 for a weekend pass –- are going to have an ax to grind, too.
Kanye West's Coachella cancellation twofer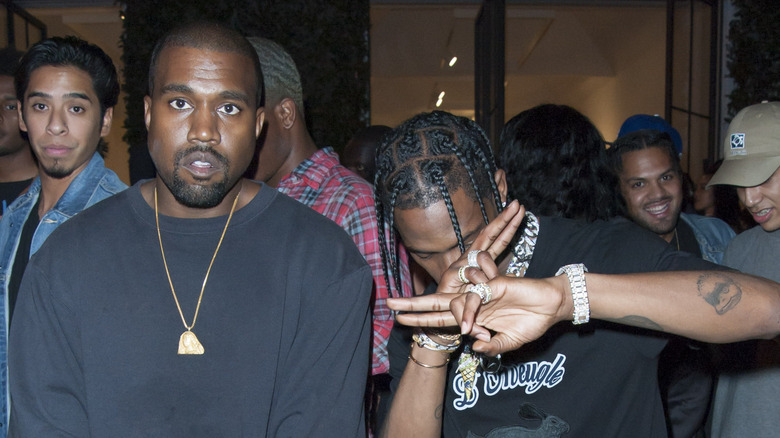 Lilly Lawrence/Getty Images
Just over a week before the first Coachella weekend kicks off, Kanye "Ye" West, who was one of the headlining acts, has dropped out, according to TMZ. If their report is to be believed, then there will likely be thousands of Coachella fans in an uproar, demanding to know what they're getting in return for having splashed out over $600 plus, especially for those who don't think that Harry Styles will cut it.
Doubling the headache, Ye's revocation results in a Coachella cancellation twofer. Travis Scott will also be a no-show too now, as Ye had promised to bring Scott to the stage after the Astroworld tragedy. However, as of this writing, the Coachella Valley Music and Arts website still has the rapper listed as a headlining act at the time of posting; perhaps they're glass half full kind of people.
Ye's involvement in the festival has already been a troubled one, per Vanity Fair. In February, the musician raged on social media against Kid Cudi and Billie Eilish — who's also listed as a Coachella headliner — after Eilish stopped her concert to make sure a fan was okay. Apparently viewing it as a slight against Scott, Ye wrote, "TRAV WILL BE WITH ME AT COACHELLA BUT NOW I NEED BILLIE TO APOLOGIZE BEFORE I PERFORM."  Of course, only days later, he'd deleted everything from his Instagram feed.