Tiger Woods Makes A Stunning Announcement About His Golf Future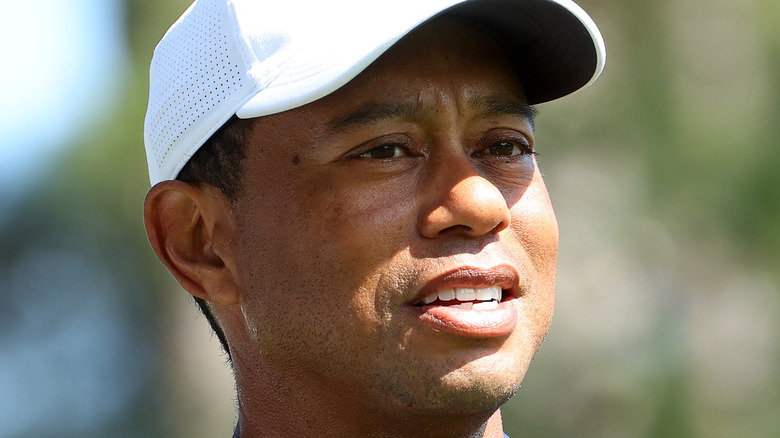 Andrew Redington/Getty Images
Tiger Woods' horrifying car accident in February 2021 not only put his playing career in jeopardy, but Woods nearly lost the ability to walk again. "As a lot of you guys know, I didn't know if I was going to have the right leg or not," Woods told the press at the Genesis Invitational a year after his accident in February, via CBS Sports. The golf icon was grateful his leg was intact. "I still have a lot of issues with it, but it's mine, and I'm very thankful for that."
After his accident, there was plenty of speculation on whether Woods would play another golf tournament. In December 2021, Woods surprised fans when he competed in the PNC Championship alongside his son Charlie Woods. The father-son duo captivated the crowd and took home second place at the event. "The competitive juices, they are never going to go away," Woods told the press after his impressive return to the links, per Golf Digest. "This is my environment. This is what I've done my entire life." 
That performance made the golf community eager to see Woods return to the PGA tour, but he was not physically ready to compete. "I can still play, but I'm in a cart. Being a weekend warrior is easy, that's not that hard," Woods told the press at the Genesis Invitational, per Golf Monthly. A few months later, fans were in a frenzy when it became possible that Woods would make a return to golf's biggest stage.
Tiger Woods believes he could win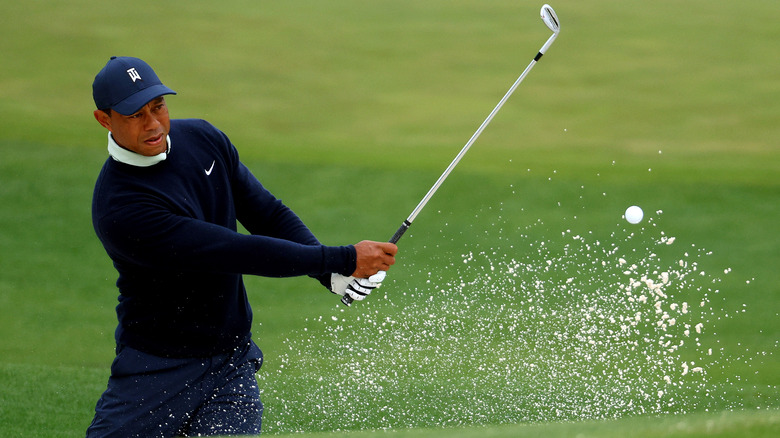 Andrew Redington/Getty Images
Tiger Woods gave golf fans cause for celebration on April 5 when he officially announced that he intended to play the Masters. "As of right now, I feel like I am going to play," Woods told the press, via CNN. The golf legend's return was not simply ceremonial, as he had high aspirations. "The question is, do you think you can win the Masters this week?" a reporter asked point blank. "I do," Woods responded. Although only a year removed from the accident that nearly cost him his leg, Woods felt confident in his game leading up to the tournament. 
A couple days before his major announcement, Woods titillated fans by saying he would play a practice round at Augusta National. "It will be a game-time decision on whether I compete," he tweeted on April 3. The following day, Fred Couples received a surprise text message from Woods inviting him to play that practice round. Couples echoed Woods's sentiments, and believed the golfer was ready to compete at the highest level. "He looked phenomenal," the former Masters champion told reporters, per PGA Tour. "He drove it great," Couples added.
Hitting shots was not a worry for Woods leading up to the Masters, but traversing the course on foot was his concern. "Seventy-two holes is a long road. It's going to be a tough challenge and a challenge I'm up for," he said after announcing his return, per CBS Sports. Go get 'em, Tiger!