What's The Real Meaning Of AHHH HA By Lil Durk? Here's What We Think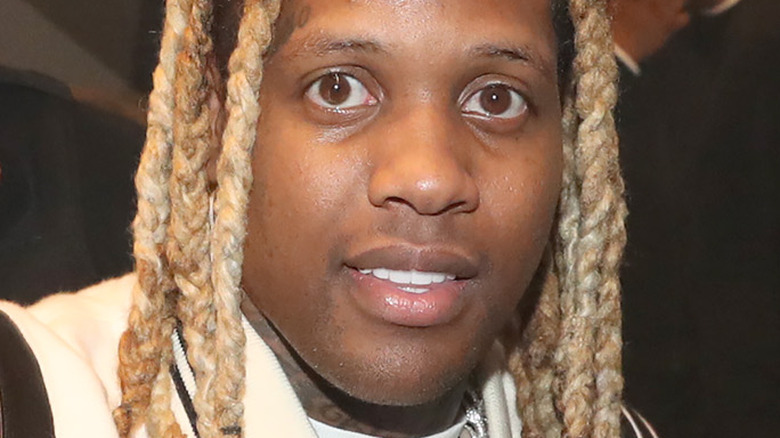 Johnny Nunez/Getty Images
Lil Durk is on the rise. The Chicago rapper has been out for years, but it wasn't until Drake featured him on his 2020 smash hit "Laugh Now Cry Later" that Durk's career took off, reports Complex. Now he's being featured on all the hottest songs and has become the topic of conversation when it comes to undeniable talent. During a recent interview on the "Million Dollaz Worth of Game" podcast, the rapper was reminded that he once made the statement, "I'm trying to be bigger than Drake."
When asked if he still shared that same feeling, considering Drake played a major role in his newfound success, Durk replied, "To us, in this mothaf****a, we bigger than him, you know what I'm sayin?" The "Backdoor" rapper clarified that he feels he's bigger than the Toronto artist back home to his people in Chicago, but that he would also never downplay what Drake has done for him and his career. "He touched us and got us hotter than what the f**k we was, but a lot of people can't say that."
According to Billboard, Durk released his album "7220" on March 11, which became his second No. 1 album on the Billboard 200 chart. Off of that project, he brought us "AHHH HA," a personal song where Durk further enflames an ongoing beef, and also addresses internet trolls.  
Lil Durk opens up about losing King Von and his brother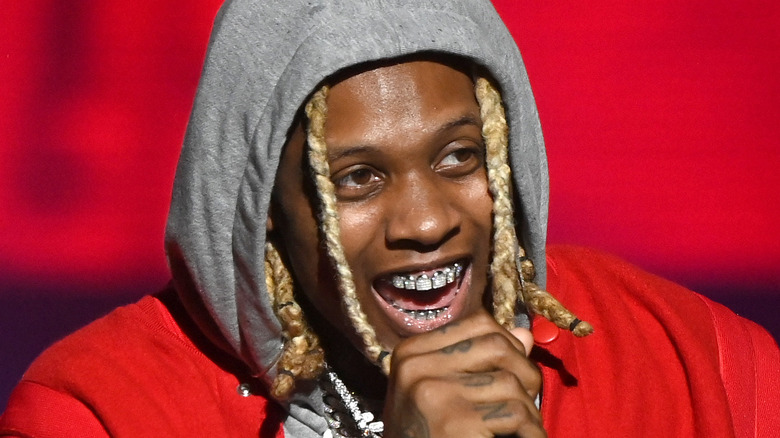 Paras Griffin/Getty Images
Lil Durk has suffered a lot of loss in his life. In November 2020, his close friend and label mate, King Von, was shot and killed outside an Atlanta nightclub, per TMZ. The incident involved an altercation between Von's crew and that of another rapper, Quando Rondo. Many believe it also had to do with Von's ties to NBA YoungBoy. It's unclear what exactly prompted the shooting, but investigators charged Timothy Leeks, a close associate of Rondo, with Von's murder, which effectively closed the case, according to CNN. 
With his track "AHHH HA," Lil Durk makes sure no one disrespects his late friend. "Don't respond to s**t with Von/I'm like, "F**k it/you tripping/ go get your gun/They dropping locations/I'm getting it done," Durks raps in the chorus. Less than a year after Von's death, Durk's brother, D Thang, was murdered outside Club O, located in south suburban Harvey, Illinois per NBC 5 Chicago. The rapper also makes note of this sudden loss in his first verse. "My brother DThang just got killed/and I been slow since/But we got back on they a**/I bet they know this."
Another recurring theme of the song is Durk's disgust for people who brag about their criminal behavior on social media. "I seen n****s really killing s**t/post s**t on Instagram/You doing that/you might as well go to court/and say you killed the man." 
According to Complex, NBA YoungBoy took offense to "AHHH HA" because he felt the song referenced his on-going feud with Durk. 
Lil Durks disses NBA YoungBoy in AHHH HA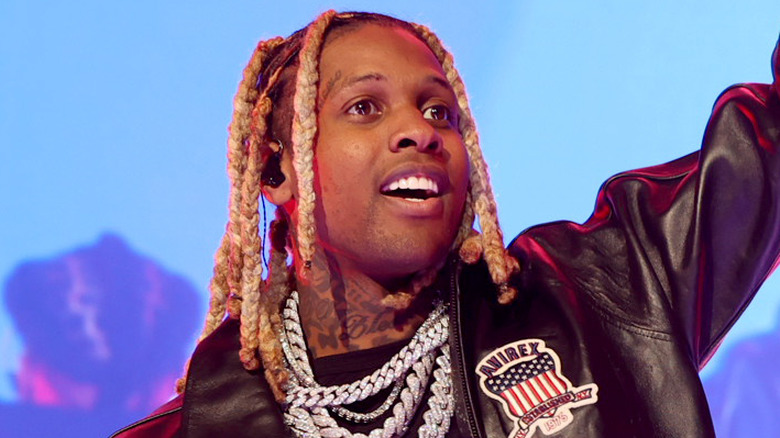 Shareif Ziyadat/Getty Images
While rap beefs are common in the industry, it appears the feud between Lil Durk and NBA YoungBoy goes beyond music. According to Capital XTRA, King Von and Quando Rondo were friends at one point, but reportedly grew apart after Von was linked to Jania Meshell — NBA YoungBoy's ex-girlfriend and mother to his son, Kacey.
Because of the close friendship Quando Rondo and the "No Smoke" rapper share, it apparently caused issues with Lil Durk and King Von. While most of "AHHH HA" can be seen as a direct jab at NBA YoungBoy, Lil Durk takes a low blow and references King Von's relationship with Jania. "I told Von to leave that b***h alone/she post on OnlyFans," he raps. Throughout the record, he also calls the rappers bluff about being gangster. "They really don't mean it/he say it in songs/They really don't mean it/he play it in songs." 
According to XXL Magazine, NBA YoungBoy fired back and dropped "Bring the Hook," where he not only brings up King Von's death in a disrespectful manner, but he also mentions the O-block neighborhood Lil Durk and Von proudly rep and grew up in. Unfortunately, it seems their beef is far from over.