Kris Jenner's New Look Absolutely Stuns Fans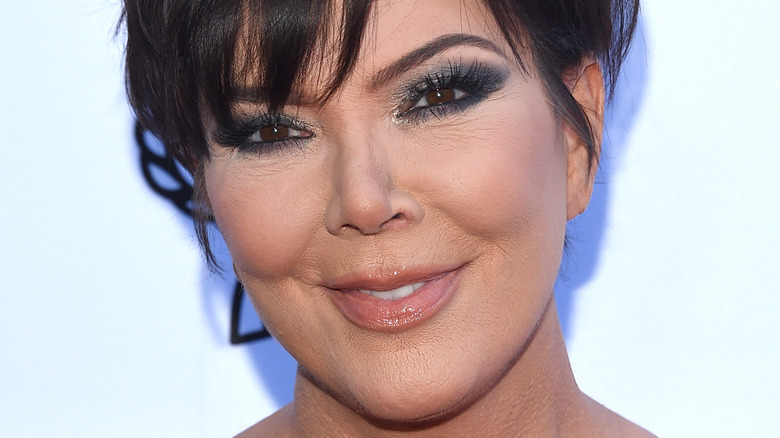 DFree/Shutterstock
Given her longevity as a successful businesswoman, it's safe to say Kris Jenner is definitely one cool momager. In addition to her impressive skills as a smart entrepreneur, she is also admired for her timeless beauty.
While reflecting on her many iconic looks over the years with Vogue in March 2021, the reality star stated her sense of style "has evolved to be less is more." Out of all her daughters, Kris also revealed she is most likely to wear one of Khloé Kardashian's garments. "Khloé and I raid each other's closets the most, because we're probably the most similar in height, size, and style," the reality mogul said. 
As previously reported by the Daily Mail, Kris upped her fashion game at the 2021 Fashion Awards in London in November. The "Keeping Up with the Kardashians" star sported a black top with pants and heels of the same color. She wrapped herself up in a red, white, and black color-block satin jacket and accessorized with black gloves. Kris opted for elegant crystalized dangling earrings and posed on the red carpet alongside her boyfriend Corey Gamble while holding onto a clutch purse that was made to look like money. A style staple that has remained a staple throughout the majority of her career is Kris' signature short black hair. However, she recently opted for a rare new look that has fans going wild.
Kris Jenner debuts an stylish bob
While most know Kris Jenner for sporting a pixie cut, she recently opted for a change that went unnoticed. The reality star took to her Instagram Story to promote her youngest daughters Kylie and Kendall Jenner's new makeup launch by sharing a video of herself applying their lipgloss product to her lips, per the Daily Mail. Kris flashed a smile while glamming herself up and showing off her new hairstyle, a stylish blunt bob that rested just above her shoulders. As seen in the snapshot above, the new look looked elegant on the business mogul, proving you can rock any look you choose at any age.
Given that Kris has a whopping 46.7 million Instagram followers, fans quickly reacted to her new hairstyle on social media. One fan on Twitter drew a comparison of Kris' new look to another "Keeping Up With The Kardashians" fan favorite, writing, "kris's new bob makes her look exactly like her mom MJ now." The response to Kris' bob was overwhelmingly positive, with many praising the momager's stylish haircut. "Kris Jenner with the bob tonight ok miss girl!! It's cute!!!" one user tweeted. "I'm living for Kris Jenner's new hair cut," another person shared. "Kris Jenner looks so good in that bob," a third user remarked. We certainly don't disagree!