T.I. Completely Melts Down After Comedian Mentions Assault Allegations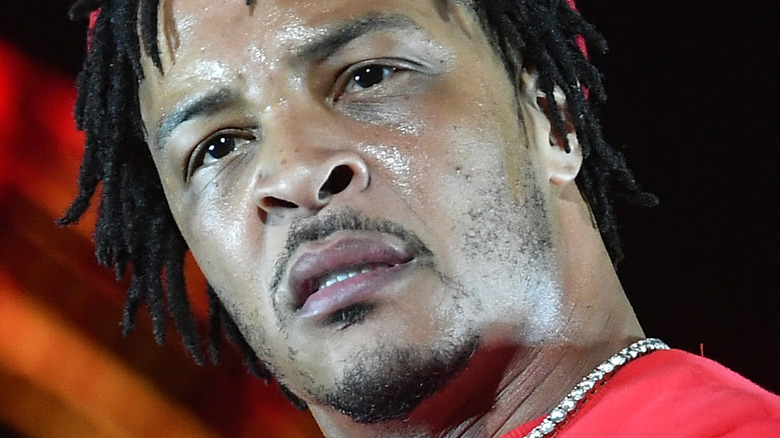 Paras Griffin/Getty Images
"Whatever You Like" rapper T.I. has taken a page out of Will Smith's book and jumped onstage when a comedian made a joke he didn't like, but the subject was no laughing matter. In April 2021, three different women came forward with allegations of sexual assault at the hands of T.I. and his wife Tameka "Tiny" Harris, per Page Six. A spokesperson for the three women's attorney Tyrone A. Blackburn told the outlet that they each had disturbingly similar stories of being drugged, sexually assaulted, and then trafficked by the couple. The women joined "dozens" of other women Blakburn represents, who have accused the couple of "a myriad of allegations of forced drugging, kidnapping, rape, and intimidation." By September, the case against the "Live Your Life" rapper and his wife was dismissed due to the expiration of the statute of limitations. TMZ reported that no charges were ever officially filed against the pair. 
Now, a new video has emerged of T.I. rushing the stage during a comedy set by comedian Lauren Knight at Our Bar ATL because Knight allegedly mentioned the allegations. Unsurprisingly, T.I. had a flurry of expletives to say about it. 
T.I. aggressively confronted the comedian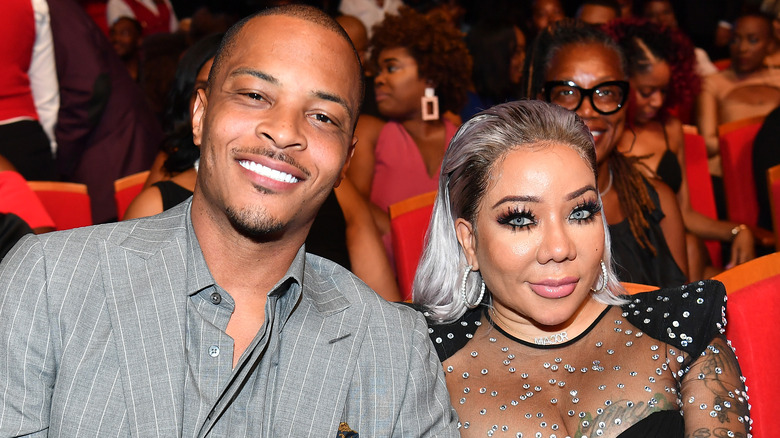 Paras Griffin/Getty Images
In an amateur video posted to the Baller Alert Instagram account, we do not hear exactly what comedian Lauren Knight said at the April 4 event about the sexual assault allegations, but we do see T.I. grab a spare microphone and bellow to the audience and to Knight that he doesn't appreciate referencing the incident. "There was no f***ng crime. There is nothing to charge me for, or my wife," he said, and then verbally accosted Knight with some colorful language. "Ain't no mother f***ing case, ain't never been no mother f***ing case. 'Cause I ain't did nothing wrong and my wife ain't did nothing wrong. And if you keep on playing with me, n***a, I'm gon' mother f***in' continue to confront you publicly, verbally," he shouted to her. 
We can see security slowly approach the stage to keep an eye on the interaction as T.I. then jumps on stage and pulls Knight into a strange bear hug, but Knight still has a hold of her microphone, and chastises him. "This is not a rap battle! This is a mother f***in' comedy show!" she said. "And be clear, if I want to make jokes about something, I'll make jokes about something. Absolutely. You're not going to tell me to shut the f*** up in my s**t. This is my s**t!"
T.I. denies calling comedian Lauren Knight a 'b***h'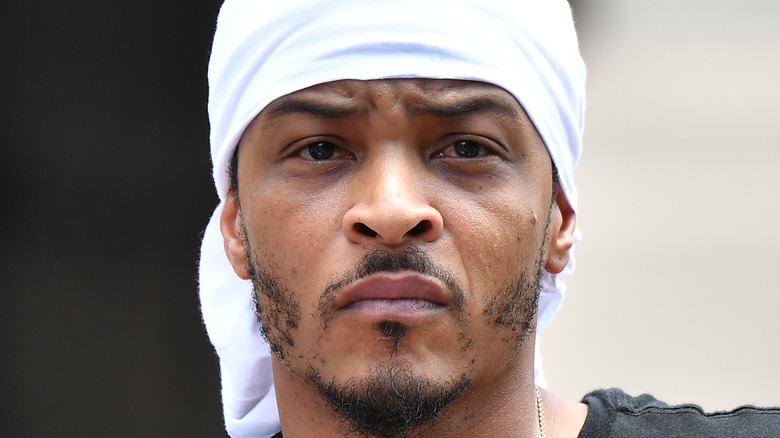 Paras Griffin/Getty Images
Since the incident, comedian Lauren Knight has taken to Instagram to say that she's been on the receiving end of bullying and trolling from T.I.'s fans. On April 5, she posted a video to her IG, speaking directly to the camera, saying that T.I. heckled her for the duration of her set, telling her "to 'shut the f**k up,' calling me all kinds of b*****s, heckling me." Knight also revealed how she set the rapper off. After he kept heckling her to take her wig off, she replied, "I'll take my wig off when you speak on the allegations." 
That evening, she posted another video to her IG, revealing that she's receiving death threats after T.I. went on IG Live and denied ever calling her a "b***h," offering $1 million if she can produce a video proving he did. The second slide of the post includes CCTV footage of the event where T.I. can be seen heckling her with that exact sexist slur. 
T.I. has since responded to the controversy, posting a video to his official Instagram of a different moment during that night at the club where he tells Knight she is loved and then hugs her. The caption praises Knight, calling her "a young up & coming comic on the scene in Atlanta check her out. She's a young black women fighting to use her voice for laughter." He later speaks directly to her, writing, "I've done my part here... moving on. Love & Respect."