What Ellen Pompeo Was Doing Before Grey's Anatomy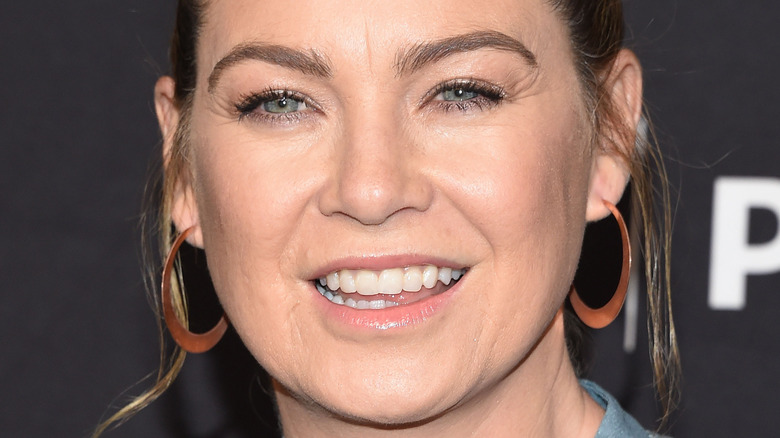 DFree/Shutterstock
Ellen Pompeo has been synonymous with "Grey's Anatomy" for a whopping 18 seasons. As Dr. Meredith Grey, Pompeo has been playing the titular character on the Shonda Rhimes flagship show for most of her career. Since the hit medical drama first aired in March 2005, a host of faces have left "Grey's Anatomy" — and that includes Rhimes herself, who switched from ABC to Netflix in 2017, according to The Hollywood Reporter. But not Pompeo, who has remained steadfast in her role.
It hasn't always been perfect or even close to easy. Pompeo nearly left "Grey's Anatomy" early on in the show, she told Taraji P. Henson for Variety in 2019. "The first 10 years we had serious culture issues, very bad behavior, really toxic work environment," she said. But Pompeo always stayed because she needed to provide for her three children, whom she shares with music producer Chris Ivery. Instead of leaving, the Massachusetts native focused on fixing the problem. "We turned the culture around. I've hit some marks that have made me feel accomplished in a different way," Pompeo told Henson.
The same reason she stayed was also the reason Pompeo accepted the role in the first place. When she read the script for "Grey's Anatomy," she understood the show might stay on for a long time and what the implications were, she told The Hollywood Reporter. And being a TV star wasn't where her heart was. Up until then, she had been focusing on another aspect of acting.
Ellen Pompeo appeared in several films
Even though Ellen Pompeo had her break on TV, she had always wanted to be a film star. She was living in Miami when she guest-starred on "Law & Order" in 1996, which led to other guest appearances on popular shows, including "Strangers With Candy," "Friends," and "Strong Medicine" throughout the decade, according to HollywoodLife. In 2001, she moved to Los Angeles and soon landed a role in Brad Silberling's "Moonlight Mile" alongside Jake Gyllenhaal, Dustin Hoffman, Susan Sarandon, and Holly Hunter.
Her performance as Gyllenhaal's love interest caught critics' attention, with the Deseret News writing that the "newcomer Pompeo is extremely appealing." The film opened the door she had been looking for. "Sam Mendes, Steven Spielberg, Warren Beatty. They were all, 'We were blown away by this performance' and 'You're a superstar,'" Pompeo told The Hollywood Reporter in 2018.
From there, she snagged parts in Spielberg's "Catch Me If You Can" and in the Jim Carrey and Kate Winslet cult-favorite "Eternal Sunshine of the Spotless Mind" in 2004. It was around this time that Pompeo received the script for "Grey's Anatomy." Pompeo initially told her agent she had no interest in the role of Dr. Meredith Grey, she told THR. "I was like, 'I'm not going to be stuck on a medical show for five years,'" she remembers saying. "'Are you out of your f**kin' mind? I'm an actress.'" But her film career hadn't been evolving as expected.
Childhood trauma made Ellen Pompeo prioritize her family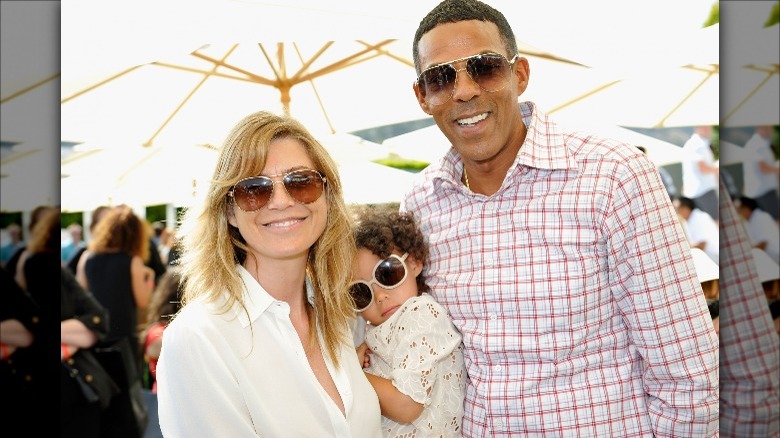 Donato Sardella/Getty Images
Ellen Pompeo was reluctant to return to TV, but she was struggling to make ends meet. When "Grey's Anatomy" premiered, Pompeo was in a stable relationship with Chris Ivery, whom she had met at a grocery two years before, People reported. Pompeo and Ivery wed in 2007 and welcomed their first child, Stella Luna, in September 2009, Us Weekly reported.
By then, Pompeo's priorities had changed. Working on a popular TV show offered her the opportunity to be an actor and a dedicated mother at the same time. "Shonda Rhimes has been amazing. She lets us be mothers. I don't have to travel. I don't have to go anywhere," she told Taraji P. Henson for Variety. Ensuring that Stella; Sienna May, born in 2014; and Eli Christopher, born in 2016, grow up in a stable home is especially important for Pompeo because of her own experience. 
Pompeo was only 5 when her mother died from an overdose, leading to a trauma-filled childhood. "To have a happy home life was really something I needed to complete, to close the hole in my heart, and so I made a decision to make money and not chase creative acting roles," she said on the "Jemele Hill is Unbothered" podcast in 2020 (via E! News). While hard, Pompeo is proud of being able to pursue her professional and personal dreams. "I'm in a very blessed situation, I am so lucky," she told E! News in 2012.