Meghan Markle Is Mourning The Tragic Loss Of A Close Friend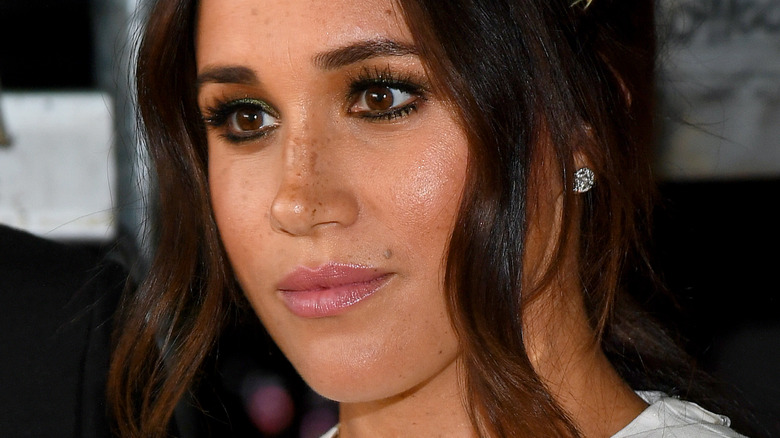 Kevin Mazur/Getty Images
Meghan Markle has gone through enough hassle with the tabloids and social media trolls that she doesn't often speak candidly to the public these days. When she does, it's usually for an important reason, even if those reasons are tragic, like mourning the loss of a close friend. 
Since she and her husband Prince Harry officially stepped down from royal duties and relocated to California, the Duchess of Sussex has been dragged in the middle of royal family feuding and fighting back against British tabloids for defamation and breech of privacy (while raising two children, no less). She's also had to deal with more drama from her half-sister Samantha Markle, who is taking her to court, and her dad, Thomas Markle, who has been saying some less-than-generous things about her to the press. 
We'd love to hear of a win for the duchess, so it's heartbreaking to hear that she's now lost a person close to her. 
Meghan Markle wrote a tribute to her friend Oli Juste
Meghan Markle penned a touching obituary for her friend Oli Juste, published on the website for The Mayhew, an animal welfare organization that she became a royal patron of in 2019, per People. In the emotional tribute, the duchess said that it was Juste who first introduced her to the organization.
Meghan also wrote that her pal even took care of her own pup when she first moved across the Atlantic: "In fact, it was Oli and his fiancé Rob who helped care for my rescue dog, Guy, when I had just moved to the UK and he was recovering from a debilitating accident. They loved him as though he was their own." In honor of Juste, Meghan announced, "we will be creating the Oli Juste wing at Mayhew, to shelter the animals who may have a harder time finding their forever homes. Because much like Oli, they will never be forgotten, and they will always be loved."
Juste's fiancé announced his passing on his Instagram page in January 2022, writing, "Oli was and remains an inspiration and thought changer within the worlds of both dogs and humans and his special connection with animals was evident." We're glad to know that his memory will be honored in a way that clearly would have meant so much to him.