What We Know About Jesse James' Engagement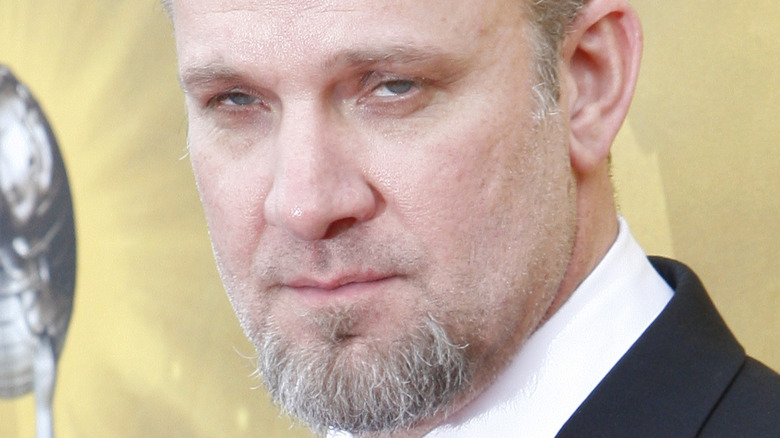 Joe Seer/Shutterstock
Jesse James. Remember him? Cast your mind back to March 2010 when a huge scandal hit Hollywood after several women came forward claiming to have had romantic encounters with James, who was then married to America's Sweetheart, Sandra Bullock.
James issued a public apology, saying in a statement that many of the allegations made against him were untrue, but noted, "There is only one person to blame for this whole situation, and that is me. It's because of my poor judgment that I deserve everything bad that is coming my way. This has caused my wife and kids pain and embarrassment beyond comprehension and I am extremely saddened to have brought this on them. I am truly very sorry for the grief I have caused them. I hope one day they can find it in their hearts to forgive me." The following month, Bullock filed for divorce from the "Monster Garage" star, with that being finalized in June 2010.
James then moved on with "LA Ink" star and makeup mogul Kat Von D and the two became engaged in January 2011, with James telling People that he actually loved 2010 because it was the year he fell in love with Von D, calling her "an amazing woman who stood behind me when the world turned their backs." But that relationship and engagement was over by the summer, before getting back together — and splitting once again, per People. Now though? James has popped that all important question yet again.
Fifth time's the charm?
Jesse James is getting ready to head down the aisle once again. Adult film star Bonnie Rotten confirmed she's engaged to James while showing off her unique ring on Instagram on April 6. "I knew the moment I met you I wanted to spend every single day with you. The way you love me and my little one was all I ever dreamed of. I can't wait for the rest of our awesome lives together, I've never met anyone who understands me more than you," she gushed in the caption. James doesn't appear to have announced the news on his Instagram yet, but did respond in the comments section, writing, "'He's got time to forge you a Damascus ring, but can't make my $25 keychain??' (I love you baby!!)."
This will actually be James' fifth attempt at marriage. As well as his relationships with Sandra Bullock and Kat Von D, he was married to Karla James, from 1991 and 2002 and adult film star Janine Lindemulder from 2002 until 2004, per Daily Mail. James has repeatedly been accused of infidelity in his relationships.
Rotten doesn't seem too worried about James' past, though, as she's gushed about her man multiple times on social media. "Love is pretty cool when you find the perfect person to share it with," she captioned loved-up snaps on Instagram for Valentine's Day 2022. "Thank you for making me feel like the strongest and most loved woman and mother in the world."