The Emotional Moment When Ketanji Brown Jackson Made Supreme Court History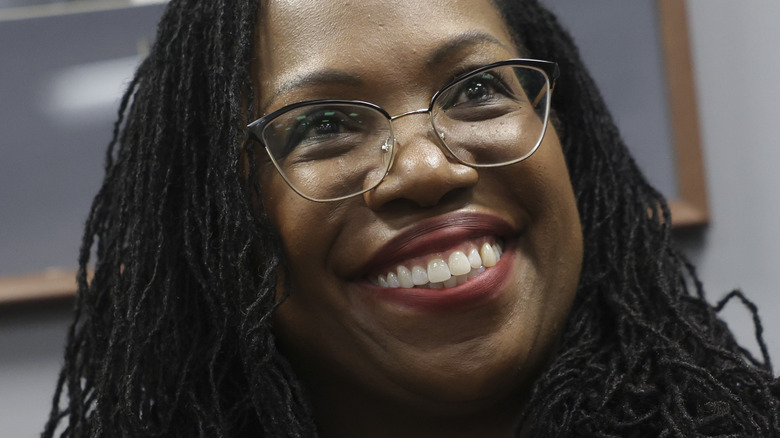 Kevin Dietsch/Getty Images
To become the first Black woman on the U.S. Supreme Court and fulfill one of President Joe Biden's campaign promises, Judge Ketanji Brown Jackson had to endure brutal confirmation hearings, where Republican senators pelted her with a barrage of questions that outraged some observers. The Independent even compiled a list of the most absurd of the bunch, including one from Tom Cotton of Arkansas, who asked Jackson, "Do you think we should catch and imprison more murderers or fewer murderers?"
According to the Senate Judiciary Committee, Judge Jackson's Supreme Court nomination was historic for another reason related to all those questions. The sheer number lobbed at her — 1,500 in written form — is the most any nominee has ever answered, and she spent nearly 24 hours being interrogated by U.S. senators. By the end of it all, she even garnered bipartisan support; Republican Senators Lisa Murkowski, Susan Collins, and Mitt Romney voted to confirm Jackson, giving her a final vote tally of 53 to 47, per NPR.
Vice President Kamala Harris presided over the historic vote, later telling reporters, "I am feeling a deep sense of pride in who we are as a nation, that we just did what we did as it relates to the highest court of our land." Cameras also captured an emotional moment between Jackson and President Biden, who appeared to be just as moved by the momentous occasion as she was.
Ketanji Brown Jackson's daughter advocated for her when Joe Biden was VP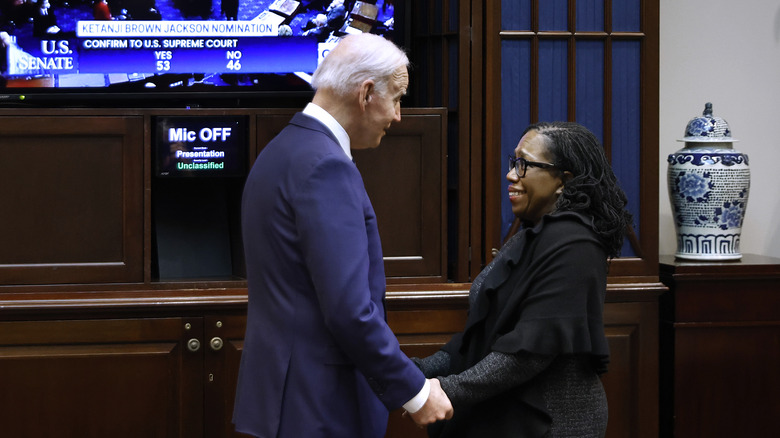 Chip Somodevilla/Getty Images
President Joe Biden and Judge Ketanji Brown Jackson watched senators vote to confirm her on a screen in the Roosevelt Room, per NPR. After the yeses reached 53, they were photographed grasping hands and staring at each other as if the gravity of the moment had just hit them. "We've taken another step toward making our highest court reflect the diversity of America," Biden wrote on Twitter. "She will be an incredible Justice, and I was honored to share this moment with her."
The photo of Biden and Jackson isn't the only one that captured the pride so many Americans felt when she made history. On the first day of her confirmation hearings in March, Jackson's daughter, Leila, was photographed watching her and smiling. The teen was clearly proud of her mom, and the image went viral, per The New York Times.
Leila believed that her mom's credentials qualified her to serve on the Supreme Court long before she ever was on Biden's list of top candidates for the job. In 2016, Leila wrote a letter to then-President Barack Obama explaining why Jackson would make an ideal Supreme Court justice. "She's determined, honest and never breaks a promise to anyone even if there are other things she'd rather do," the then-11-year-old wrote, per AP. It took a few more years, but now Leila and Obama's former vice president can finally celebrate her mom's well-deserved place in history.