Mark Harmon's Son Looks Just Like The NCIS Star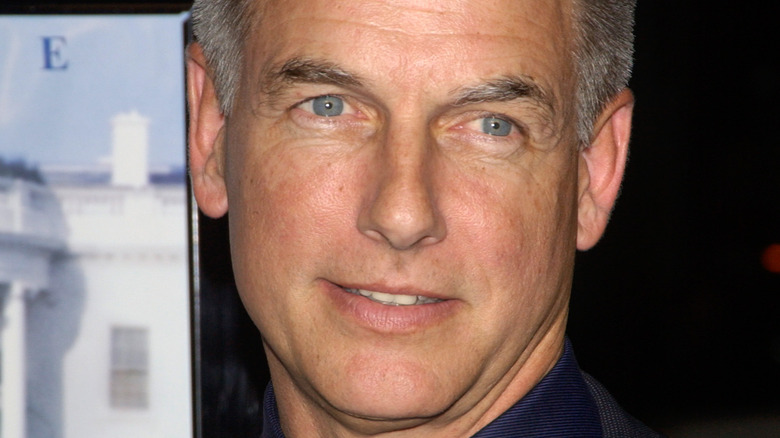 Featureflash Photo Agency/Shutterstock
Mark Harmon is best known for playing Special Agent Leroy Jethro Gibbs on the long-running action drama "NCIS." The actor was the show's headliner, having appeared from Season 1, Episode 1, and starring in over 400 episodes of the CBS hit. According to his cast bio, Harmon also excelled behind the camera, turning his hand to directing several episodes of "NCIS" and becoming an executive producer.
Per Deadline, in 2021, fans were shocked by the announcement that Harmon was leaving "NCIS" after 18 seasons. However, CBS Entertainment head honcho Kelly Kahl was quick to reassure viewers that while Gibbs may have hung up his badge for now, the door was left open for the possibility of him returning one day. "Mark's always been part of the show; Mark's always going to be part of the show," she said.
Harmon was such an integral part of the "NCIS" family that CBS even included his biological son in the cast. According to IMDb, in several flashback sequences throughout the show, Harmon's offspring appeared as the young version of his dad. He portrayed the junior Gibbs in six different episodes — and it was the perfect casting choice, because Mark Harmon's son looks just like the "NCIS" star.
Mark Harmon's son inherited more than dad's looks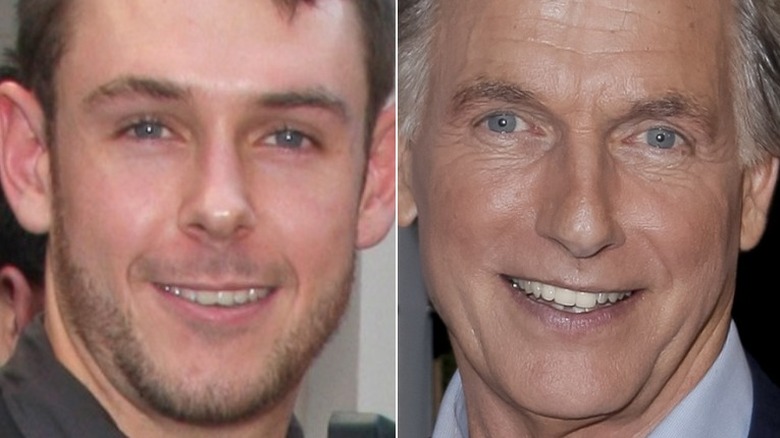 Tibrina Hobson/Getty & Kathy Hutchins/Shutterstock
In addition to the fact that Mark Harmon's son looks just like the "NCIS" star, he's also following in his career footsteps. Sean Harmon inherited his dad's blue eyes and his acting passion. As well as portraying the younger Gibbs on the original "NCIS," Sean's appeared in the franchise spin-off, "NCIS: Los Angeles," in "CSI: NY," and in "Major Crimes."
The Harmon family's famous roots run deep. Sean Harmon's mom, Pamela Dawber, starred alongside Robin Williams in the late 1970s early '80s comedy sitcom "Mork & Mindy." Mark Harmon's mom and two sisters were all actors, and his dad was the famous sportscaster Tom Harmon. Sean's not relying on nepotism to get on in life, however. He's a talented artist — and he's earning his Hollywood stripes by also working as a stunt coordinator.
Sean's collaborated on several big box office smash hits, including the Jim Carrey comedy "Dumb and Dumber To." He admits to having always had entertainment industry aspirations, having grown up around it. But Sean gravitated towards the stunt industry in order to avoid the more phony and flakey Hollywood types, or "people who [talk the talk] but when it comes down to it can't walk the walk," as he described them to Stunt Hustle. "In my experience at least, people who try that in our industry get found out pretty quick, and most don't hang around very long," he continued.
Sean Harmon is a man of many talents
The Harmons try to shun the media glare and Hollywood publicity circus. "We stay home. A lot. I'm not a Twitter guy or a Facebook guy," Mark Harmon told Closer, adding, "Our sons aren't into that, either." However, Sean Harmon might be a bit more keyed into social media than his dad is aware.
While he may not be too active on Facebook or Twitter, Sean is all over Instagram, touting everything from his support for Ukraine to his love of D&D-inspired RPG games, to his Muay Thai training, which he told Stunt Hustle he's been grinding at since high school. But perhaps the biggest fixture on the young star's IG is his fiancee, Courtney Prather.
Prather also works in entertainment as a producer and production manager. The couple collaborated on the show "Breakwater" in addition to the movie "Alina," in which Sean acted. Sean posted pics of his romantic Montana proposal to his "very literal ride or die, bada**, babe sandwich of a partner." She reciprocated on hers, showing off her engagement bling (above) — and the horse who "officiated" the proposal –- which they later discovered had belonged to Sean's dad for years.
While Mark may not share Sean's love of the 'gram, the elder Harmon couldn't be more proud of both of his sons (Sean has a little brother, Ty, who is five years younger). "They work hard at what they do and I'm proud that they get up in the morning and try to do that every day."