Tiger Woods' Big Return To Golf Included Some Spicy Hot Mic Moments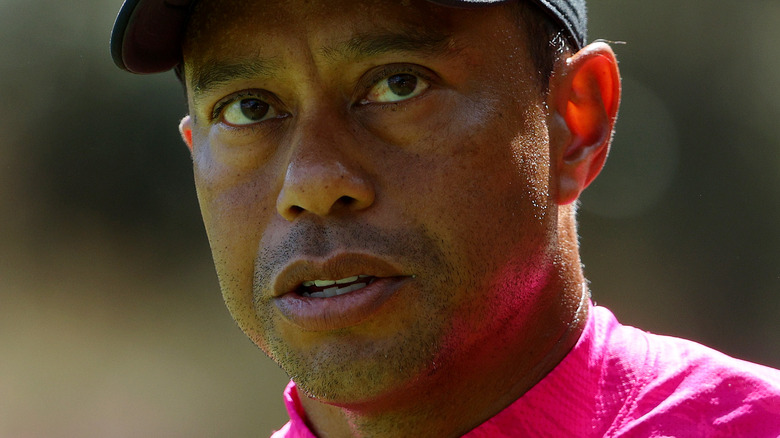 Andrew Redington/Getty Images
Fans are delighted that Tiger Woods has made his comeback to the international golfing arena, and many took to social media to express their excitement. "my boy Tiger Woods had a great 18 yesterday!" one tweeted. Another said, "@TheMasters for me it is encouraging to see @TigerWoods play. I have severe problems with my back and he gives me hope."
The champion golfer impressed viewers with a 1-under 71 at the Augusta National Golf Course on April 7. Despite having metal pins and rods in his right leg and being out of the action for over a year, per CBS Sports, he was under par! Woods talked about competing at Masters 2022 after being out of the sport for so long. "I know where to hit it to a lot of these pins," Woods analyzed his game during a post-game interview. "And I miss in the correct spots and give myself good angles. I did that all day, and I was able to make a few putts." He also commented about his physical state, saying, "I am as sore as I expected to feel." However, Woods also noted, "Come game time, it will be a different deal ... My adrenaline will kick in."
It seems as if Woods is already experiencing the rush of hormones. He showed fans that he was back, heart and soul, by his characteristic on-field demeanor.
Tiger Woods drops F-bomb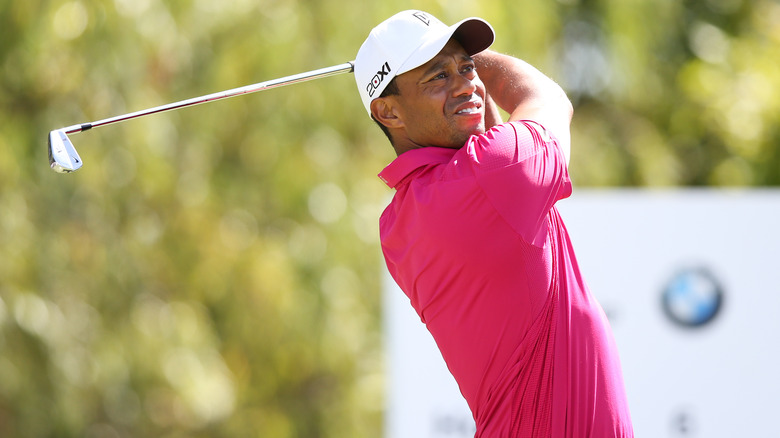 Debby Wong/Shutterstock
Tiger Woods has always been an emotional player because he is so passionate about the game. He had just hit a bogey on his eighth hole when disaster struck. Woods followed it up with a misplaced tee shot that hurtled into the trees, per The Sun. Things went downhill, literally, when his second shot rolled off the green. Woods can be heard saying, "Oh, f*** off" in one clip. 
However, fans loved the moment and weighed in on Woods' remark. "TIGER IS DROPPING F BOMBS ON THE BROADCAST. Some of y'all said he doesn't still have it," one tweet read. Another issued a tongue-in-cheek warning to the powers that be, "Dear ESPN+," they started. "Don't you dare use that dump button on Tiger Woods. We want to hear all the f bombs." It seems as if Woods' fans know what to expect of him and his potty mouth.
Woods has had to endure much scrutiny for his expletive-laden tongue in the past. Back in 2011, Golf reported that the Federal Communications Commission received many complaints about swearing heard on golf broadcasts. They revealed that 70% of the complaints were about the colorful choice of language Woods used while playing the game. While many viewers were upset by the profanities used back then, it seems that many have missed Woods' in-your-face dialogue. For now, they're elated that Tiger Woods is back — potty mouth and all.