The Real Reason Megan Rapinoe Is Threatening Legal Action Against The Rock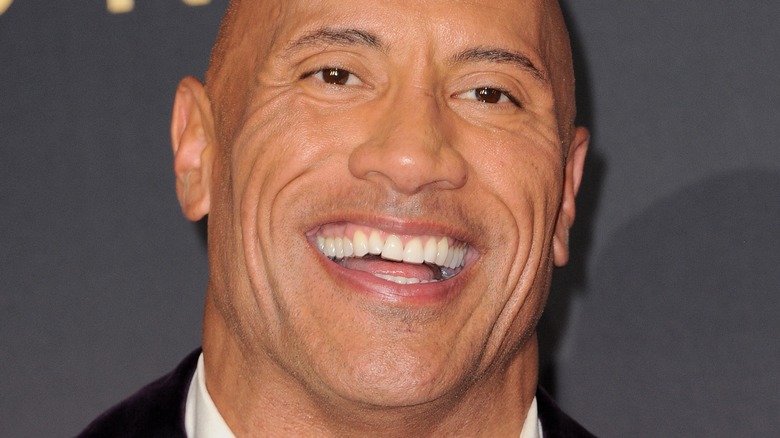 Tinseltown/Shutterstock
Dwayne "The Rock" Johnson has had quite the second act. The former WWE Superstar parlayed his success in the ring into a hugely lucrative Hollywood career, thanks to early roles in "Tooth Fairy," "The Other Guys," and "The Fast & Furious" franchise, per IMDb. In addition to a string of films in post-production, he's also made a name for himself as a business mogul. Vanity Fair reports that Johnson has lines with Teremana Tequila, Under Armour, and Zoa. He also co-owns the XFL football league, which he bought in 2020 for a whopping $15 million. "With gratitude & passion, I've built a career with my own two hands and will apply these callouses to the @xfl2020brand. Excited to create something special for the fans," the action star tweeted at the time.
Though the league had initially filed for bankruptcy during the COVID-19 pandemic, Johnson's investment was intended to breathe new life into the XFL. In February 2022, ESPN reported XFL president Russ Brandon saying, "The NFL-XFL agreement will give the NFL a 'petri dish' to experiment with proposed rules, test new equipment and develop prospective officials and coaches."
This came shortly after Johnson had posted an Instagram video telling fans that the XFL training camps would be opening in January 2023. On April 6, he further drummed up excitement by unveiling the football league's new logo on Twitter. "X represents the INTERSECTION OF DREAMS & OPPORTUNITY," he wrote. But not everyone was stoked at the news — in fact, Megan Rapinoe had plenty to say.
Megan Rapinoe sent the Rock an unofficial 'cease & desist'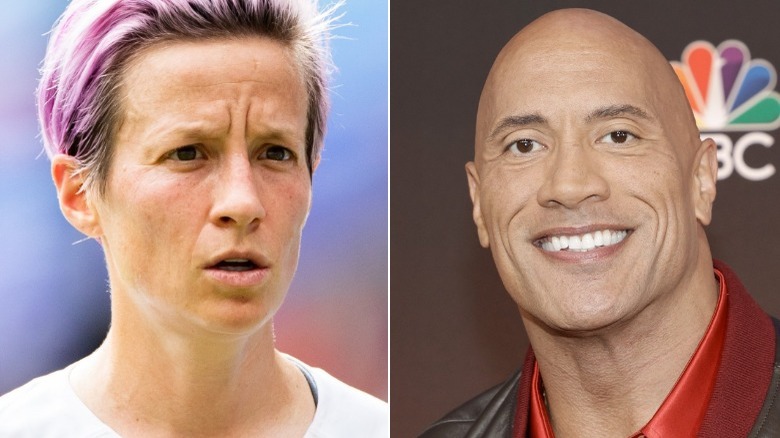 Amy Sussman/Getty & Mikolaj Barbanell/Shutterstock
After Dwayne "The Rock" Johnson shared the official XFL logo on Twitter, some fans were concerned that it wasn't *entirely* original. Per the New York Post, the "X" in XFL strikingly resembles the "X" in TogethXR, a lifestyle and culture company co-founded by Megan Rapinoe's wife, Sue Bird. TogethXR — which was also co-founded by Rapinoe's fellow USWNT player Alex Morgan, alongside Olympic gold medalists Simone Manuel and Chloe Kim — is meant to establish "an unapologetic platform where representation and equality is the norm," according to its website. 
Rapinoe wasted no time in putting Johnson on blast for allegedly copying TogethXR's logo. "Welp. This is awkward," she tweeted, alongside a screenshot from LinkedIn that showed the XFL's new logo. "Only thing @TheRock and @XFL2023 are gonna be cookin' up is a response to the Cease and Desist and an ENTIRE new brand ID. @togethxr got this on lock boys."
As of April 8, TogethXR made their own statement on Twitter. "We're thrilled to see the XFL embrace inclusivity but this rebrand ain't it," the company wrote, adding that they have since "issued a legal notice." The athletes behind TogethXR also made their feelings known on social media. "Imitation is the sincerest form of flattery, I guess?" Morgan wrote, while Bird tweeted that XFL's logo looked "familiar."