Inside Megan Rapinoe's Relationship With Sue Bird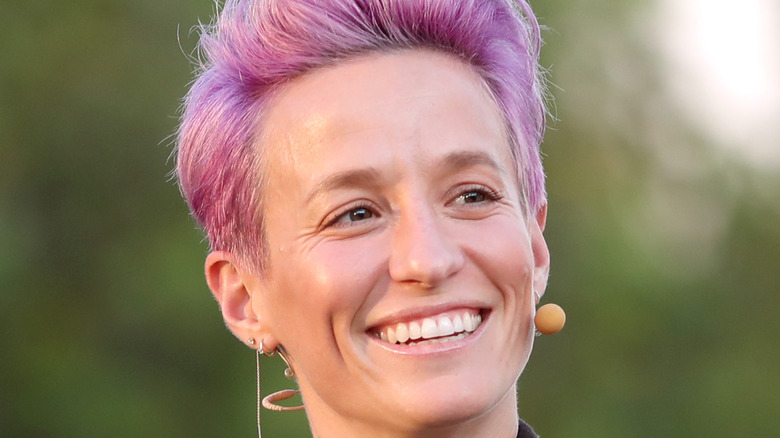 Rich Polk/Getty Images
Superstar athletes Megan Rapinoe and Sue Bird first met during the 2016 Summer Olympics in Rio de Janeiro, Brazil. Rapinoe had helped the women's soccer team win a gold medal in London in 2012, but the team finished fifth in Rio. Bird, playing for the women's basketball team, earned her fourth Olympic appearance and the fourth gold medal at the 2016 games. The two women have been stellar athletes individually, but together they have become a notable power couple, both professionally and personally.
As ESPN detailed, both Rapinoe and Bird played with teams based in Seattle, Washington. However, they ultimately had to travel to the Olympics to meet one another. According to Out, the initial meeting between the two came during a promotional photo shoot. Rapinoe teased Bird about having a full face of makeup on along with her uniform, and the quip "didn't go like I planned at all," the soccer star confessed to GQ. "I walked away like, 'you're an idiot," Rapinoe admitted thinking to herself.
Soon after that, Rapinoe found she had time on her hands after the soccer team was eliminated. She attended one of Bird's basketball games and the two Olympians chatted. They "just sort of clicked," Rapinoe explained, per ESPN, and that was essentially it for both of them.
"I joke she is my No. 1 go-to-for-advice person. She's just so level-headed," the soccer player explained of Bird. Here's what else you should know about this couple. 
A balanced power couple that was meant to be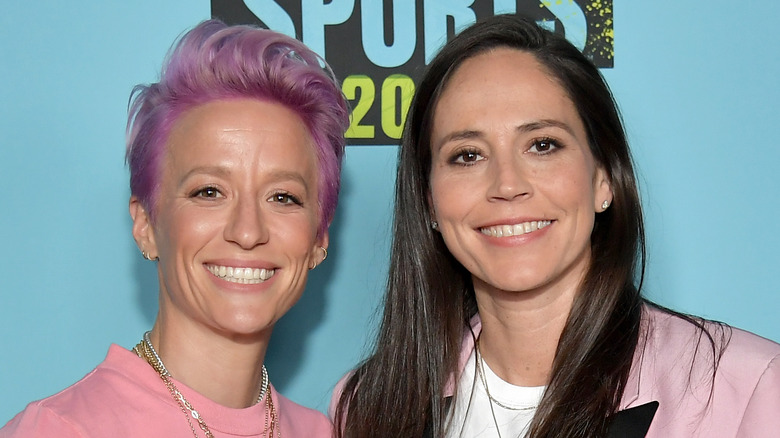 Neilson Barnard/kcasports2019/Getty Images
The attraction may have been immediate, but Megan Rapinoe had to break off an engagement before dating Sue Bird, per Out. Rapinoe and Bird's first date came soon after that, and neither woman ever looked back. "I was like, 'okay, don't be a cliche lesbian, where you love this person when you first meet them, but it was just immediately like, 'oh, this is home," Rapinoe detailed for GQ.
As Elle noted, Rapinoe matter-of-factly came out in July 2012. However, Bird wasn't publicly out when the couple's romance began. That changed in July 2017. "I'm gay. Megan's my girlfriend," Bird told ESPN. "These aren't secrets to people who know me."
The Seattle Times noted Rapinoe moved into Bird's condo in 2018. The two acknowledged they're opposites in some ways, but together, they work. Rapinoe admits she lives "harder" and her twin sister Rachael noted the soccer star wears her heart on her sleeve. Bird's more reserved, but balances Rapinoe in a lot of ways. "I have opinions, and they can be set," Bird told the outlet. "And she challenges me in ways that I think can be hard at times because it forces you to look at things very differently. It's been healthy for me."
Rapinoe proposed to Bird in October 2020, but the wedding may take a while. "We've always kind of known that this was forever, so we aren't necessarily in a rush," Bird told People. This powerful one pairing definitely seems meant to be.